Errors Analysis of Directive Speech Act and Politeness Strategy in Kaiwa Chukyu Learning
Keywords:
directive speech act, politeness strategy, Japanese language
Abstract
The research aimed to explain types of directive speech act encompassed meirei (order), irai (plea), kinshi (prohibition), kyoka (permit), and teian (suggestion) in the Japanese language. Directive speech acts were common for students in the kaiwa chukyu zenhan level (basic intermediate speaking lesson). The present research employed a listening method with the basic technique, i.e., tapping method. Further, involved and uninvolved conversation observation techniques, note-taking, and recording were applied to collect the data. The data object was the documentation of student conversations in class. The data, consisting of the directive speech act of the politeness principles in the conversation during the Japanese course kaiwa chukyu zenhan, were analyzed using an identity method. In conclusion, the research identifies several directive speech acts that are used during the class. Those are zenhan (order, three data), requesting (two data), suggesting (one data), prohibiting (one data), and permitting (one data). Moreover, the honorifics used include the teineigo and kenjogo. Among the nine data, directive speech acts are identified in the class, and only one data indicates the indirect speech act.
References
Andriyani, A. A. A. D., & Meidariani, N. W. (2016). Applying the correct tourism vocabularies as a form of guide's politeness strategy toward Japanese visitor. Journal of English Education, Linguistics and Literature, 3(1), 57-63.
Anshori D. S. (2017). Etnografi komunikasi perspektif bahasa. Depok: Rajagrafindo Persada.
Ariefandi, F. (2018). Ilokusi yang memberikan efek humor kepada pembaca dalam manga Azumanga Daioh. LITE Jurnal Bahasa, Sastra Dan Budaya, 14(2), 118-138.
Arifiany, N., Ratna, M. P., & Trahutami, S. I. (2016). Pemaknaan tindak tutur direktif dalam komik "Yomamushi Pedal Chapter 87-93". Japanese Literature, 2(1), 1-11.
Astami, T. S. (2010). Pola honorofik undak-usuk keigo bahasa Jepang yang mencerminkan nilai Uci-Soto sebagai wujud identifikasi kelompok. Humaniora 1(1), 131-141.
Astami, T. S., & Hendrawan, W. (2018). Kesantunan tuturan direktif bahasa Jepang menurut persepsi mahasiswa Sastra Jepang Ubinus semester empat: Tinjauan pragmatik. Jurnal Administrasi dan Kesekretarisan, 3(2), 117-123.
Astawa, I. P. Y., Antartika, I. K., & Sadyana, I. W. (2017). Analisis tindak tutur ekspresif dalam drama "My Boss My Hero" (Suatu kajian pragmatik). Jurnal Pendidikan Bahasa Undiksha, 3(3), 394-406.
Biantara, I. M. W., Pramesti, P. D. M. Y., & Adnyani, K. E. K. (2016). Analisis penggunaan tindak tutur perintah (Meirei) dalam anime "Kuroko no Basuke" episode 54 sampai 67. Jurnal Pendidikan Bahasa Jepang Undiksha, 2(2). http://dx.doi.org/10.23887/jpbj.v2i2.7980.
Desy, I. (2018). Kesantunan off record tindak direktif dalam kalimat deklaratif bahasa Jepang. Paramasastra, 5, 222–239.
Ekawati, M. (2017). Kesantunan semu pada tindak tutur ekspresif marah dalam bahasa Indonesia. Adabiyyat: Jurnal Bahasa Dan Sastra, 1(1), 1-22.
Febriasari, D., & Wijayanti, W. (2018). Kesantunan berbahasa dalam proses pembelajaran di Sekolah Dasar. Kredo: Jurnal Ilmiah Bahasa dan Sastra, 2(1), 140-156. https://doi.org/10.24176/kredo.v2i1.2557.
Halibanon, D. S., & Safariyah, E. N. (2019). Analisis tuturan karakter "tsundere" (Pendekatan pragmatik). Jurnal Sastra, Studi Ilmiah Sastra, 9(2), 30-37.
Idraswari, T. I. (2019). Kesantunan pragmatik dalam Irai Hyougen bahasa Jepang pada acara berita Asaichi. Metahumaniora, 9(1), 101-120. https://doi:10.24198/mh.v9i1.22868.
Idrus. (2017). Relevansi gambar dan tuturan pada komik Shin Kobochan tinjuan gramatika. Puitika, 13(1), 32-48. http://dx.doi.org/10.25077/puitika.13.1.32--48.2017.
Ikuta, S. (2011). Eigo to Nihon Go ni Okeru Hatsuwa Koui Rensa Kousei: Sougo Koui Sutorateji-no Hi Ei Hikaku. The Journal of English & American Literature and Linguistics, 2, 65.
Kartika, D. (2017). Strategi dan kesantunan modifikasi kesantunan tindak tutur memohon oleh mahasiswa Jepang pada program Bahasa Indonesia bagi Penutur Asing (BIPA). Journal Indonesian Language Education and Literature, 2(2), 136-47. http://dx.doi.org/10.24235/ileal.v2i2.1418.
Kentary, A., Ngalim, A., & Prayitno, H. J. (2015). Tindak tutur ilokusi guru berlatar belakang budaya Jawa: Perspektif gender. Jurnal Pendidikan Humaniora, 16(1), 61-71. https://doi.org/10.23917/humaniora.v16i1.1522.
Kou, M. (2018). Hanasu koto o oshieru. Japan: Japan Foundation.
Kusumaswari, K. K. (2018). Strategi kesantunan berbahasa dalam pembelajaran Bahasa Indonesia. Belajar Bahasa, Jurnal Ilmiah Program Studi Pendidikan Bahasa dan Sastra Indonesia, 3(2), 141-149. http://dx.doi.org/10.32528/bb.v3i2.1583.
Low, K. (2018). The Japanese keigo trio: Teinego, sonkeigo, and kenjougo. Retrieved from https://medium.com/@keithkat/the-japanese-keigo-trio-teineigosonkeigo-and-kenjougo-85f28bc8d113.
Monica, N. L. T. N., Giri, N. L. K. Y., & Artana, I. N. R. (2017). Tindak tutur direktif dalam komik "Shin Tenisu No Oujisama" karya Takeshi Konomi. Jurnal Humanis, 18(1), 221-229.
Pietasari, V. D. (2017). Penerjemahan tindak tutur direktif bahasa Jepang dalam novel "Nijuushi no Hitomi" dan "Dua Belas Pasang Mata" karya Sakae Tsuboi. Jurnal Bahasa, Sastra, Seni dan Pengajarannya, 45(2), 208-220. http://dx.doi.org/10.17977/um015v45i22017p208.
Prayitno, J. H. (2017). Studi Sosiopragmatik. Surakarta: Universitas Muhammadiyah.
Saputri, O. (2019). Tuturan melarang dalam film "Spirited Away". LITE Jurnal Bahasa, Sastra Dan Budaya, 15(1), 79-87.
Sarmis, M. J., Tressyalina, & Noveria, E. (2018). Performa tindak tutur ilokusi dalam antologi cerpen Rremaja Sumatera Barat tahun 2015. Jurnal Pendidikan Bahasa dan Sastra Indonesia, 1(7), 148-154. https://doi.org/10.24036/9554-019883.
Satyanto. (2018). Strategi kesantunan permintaan Bahasa Jepang dalam drama "Engine". Lite, 14(2), 154-165.
Sumiatun. (2016). Tindak tutur direktif guru dan siswa dalam pembelajaran di kelas III SDN Tipo Palu. Jurnal Bahasantodea, 4(1), 104-112.
Sutedi, D. (2018). Penelitian pendidikan bahasa Jepang. Bandung: Humaniora.
Syah, N. A. (2017). Kesantunan tindak tutur direktif dalam talk show "Satu Jam Lebih Dekat" di TV One (Tinjauan pragmatik). Adabiyyat: Jurnal Bahasa dan Sastra, 1(1), 94-111.
Syaifudin S. (2018). Konteks dalam studi linguistik pragmatik. Lite, 1, 108-117.
Tarigan, H. G. (2015). Pengajaran pragmatik. Bandung: CV. Angkasa.
Yulia, N. (2015). Fungsi dan peran tindak tutur imperatif tidak langsung dalam bahasa Jepang. Jurnal Didaktika, 9(1), 46-52. https://doi.org/10.24036/ld.v9i1.6260.
Zhang, L. (2016). Achievements and limitations in second language learners' indirect speech act comprehension: Focusing on the possibility of using conventionality as an analysis framework. 中国四国教育学会 教育 学研究ジャーナル, 19.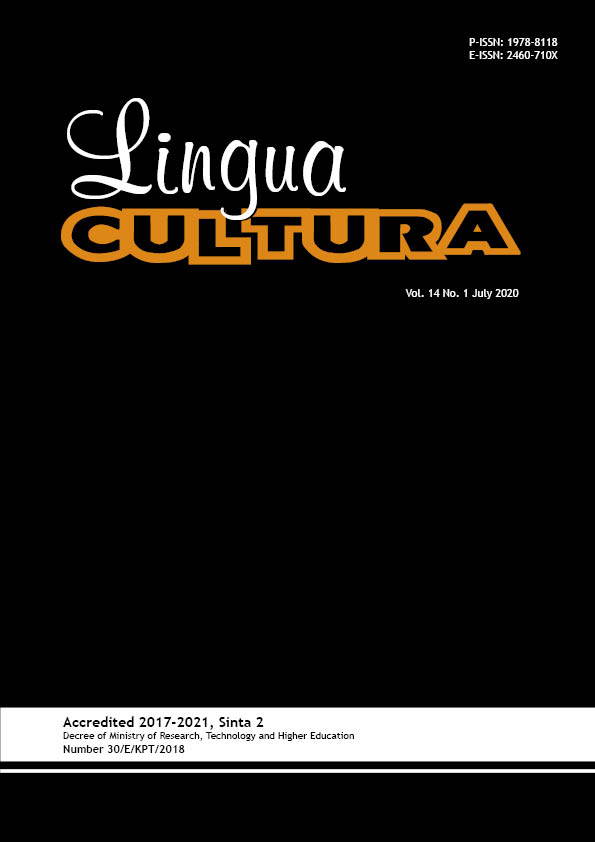 Downloads
License
Copyright (c) 2020 Lingua Cultura
This work is licensed under a Creative Commons Attribution-ShareAlike 4.0 International License.
Authors who publish with this journal agree to the following terms:
a. Authors retain copyright and grant the journal right of first publication with the work simultaneously licensed under a Creative Commons Attribution License - Share Alike that allows others to share the work with an acknowledgment of the work's authorship and initial publication in this journal.
b. Authors are able to enter into separate, additional contractual arrangements for the non-exclusive distribution of the journal's published version of the work (e.g., post it to an institutional repository or publish it in a book), with an acknowledgment of its initial publication in this journal.
c. Authors are permitted and encouraged to post their work online (e.g., in institutional repositories or on their website) prior to and during the submission process, as it can lead to productive exchanges, as well as earlier and greater citation of published work.
USER RIGHTS
All articles published Open Access will be immediately and permanently free for everyone to read and download.  We are continuously working with our author communities to select the best choice of license options, currently being defined for this journal as follows: Creative Commons Attribution-Share Alike (CC BY-SA)