Reviews of Teachers' Characters in Students' Autobiography
Keywords:
teacher character, teacher review, student autobiography
Abstract
The research aimed to describe reviews of teachers' characters found in students' autobiography. It belonged in the field of Indonesian Language Education, and the data were in the form of students' autobiography, written in Indonesian. A descriptive-qualitative approach was utilized to observe the attitude, behavior, or perception of autobiographers about their teachers' characters in the past. The source triangulation was used to verify the validity of the data. The data were analyzed through a comparative method using referential and marker reading techniques, in addition to the focused-group discussion. The results of the research show that the teachers' characters portrayed in students' autobiography includes: (1) positive characters: responsible, patient, caring, easy to understand, fair, making students smart, inspiring creativity; and (2) negative characters: fierce/yelling, scary in anger, hard to understand, flirty. From the results, it can be concluded that students' autobiography evidently helps measure the quality of teachers' characters, and negative characters reduce the learning process's effectiveness.
References
Adinda, A. P., Gaos, A. N. F., & Fatimah, R. S. N. (2020). Pelaksanaan layanan bimbingan untuk mengatasi anak yang malas belajar. Islamika: Jurnal Keislaman dan Ilmu Pendidikan, 2(1), 170-175. https://doi: 10.36088/islamika.v2i1.576.
Ahmad, M. A. (2019). Komunikasi sebagai wujud kompetensi sosial guru di sekolah. Jurnal Komodifikasi, 7(1), 33-44.
Agustin, M., Saripah, I., & Gustiana, A. D. (2018). Analisis tipikal kekerasan pada anak dan faktor yang melatarbelakanginya. Jurnal Ilmiah Visi, 13(1), 1-10. https://doi.org/10.21009/JIV.1301.
Angelis, C., Miranti, I., & Dwiastuty, N. (2019). The character development of 'Ben' in Gifted Hands: The Ben Carson's story through Erikson's psychosocial theory. LiNGUA: Jurnal Ilmu Bahasa dan Sastra, 14(2), 261-270. https://doi.org/10.22219/jipt.v5i2.4559.
Armiyanti, I., Aini, K., & Apriana, R. (2017). Pengalaman verbal abuse oleh keluarga pada anak usia sekolah di kota Semarang. Jurnal Keperawatan Soedirman, 12(1), 12-20. https://doi.org/10.20884/1.jks.2017.12.1.714.
Aziz, M. (2015). Perilaku sosial anak remaja korban broken home dalam berbagai perspektif (Suatu penelitian di SMPN 18 kota Banda Aceh). Jurnal Al-Ijtimaiyyah, 1(1), 30-50. http://dx.doi.org/10.11373/al-ijtimaiyyah.v1i1.252.
Azizah, A., & Setiana, L. N. (2016). Karakter tokoh dalam novel "Langit Mekah Berkabut Merah" karya Geidurrahman Al-Mishry berbasis nilai-nilai karakter religius dan implikasinya dalam pembelajaran sastra di Madrasah Aliyah. Refleksi Edukatika: Jurnal Ilmiah Kependidikan, 7(1), 79-83. doi: https://doi.org/10.24176/re.v7i1.1815.
Bakar, K. A. A., & Noor, I. H. M., Widodo. (2019). Nurturing nationalism character values at the primary schools in Jayapura, Papua. Cakrawala Pendidikan, 37(1), 42-56. https://doi.org/10.21831/cp.v37i1.13616.
Darmadi, H. (2015). Tugas, peran, kompetensi, dan tanggung jawab menjadi guru profesional. Edukasi: Jurnal Pendidikan, 13(2), 161-174. https://dx.doi.org/10.31571/edukasi.v13i2.113.
Fauzi, I. (2017). Dinamika kekerasan antara guru dan siswa: Studi fenomenologi tentang resistensi antara perlindungan guru dan perlindungan anak. Jurnal TARBIYATUNA: Jurnal Pendidikan Islam, 10(2), 40-69. https://doi.org/10.31603/tarbiyatuna.v10i2.
Hardiansyah, A., Khisni, A., & Hafidz, J. (2018). Tindak pidana kekerasan dalam proses belajar-mengajar ditinjau dari perspektif hukum pidana dan undangundang nomor 14 tahun 2015 tentang guru dan dosen. Jurnal Daulat Hukum, 1(1), 87-94. http://dx.doi.org/10.30659/jdh.1.1.%25p.
Hudaya, A. (2018). Pengaruh gadget terhadap sikap disiplin dan minat belajar peserta didik. Research and Development Journal of Education, 4(2), 86-97. http://dx.doi.org/10.30998/rdje.v4i2.3380.
Ilyas, S. N. (2019). Modul perlindungan anak: Meningkatkan pengetahuan guru paud tentang pencegahan kekerasan terhadap anak. Yaa Bunayya: Jurnal Pendidikan Anak Usia Dini, 3(2), 123-131. https://dx.doi.org/10.24853/yby.3.2.123-131.
Jasimah., Awaluddin., & Ruslan. (2018). Usaha guru dalam menanamkan empathy pada siswa sekolah dasar negeri unggul Simpang Tiga, Aceh Besar. Jurnal Ilmiah Pendidikan Guru Sekolah Dasar FKIP Unsyiah, 3(3), 89-100.
Jauhari, M. I. (2016). Pendidikan anti kekerasan perspektif Alquran dan implementasinya dalam metode pengajaran PAI. Jurnal Pendidikan Agama Islam, 13(2), 171-183. https://doi.org/10.14421/jpai.2016.132-04.
Juhji. (2016). Peran urgen guru dalam pendidikan. Studia Didaktika, 10(1), 51-62.
Juliantini, N. P. E., & Sudarsana, I. K. (2018). Analisis karakter pada tokoh utama dalam Satua Ni Diah Tantri serta implikasinya terhadap perempuan Hindu masa kini. Kamaya: Jurnal Ilmu Agama, 1(3), 249-259.
Kurniasari, A. (2015). Kekerasan versus disiplin dalam pengasuhan anak. Sosio Informa, 1(2), 141-159. https://doi.org/10.33007/inf.v1i2.143.
Maryadi., Sabardila, A., Prihartanti, N., & Markhamah. (2009). Model penggalian potensi menulis melalui penulisan otobiografi. Jurnal Penelitian Humaniora, 10(1), 45-55.
Maya, R. (2017). Karakter (adab) guru dan murid perspektif Ibn Jamâ'ah Al-Syâfi'î. Jurnal Edukasi Islami Jurnal Pendidikan Islam, 6(2), 22-43. http://dx.doi.org/10.30868/ei.v6i12.177.
Mustadi, A., Suhardi., Susilaningrum, E. S., Ummah, R., Purwatiningtyas, M., & Wijayanti, P. E. (2017). Character based reflective picture storybook: Improving student's social self-concept in elementary school. Cakrawala Pendidikan: Jurnal
Ilmiah Pendidikan, 36(3), 369-381. https://doi.org/10.21831/cp.v36i3.15860.
Nasir, J. A. (2018). Nilai-nilai pendidikan karakter guru dan murid dalam perspektif kisah Musa dan Khidir dalam surat Al-Kahfi ayat 60-82. Jurnal Ilmu Sosial dan Keagamaan Islam, 15(1),173-194. http://dx.doi.org/10.19105/nuansa.v15i1.1916.
Niani, W. O. (2017). Unsur psikologis dan perkembangan karakter tokoh utama dalam novel "Di Bawah Kebesaran-mu Hamba Takluk" karya Taufiqurrahman Al-Azizy. Jurnal Bastra, 1(4), 1-18.
Nugraha, A., & Rahman, F. A. (2017). Strategi kolaborasi orang tua dengan konselor dalam mengembangkan sukses studi siswa. Jurnal Konseling Gusjigang, 3(1), 128-136. https://doi.org/10.24176/jkg.v3i1.1605.
Nurfatin, N. A., & Triadi, R. B. (2018). Karakteristik tokoh kancil pada cerita rakyat tradisional Indonesia. Jurnal Sasindo UNPAM, 6(2), 53-65. https://dx.doi.org/10.32493/sasindo.v6i2.53-64.
Pratama., Ratnamulyani, I. A., & Fitriah, M. (2015). Pengaruh sosial media komunikasi interpersonal ibu dan anak dalam membangun motivasi belajar. Jurnal Komunikatio, 1(2), 115-134. https://doi.org/10.30997/jk.v1i2.
Rahman, A. A., Waluyo, H. J., & Suyitno. (2016). Analisis psikologis tokoh dan nilai pendidikan karakter pada novel "Amba" karya Laksmi Pamuntjak serta relevasinnya dalam pembelajaran sastra di perguruan tinggi. Jurnal S2 Pendidikan Bahasa Indonesia, 1(1), 10-21.
Sabardila, A., & Prihartanti, N. (2011). Penulisan otobiografi sebagai alat ungkap masalah pada siswa di sekolah. Surakarta: Lembaga Penelitian Universitas Muhammadiyah Surakarta.
Sani, B. A., Riyadi, A. R., & Saefudin, A. (2019). Perbedaan prestasi belajar siswa antara pelaku dengan korban bullying kelas V SD. JPGSD: Jurnal Pendidikan Guru Sekolah Dasar, 4(3), 66-78.
Santoso, M. (2015). Korelasi penggunaan media, disiplin belajar, dan motivasi belajar terhadap prestasi belajar IPS. Cendekia: Jurnal Pendidikan Dan Pembelajaran, 9(2), 149-158. https://doi.org/10.30957/cendekia.v9i2.36.
Setiawan, D., & Sitorus, J. (2017). Urgensi tuntutan profesionalisme dan harapan menjadi guru berkarakter (Studi kasus: Sekolah dasar dan sekolah menengah pertama di Kabupaten Batubara). Cakrawala Pendidikan, 37(1), 122-129. https://doi.
org/10.21831/cp.v36i1.11382.
Solehuddin, M., & Budiman, N. (2019). Multicultural competence of prospective preschool teachers in predominantly muslim country. Cakrawala Pendidikan: Jurnal Ilmiah Pendidikan, 38(3), 438-451. https://doi.org/10.21831/cp.v38i3.25033.
Susila, S. (March 11th, 2019). Horor kekerasan dalam pendidikan. Kompas (Online). Retrieved from https://kompas.id/baca/opini/2019/03/11/hororkekerasan-dalam-pendidikan/.
Turan, F., & Ulutas, I. (2016). Using storybooks as a character education tools. Journal of Education and Practice, 7(15), 169-176.
Tutiona, M. Y., Munir, A., & Ratu, B. (2016). Upaya mengurangi perilaku membolos melalui konseling individual dengan teknik behavior contract pada siswa smp negeri 6 Palu. Jurnal Konseling & Psikoedukasi, 1(1), 70-76.
Yusutria. (2017). Profesionalisme guru dalam meningkatkan kualitas sumber daya manusia. Curricula, 2(1), 38-46. https://doi.org/10.22216/jcc.2017.v2i1.1472.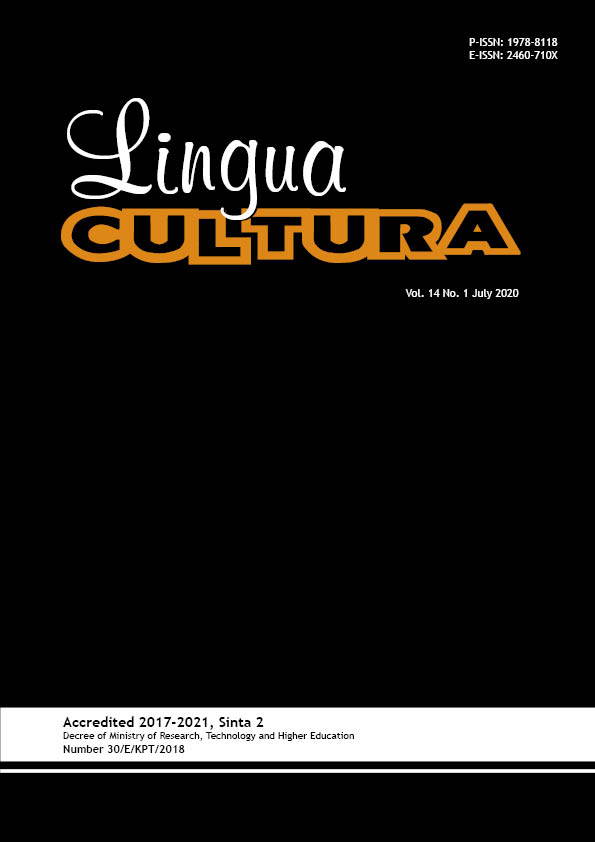 Downloads
License
Copyright (c) 2020 Lingua Cultura
This work is licensed under a Creative Commons Attribution-ShareAlike 4.0 International License.
Authors who publish with this journal agree to the following terms:
a. Authors retain copyright and grant the journal right of first publication with the work simultaneously licensed under a Creative Commons Attribution License - Share Alike that allows others to share the work with an acknowledgment of the work's authorship and initial publication in this journal.
b. Authors are able to enter into separate, additional contractual arrangements for the non-exclusive distribution of the journal's published version of the work (e.g., post it to an institutional repository or publish it in a book), with an acknowledgment of its initial publication in this journal.
c. Authors are permitted and encouraged to post their work online (e.g., in institutional repositories or on their website) prior to and during the submission process, as it can lead to productive exchanges, as well as earlier and greater citation of published work.
USER RIGHTS
All articles published Open Access will be immediately and permanently free for everyone to read and download.  We are continuously working with our author communities to select the best choice of license options, currently being defined for this journal as follows: Creative Commons Attribution-Share Alike (CC BY-SA)