Integrated Reporting and Investment: How are They Related?
Keywords:
integrated reporting, integrated investor, mandatory regulation, voluntary regulation
Abstract
The research aimed to explore how integrated reporting potentially impact the investor decision within mandatory and voluntary regulation. The method used was exploration of arguments from several researchers, either from theoretical and empirical basis, or literature review.  The method of this qualitative research was dividing the literature into categories which in this research would be mandatory and voluntary regulations. The sub categories were divided by two countries which were Africa and The United States as research objects. The result and discussion were integrated reporting increases the value relevance of information produced by the company and underline the way companies create a value over the short until long term by informing business model, corporate strategy, and forecasting view. The result shows that Integrated Reporting will be more useful if the Government mandates the regulation like in Africa. It is considered that when Integrated Reporting potentially impacts the investors' decision assured by professional services, these disclosures will be more accurate and reliable. A contribution for the government to create a clear regulation of the integrated report and provide an assurance service to assure the accuracy of information in the Integrated Report will be our expectation.
Dimensions
Plum Analytics
References
Cohen, J. R., Holder-Webb, L. L., Nath, L., & Wood, D. (2012). Corporate reporting of nonfinancial leading indicators of economic performance and sustainability. Accounting Horizons, 26(1), 65–90. https://doi.org/10.2308/acch-50073
Dissanayake, D. M. M. B., & Ekanayake, E. M. A. S. B. (2018). Decision usefulness of corporate environmental reporting and firm performance: Evidence from Sri Lanka. IUP Journal of Accounting Research & Audit Practices, 17(3), 7–23. Retrieved from http://search.ebscohost.com/login.aspx?direct=true&db=buh&AN=131601017&site=ehost-live
Druckman, P. (2014). A corporate reporting evolution: internal auditors can play an important role in the adoption of the Integrated Reporting Framework, says International Integrated Reporting Council CEO Paul Druckman. Internal Auditor, 71(1), 15. Retrieved from https://go.gale.com/ps/anonymousid=GALE%7CA371175095&sid=googleScholar&v=2.1&it=r&linkaccess=fulltext&issn=00205745&p=AONE&sw=w
Dumay, J., Bernardi, C., Guthrie, J., & Demartini, P. (2016). Integrated reporting: A structured literature review. Accounting Forum, 40(3), 166–185. https://doi.org/10.1016/j.accfor.2016.06.001
Eccles, R. G., & Krzus, M. P. (2010). Integrated reporting for a sustainability strategy. Financial Executive, 26(2), 29–32. https://doi.org/10.1109/ICSMC.2008.4811377
Eccles, R. G., & Serafeim, G. (2015). Corporate and integrated reporting: A functional perspective. Chapter 9 in Corporate Stewardship: Achieving Sustainable Effectiveness, edited by Ed Lawler, Sue Mohrman, and James O'Toole, Greenleaf (pp. 156–172). https://doi.org/10.9774/gleaf.9781783532605_10.
Flower, J. (2015). The international integrated reporting council: A story of failure. Critical Perspectives on Accounting, 27(C), 1–17. https://doi.org/10.1016/j.cpa.2014.07.002.
García-Sánchez, I. M., Rodríguez-Ariza, L., & Frías-Aceituno, J. V. (2013). The cultural system and integrated reporting. International Business Review, 22(5), 828–838. https://doi.org/10.1016/j.ibusrev.2013.01.007.
Gray, R. (2006). Social, environmental and sustainability reporting and organisational value creation?: Whose value? Whose creation? Accounting, Auditing and Accountability Journal, 19(6), 793–819. https://doi.org/10.1108/09513570610709872.
Hoque, M. E. (2017). Why company should adopt integrated reporting. International Journal of Economics and Financial Issues, 7(1), 241–248. Retrieved from https://www.researchgate.net/publication/312318057_Why_Company_Should_Adopt_Integrated_Reporting.
Institute of Directors in Southern Africa. (2009). King Code of Governance for South Africa 2009. King Report on Governance for South Africa 2009. Retrieved from http://www.ngopulse.org/sites/default/files/king_code_of_governance_for_sa_2009_updated_june_2012.pdf
International Integrated Reporting Committe. (2011). Towards integrated reporting: Communicating value in the 21st century. Integrated Reporting, (September), 17. https://doi.org/10.1177/1469605303003002002.
Jensen, M. C., & Meckling, W. H. (1976). Theory of the firm: Managerial behavior, agency costs and ownership structure. Journal of Financial Economics, 3(4), 305–360.
KPMG (2012),'Integrated Reporting in Practice: The South African Story', Retrieved from https://www.kpmg.com/Global/en/topics/corporate-reporting/better-reporting/Documents/the-south-african-story.pdf, accessed 5 January 2016.
OECD. (2009). Corporate Governance and the Financial Crisis: Key Findings and Main Messages. OECD Steering Group on Corporate Governance. Retrieved from https://www.oecd.org/corporate/ca/corporategovernanceprinciples/43056196.pdf.
Prado-Lorenzo, J. M., & Garcia-Sanchez, I. M. (2010). The role of the board of directors in disseminating relevant information on Greenhouse Gases. Journal of Business Ethics, 97(3), 391–424. https://doi.org/10.1007/s10551-010-0515-0
Solomon, J. (2010). Corporate Governance and Accountability (3rd Ed.). West Susex, United Kingdom: John Wiley and Sons Ltd.
The International Integrated Reporting Council (IIRC). (2013). The International Framework. Integrated Reporting Prototype Framework, 1–51. Retrieved from http://www.theiirc.org/about/
Van Zyl, A. S. (2016). Sustainability and integrated reporting in the South African corporate sector. Journal of Sustainability Management (JSM), 1(1), 19. https://doi.org/10.19030/jsm.v1i1.8390.
Vaz, N., Fernandez-Feijoo, B., & Ruiz, S. (2016). Integrated reporting: an international overview. Business Ethics, 25(4), 577–591. https://doi.org/10.1111/beer.12125.
Visser, W. (2010). The age of responsibility: CSR 2.0 and the new DNA of business. Journal of Business Systems, Governance and Ethics, 5(3). https://doi.org/10.15209/jbsge.v5i3.185.
Widiyastuti, Y., & Chariri, A. (2012). Evolusi dalam pelaporan keuangan perusahaan: Analisis semiotik atas integrated reporting PT United Tractors Tbk (Doctoral dissertation, Fakultas Ekonomika dan Bisnis).
Zhou, S., Simnett, R., & Green, W. (2017). Does integrated reporting matter to the capital market? Abacus, 53(1), 94–132. https://doi.org/10.1111/abac.12104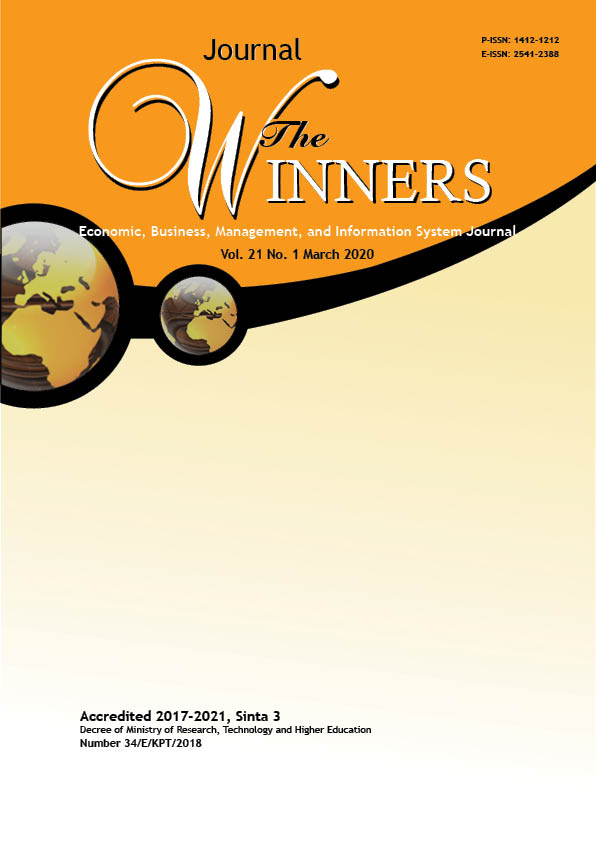 Downloads
License
Authors who publish with this journal agree to the following terms:
a. Authors retain copyright and grant the journal right of first publication with the work simultaneously licensed under a Creative Commons Attribution License - Share Alike that allows others to share the work with an acknowledgment of the work's authorship and initial publication in this journal.
b. Authors are able to enter into separate, additional contractual arrangements for the non-exclusive distribution of the journal's published version of the work (e.g., post it to an institutional repository or publish it in a book), with an acknowledgment of its initial publication in this journal.
c. Authors are permitted and encouraged to post their work online (e.g., in institutional repositories or on their website) prior to and during the submission process, as it can lead to productive exchanges, as well as earlier and greater citation of published work.
USER RIGHTS
 All articles published Open Access will be immediately and permanently free for everyone to read and download.  We are continuously working with our author communities to select the best choice of license options, currently being defined for this journal as follows: Creative Commons Attribution-Share Alike (CC BY-SA)
Abstract 498 . PDF downloaded 229 .