Humaniora is a triannual journal, published in March, July, and November. Humaniora focuses on various issues spanning in Language, People, Art, and Communication Studies.
Humaniora has been accredited by DIKTI under the decree number 34/E/KPT/2018 (SINTA 2)  and indexed by Directory of Open Access Journal (DOAJ), ASEAN Citation Index (ACI), Science and Technology Index 2 (SINTA 2), Garda Rujukan Digital (Garuda), Microsoft Academic Search, Academic Research Index (Research BIB), Open Academic Journals Index (OAJI), Bielefeld Academic Search Engine (BASE), Google Scholar, and Indonesian Research Repository (Neliti)
There is an article-processing charge for all accepted papers and will be freely available to all readers with worldwide visibility and coverage. The article processing charge is Rp. 2.000.000,00 and the author will receive a complimentary hard copy of our journal. Free-of-charge for international authors.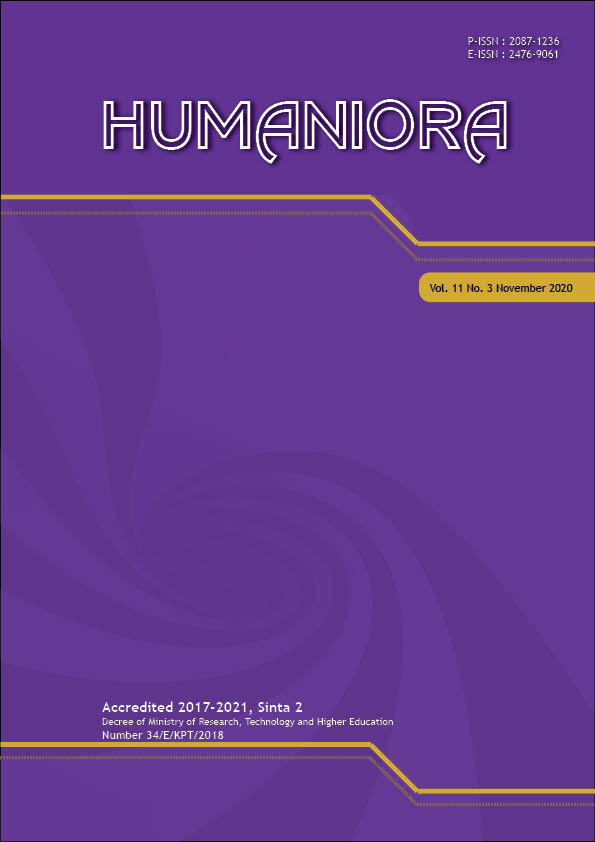 Announcements
Humaniora Accreditation

Congratulation to Editor in Chief Humaniora Dra. Endang Ernawati, M.Lib., Managing Editor Dr. Arta Moro Sundjaja, S.Kom., S.E., M.M., Arta Moro Sundjaja, and Nurlina, S.Kom., M.M., Journal Publication Officer Haryo Sutanto, S.S., Haryo BillyRocks Sutanto, Copy Editor Dina Nurfitria, S.S., Dina Nurfitria dan Eka Yanti Pangputri, S.S., Layout Editor Atmawati, S.Kom., 

Posted: 2018-12-19
Vol 11, No 2 (2020): Humaniora (In Press)