2021-08-05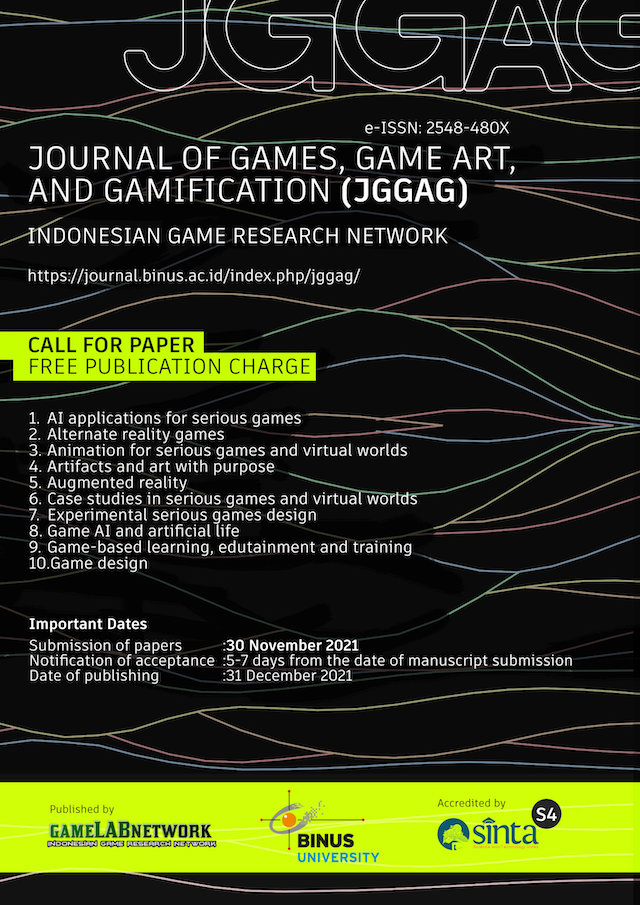 CALL FOR PAPERS
Journal of Game, Game Art, and Gamification Vol. 6 No. 2
(e-ISSN: 2548-480X)
The Journal of Game, Game Art, and Gamification (JGGAG), a blind peer-reviewed interdisciplinary journal of the Game Research Network, invites submissions on the theme of game, game art, and gamification. 
Published bi-annually, JGGAG brings together researchers from industry and academics, and providing an open-access international forum to exchange and share their experiences, new ideas, and research results about all aspects of games. JGGAG aims to encourage scholarly conversations about game, game art, and gamification. All accepted articles will be published on FREE of an article-processing charge, and will also be freely available to all readers with worldwide visibility and coverage.
JGGAG has been accredited "SINTA 4" by The Ministry of Research-Technology and Higher Education Republic of Indonesia. We welcome contributions from researchers of all backgrounds, including submissions from the industry, academics and students. The journal admits original research articles, reviews, position papers, and other critical and creative responses to game, game art, and gamification. The journal also encourages researchers to showcase their demo or presentation videos, together with their articles, to international audiences.
These are recommended topics, but not limited to:
1.   AI applications for serious games
2.   Alternate reality games
3.   Animation for serious games and virtual       worlds
4.   Artifacts and art with purpose
5.   Augmented reality
6.   Case studies in serious games and virtual       worlds
7.   Experimental serious games design
8.   Game AI and artificial life
9.   Game-based learning, edutainment and training
10. Game design
11. Games for health, well-being and exercise
12. Games for social innovation & change
13. Gamification
14. Human-computer interaction
15. Mobile games
16. Multimedia gaming
17. Pervasive gaming
18. Serious game art
19. Serious game analytics
20. Serious game assessment
21. Serious game evaluation
22. Serious game design
23. Serious game development
24. Serious games methodologies
25. Serious game playtesting
26. User-modelling in serious games
27. Virtual characters
28. Virtual environments
29. Virtual reality
30. Game art
31. Non digital games
Important Dates
Submission of papers               :  30 November 2021
Notification of acceptance        :  within 5-7 days from the date of manuscript submission
Date of publishing                   :  31 December 2021
All manuscripts are written in English. Submission guidelines and procedures can be found on the journal's website: https://journal.binus.ac.id/index.php/jggag/about/submissions
Inquiries can be sent to:
Ida Bagus Kerthyayana Manuaba, Ph.D, Binus University, Indonesia, imanuaba@binus.edu
Nunung Nurul Qomariyah, Ph.D, Binus University, Indonesia, nunung.qomariyah@binus.edu
Editor contact email: jggag@binus.edu