Linguistic Signs in Slang Used in Drug Trading Transactions in Padang City
Keywords:
drugs, slang, language used, linguistic signs
Abstract
This research discussed the linguistic sign in slang language used in drug transactions. Slang language was found based on interviews conducted with drug dealers and drug users in Ranah Parak Rumbio, South Padang subdistrict, Padang City. The purpose of this research was to determine the signifier and signified found in drug slang language. Furthermore, the research determined the order of signification by analyzing the meaning of slang language based on its context. The data were obtained using the direct observation method. This was achieved by using interview techniques. The interviews were conducted with three informants. There were two men who used to be drug dealers and former drug users, and a woman who was an observer and anti-drug activist. Furthermore, the data were analyzed by using equalizing and differentiation techniques. Data analysis was carried out using semiotic by referring to the linguistic signs theory proposed by Saussure and the theory of order of signification by Barthes. In conclusion, it is found that slang is formed in word categories, abbreviations, and phrases. Then, the factors of language are also considered, such as time and place of the background, the number of participants in the interaction, talking topic, and interaction function. These factors then determine the use of slang terms between drug users and dealers. 
References
Akyuwen, I., Sasabone, C., & Tabelessy, N. (2020). Ragam bahasa gaul dalam media sosial Facebook remaja negeri Passo kota Ambon. Mirlam: Jurnal Pendidikan Bahasa dan Sastra Indonesia, 1(1), 93-102. https://doi.org/10.30598/mirlamvol1no1hlm93-102.
Anisah, Z. (2019). Relevansi operasional bahasa dengan otak manusia. Stilistika: Jurnal Pendidikan Bahasa dan Sastra, 12(2), 187-196. https://doi.org/10.30651/st.v12i2.2901.
Chandler, D. (2017). Semiotics: The basics (3rd Ed). Abingdon: Routledge.
Devianty, R. (2017). Bahasa sebagai cermin kebudayaan. Jurnal Tarbiyah, 24(2), 226-245. http://dx.doi.org/10.30829/tar.v24i2.167.
Fadli, M. L., & Suwandewi, A. (2019). Faktor yang berhubungan dengan kecenderungan penggunaan psikotropika zat adiktif (lem fox) pada remaja. Dinamika Kesehatan Jurnal Kebidanan dan Keperawatan, 10(2), 687-699. https://doi.org/10.33859/dksm.v10i2.505.
Hariyanto, B. P. (2018). Pencegahan dan pemberantasan peredaran narkoba di Indonesia. Jurnal Daulat Hukum, 1(1), 201-210. http://dx.doi.org/10.30659/jdh.v1i1.2634.
Kinanthi, K., & Nugroho, R. D. (2017). Makna iklan Honda merek freed keluaran tahun 2017 lewat tanda lingual dan tanda visual dengan kajian semiotika. Ayumi: Jurnal Budaya, Bahasa, dan Sastra, 4(2), 152-174. https://doi.org/10.25139/ayumi.v5i2.394.
Lyra, H. M. (2016). Peranti lingual metafora orientasional bagian tubuh dalam bahasa Sunda. Rika Bahasa: Jurnal Bahasa, Sastra, dan Pembelajarannya, 2(1), 42-47. https://doi.org/10.17509/rb.v2i1.8772.
Noermanzah. (2020). Bahasa sebagai alat komunikasi, citra pikiran, dan kepribadian. In Seminar Nasional Pendidikan Bahasa dan Sastra. Universitas Bengkulu. Bengkulu, 21st October 2020. Pp. 306-319. https://doi.org/10.31219/osf.io/ez6dk.
Rahmawati, I. (2017). Semiotik teks Roland Barthes dalam kehidupan kontemporer umat beragama mengenai fenomena padu padan kebaya. Tamaddun: Jurnal Kebudayaan dan Sastra, 17(2), 29-43. https://doi.org/10.19109/tamaddun.v17i2.2532.
Rokhman, F. (2013). Sosiolinguistik: Suatu pendekatan pembelajaran bahasa dalam masyarakat multikultural. Yogayakarta: Graha Ilmu.
Sari, C. P. (2018). Struktur tematik berita penyalahgunaan narkoba harian media Indonesia (Analisis wacana kritis Teun A. Van Dijk). FON: Jurnal Pendidikan Bahasa dan Sastra Indonesia, 12(1), 11-26. https://doi.org/10.25134/fjpbsi.v12i1.1517.
Setyawan, I., & Sulistyawati, S. (2019). Mewaspadai bahaya penyalahgunaan narkotika pada kalangan masyarakat desa Bandar Khalifah kecamatan Percut Sei Tuan. Seminar Nasional Hasil Pengabdian, 2(1), 451-456.
Simpen, I. W. (2015). Dinamika pembentukan kata Bahasa Indonesia. RETORIKA: Jurnal Ilmfu Bahasa, 1(2), 319-330. https://doi.org/10.22225/jr.1.2.37.319-330.
Sudaryanto. (2015). Metode dan aneka teknik analisis bahasa: Pengantar penelitian wahana kebudayaan secara linguistis. Yogyakarta: Sanata Dharma University Press.
Suyatna, U. (2018). Evaluasi kebijakan narkotika di Indonesia. Sosiohumaniora, 20(2), 168-176. https://doi.org/10.24198/sosiohumaniora.v20i2.16054.
Umagandhi, R., & Vinothini, M. (2017). Leech's seven types of meaning in semantics. International Journal of Multidisciplinary Research and Development, 4(3), 71-72.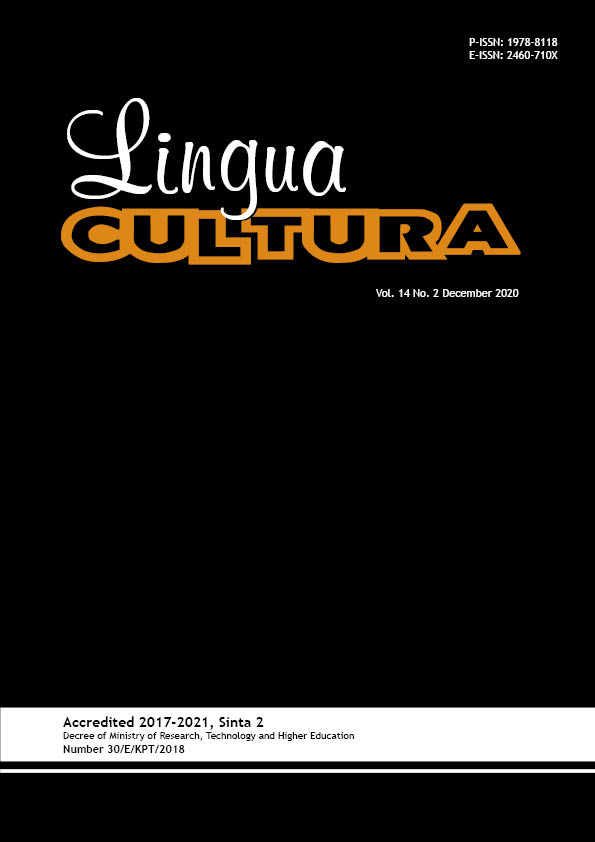 Downloads
License
Copyright (c) 2020 Amelia Yuli Astuti, Bram Denafri
This work is licensed under a Creative Commons Attribution-ShareAlike 4.0 International License.
Authors who publish with this journal agree to the following terms:
a. Authors retain copyright and grant the journal right of first publication with the work simultaneously licensed under a Creative Commons Attribution License - Share Alike that allows others to share the work with an acknowledgment of the work's authorship and initial publication in this journal.
b. Authors are able to enter into separate, additional contractual arrangements for the non-exclusive distribution of the journal's published version of the work (e.g., post it to an institutional repository or publish it in a book), with an acknowledgment of its initial publication in this journal.
c. Authors are permitted and encouraged to post their work online (e.g., in institutional repositories or on their website) prior to and during the submission process, as it can lead to productive exchanges, as well as earlier and greater citation of published work.
USER RIGHTS
All articles published Open Access will be immediately and permanently free for everyone to read and download.  We are continuously working with our author communities to select the best choice of license options, currently being defined for this journal as follows: Creative Commons Attribution-Share Alike (CC BY-SA)