Reflection of Undergraduate Students on Translation Process: An Outlook of Translation Teaching in University
Keywords:
translation process, translation teaching, undergraduate students
Abstract
The research attempted to recognize students' comprehension in adopting a set of procedures in the translation process compared to the translation-professional choices in real-situation. Thus, two sets of questionnaires were provided for students and professional translators. The qualitative method was employed in conducting the research. The first questionnaire enabled students to express their feelings, thoughts, and ideas concerning the translation course and process. This reflection revealed the students' strategies, interests, and motivation in attending the course. It also allowed the student to see the importance and benefit of the course. On the other hand, the second questionnaire drew some insight into professional translators' choice in doing a translation, particularly on strategy in dealing with texts. Those finding provides an opportunity for teachers to identify the students' needs in learning and practicing the translation as close as the professional does and finally to find the best approach in teaching translation. 
References
Behr, D. (2018). Translating questionnaires for crossnational surveys: A description of a genre and its particularities based on the ISO 17100 categorization of translator competences. Translation & Interpreting, 10(2), 5-20. https://doi.org/10.12807/ti.110202.2018.a02.
Gorozhanov, A. I., Kosichenko, E. F., & Guseynov, I. A. (2018). Teaching written translation online: Theoretical model, software development, interim result. SHS Web of Conferences, 50, 1-6. https://doi.org/10.1051/shsconf/20185001062.
Ho, P. V. P. (2016). Model of teaching translation. Giang Day Bien-Phien Dich Bac Dai Hoc (proceedings). Ho Chi Minh, Vietnam.
Hubackova, S. (2015). Factors influencing the quality of teaching and the foreign language knowledge. Procedia-Social and Behavioral Sciences, 197, 1952-1956.
Ivanova, O. (2016). Translation and ICT competence in the globalized world. Procedia-Social and Behavioral Sciences, 231, 129-134. https://doi:10.1016/j.sbspro.2016.09.081.
Kadiu, S. (2017). Teaching theory through practice: A reflexive approach to translation pedagogy. Journal of Current Trends in Translation Teaching and Learning E (CTTL E), 4, 48-77.
Krüger, R., & Piqueras, J. S. (2015). Situated translation in the translation classroom. Current Trends in Translation Teaching and Learning, 2, 5-30.
Kusçu, S., & Ünlü, S. (2015). Teaching translation: A suggested lesson plan on translation of advertising through the use of authentic materials. Procedia - Social and Behavioral Sciences, 199, 407-414.
Larsen-Freeman, D., & Anderson, M. (2011). Techniques and principles in language teaching. Oxford: Oxford University Press.
Li, X. (2018). International research on translation teaching: A review (2008-2017). Theory and Practice in Language Studies, 8(6), 656-664. http://dx.doi.org/10.17507/tpls.0806.16.
Liu, C., & Yu, C. (2019). Understanding students' motivation in translation learning: A case study from the selfconcept perspective. Asia-Pacific Journal of Second and Foreign Language Education, 4(4), 1-19. https://doi.org/10.1186/s40862-019-0066-6.
Melnichuk, M. V., & Osipova, V. M. (2017). Cooperative learning as a valuable approach to teaching translation. XLinguae Journal, 10(1), 25-33. https://doi.org/10.18355/XL.2017.10.01.03.
Mubarak, A. A. (2017) Exploring the problems of teaching translation theories and practice at Saudi universities: A case study of Jazan University in Saudi Arabia. English Linguistics Research, 6(1), 87-98. https://doi.org/10.5430/elrv6n1p87.
Newmark, P. (1988) Approaches to translation. Hertfordshire: Prentice Hall.
Odacıoglu, M. C., & Kokturk, S. (2015). The effects of technology on translation students in academic translation teaching. Procedia-Social and Behavioral Sciences, 197, 1085-1094. https://doi.org/10.1016/j.sbspro.2015.07.349.
Petrocchi, V. (2014). Pedagogic translation vs translation teaching: A compromise between theory and practice. Italica, 91(1), 95-109.
Sembiring, M., & Panggabean, H. (2018). Translating culture-bound terms in wedding speech texts of Karonese society into English. Skase: Journal of Translation and Interpretation, 11(1), 69-92.
Setiadi, R., & Piyakun, A. (2017). Foreign literacy practices and learning skills among Indonesian and Thai students of graduate education studies. Kasetsart Journal of Social Sciences, 1-8. https://doi.org/10.1016/j.kjss.2017.12.006.
Siregar, R. (2016). Translation quality assessment of "the 8th habit: from effectiveness to greatness by Stephen R. Covey" into Indonesian. International Journal of Language and Literature, 4(1), 228-239. https://doi.org/10.15640/ijll.v4n1a27.
Siregar, R. (2017a). Teaching specific purpose translation: Utilization of bilingual contract document as parallel corpus. English Language Teaching, 10(7), 175-182. https://doi.org/10.5539/elt.v10n7p175.
Siregar, R. (2017b). Designing course: An initial approach to translation teaching. International Journal of Scientific & Technology Research, 6(9), 321-324.
Suryawinata, Z., & Hariyanto, S. (2003). Translation: Bahasan teori & penuntun praktis menerjemahkan. Yogyakarta: Kanisius.
Tarasova, E., Kradetskaya, A., & Kudlay, A. (2015). The role of motivation in technical translation teaching to Master degree students. Procedia - Social and Behavioral Sciences, 206, 189-192. https://doi.org/10.1016/j.sbspro.2015.10.052.
Tomozeiu, D., Koskinen, K., & D'Arcangelo, D. (2016). Teaching intercultural competence in translator training. Journal the Interpreter and Translator Trainer, 10(3), 251-267. https://doi.org/10.1080/1750399X.2016.1236557.
Xu, B., & Cao, J. (2017). Book translation and MTI education – A translation teaching model derived by authentic book translation projects. Journal of Foreign Languages, 40(5), 102-105.
Zhou, Y., & Zou, L. (2017). Cultivation of translation competence: A study on translation teaching in College English Teaching in Leshan Normal University, Sichuan, China. Journal of Language Teaching and Research, 8(4), 756-760. http://dx.doi.org/10.17507/jltr.0804.15.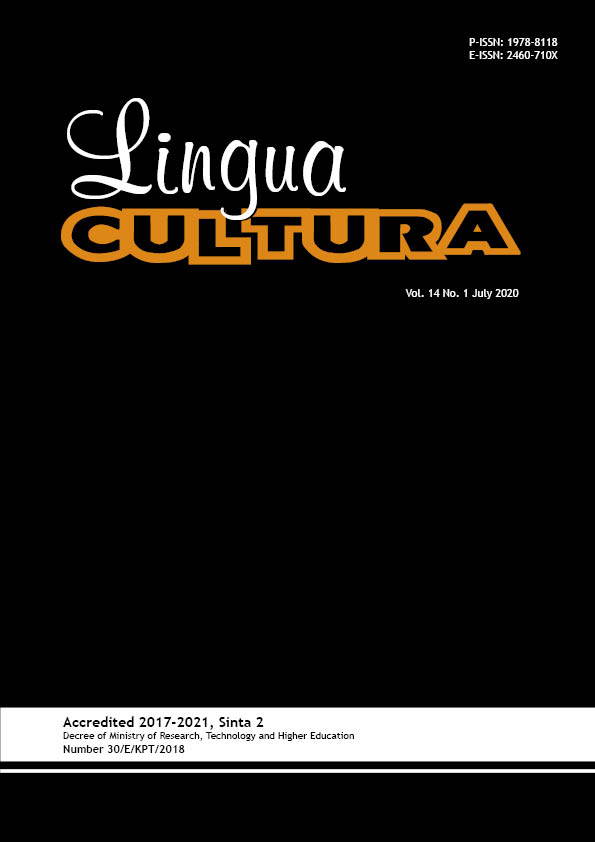 Downloads
License
Copyright (c) 2020 Lingua Cultura
This work is licensed under a Creative Commons Attribution-ShareAlike 4.0 International License.
Authors who publish with this journal agree to the following terms:
a. Authors retain copyright and grant the journal right of first publication with the work simultaneously licensed under a Creative Commons Attribution License - Share Alike that allows others to share the work with an acknowledgment of the work's authorship and initial publication in this journal.
b. Authors are able to enter into separate, additional contractual arrangements for the non-exclusive distribution of the journal's published version of the work (e.g., post it to an institutional repository or publish it in a book), with an acknowledgment of its initial publication in this journal.
c. Authors are permitted and encouraged to post their work online (e.g., in institutional repositories or on their website) prior to and during the submission process, as it can lead to productive exchanges, as well as earlier and greater citation of published work.
USER RIGHTS
All articles published Open Access will be immediately and permanently free for everyone to read and download.  We are continuously working with our author communities to select the best choice of license options, currently being defined for this journal as follows: Creative Commons Attribution-Share Alike (CC BY-SA)