This site hosts scientific journals published by Bina Nusantara University, Jakarta, Indonesia.
A B C D E F G H I J K L M N O P Q R S T U V W X Y Z All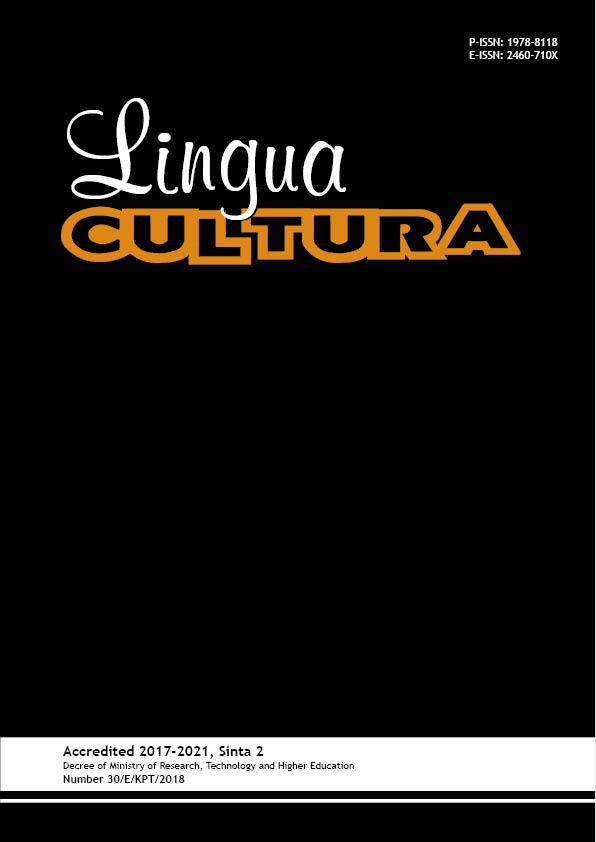 Lingua Cultura
Lingua Cultura is an international journal published in February, May, August, and November, first publication is in 2007. Since 2016, it is accredited by the Ministry of Research, Technology and Higher Education under the decree number 2/E/KPT/2015. The journal contents are managed by the English Department, Japanese Department, and Chinese Department, Faculty of Humanities, Bina Nusantara University, Jakarta, Indonesia.
The objective of the journal is to provide a forum for lecturers, researchers, students, and practitioners to present their ideas, concepts, and new theories in language and culture; and to disseminate theory, research, and teaching reviews to the academic community of language and literature studies in Indonesia and abroad.
Editorial Board of Lingua Cultura Binus welcomes the submission of paper in scientific fields related to the participants. We welcome lecturers, academicians, researchers, practitioners, entrepreneurs, and students and invite them to disseminate their latest research articles in their respective fields.
Authors are invited to find relevant topics for the journal and to submit complete unpublished scientific research articles according our journal guideline, which are not under review in any other academic journal.