Using Technology-Based Media for Teaching Speaking in Intercultural Education
Keywords:
mobile phone, teaching speaking, intercultural education
Abstract
The research aimed to study how did mobile-phone were used for teaching speaking in intercultural education? and was the use of mobile phone for teaching speaking in intercultural education effective? Intercultural competence could be seen in the teaching of speaking since the students had to reflect their ideas and opinions orally. Thus, the speaking ability would be much supported by intercultural education. To reach this, the use of technology-based media like mobile-phone in teaching speaking was needed to make it easier and more interesting. In the past decade, several studies have sought to determine the use of technology in education; however, in the university context, the issues of mobile phone used for teaching speaking in intercultural education had not been discussed extensively. The research employed explanatory sequential mix-method research. The instrument of the research was an observation, questionnaire, and test. The research population was 40 students of the fifth semester of the English Education Program of Purworejo Muhammadiyah University. The finding shows that mobile phone is used as the primary tool to access the material and learning platform. Using mobile phones, the student's speaking ability is improved by 18,3%. In addition, the finding shows that the use of mobile phones for teaching speaking in intercultural education is effective to help the teacher in delivering the material and boosting the students' motivation to speak.
Dimensions
Plum Analytics
References
Ababneh, S. (2017). Using mobile phones in learning English: The case of Jordan. Journal of Education and Human Development, 6(4), 120-128. https://doi.org/10.15640/jehd.v6n4a14.
Aquaded-Ramirez, E. (2017). Smart city and intercultural education. Procedia - Social and Behavioral Science, 237, 326-333. https://doi.org/http://dx.doi.org/10.1016/j.sbspro.2017.02.010.
Arianti, A., Nurnaningsih., & Pratiwi, V. (2018). A media for teaching speaking using Youtube video. Advances in Engineering Research, 175, 71-73. https://dx.doi.org/10.2991/icase-18.2018.19.
Asenahabi, B. M. (2019). Basics of research design: A guide to selecting appropriate research design. International Journal of Contemporary Applied Researches, 6(5), 76-89.
Budiarta, I. K. (2020). Native speaker and cultural authenticity in EFL class: A linguistic anthropology perspective. Jurnal Saintiaji Pendidikan (JSP), 10(1), 10-19. https://doi.org/10.36733/jsp.v10i1.692.
Cresswell, J. (2012). Educational research: Planning, conducting, and evaluating quantitative and qualitative. London: Pearson Education.
Flick, U. (2006). An introduction to qualitative research. London: Sage Publication.
Irwandi. (2017). Integrating intercultural communication competence in teaching oral communication skill. In Challenges and Opportunities in Multi-Dimensional English Language Teaching in Changing EFL Contexts. Pp 246-252. Retrieved from http://ejournal.unp.ac.id/index.php/selt/article/view/8011.
Jati, I. P., Saukah, A., & Suryati, N. (2019). Teaching using YouTube tutorial video to improve students' speaking skills. Jurnal Pendidikan Humaniora, 7(3), 101-116.
Kapur, R. (2018). Role of media in the development of education. Retrieved from https://www.researchgate.net/publication/323725768_Role_of_Media_in_the_Development_of_Education
Kayaoðlu, M. N., & Saðlamel, H. (2013). Students' perceptions of language anxiety in speaking classes. Journal of History Culture and Art Research, 2(2), 142-160. http://dx.doi.org/10.7596/taksad.v2i2.245.
Kriswinardi, G. T., Nitiasih, P. K., & Dambayana, P. E. (2018). An analysis of using video on teaching speaking in EFL classroom of the eleventh-grade students of SMA N 4 Singaraja in academic year 2017/2018. Jurnal Pendidikan Bahasa Inggris Undikhsa, 5(2), 1-7. http://dx.doi.org/10.23887/jpbi.v5i2.14931.
Malik, T. (2019). Comparative analysis between pre-test/post-test model and post-test-only model in achieving the learning outcomes. Pakistan Journal of Ophthalmology, 35(1), 4-8. http://dx.doi.org/10.36351/pjo.v35i1.855.
Marisyah, A., Firman., & Rusdinal. (2019). Pemikiran Ki Hajar Dewantara tentang pendidikan. Jurnal Pendidikan Tambusai, 3(6), 1514-1519. https://doi.org/10.31004/jptam.v3i3.395.
Rachmawati, U., & Madya, S. (2019). Developing computer-assisted reflective transformative reading instructional model for the students of senior high schools. Retrieved from http://eprints.uny.ac.id/66049/.
Rokhayati, T. (2017). Developing speaking material based on intercultural approach: A case study on students' task in interviewing native speakers. Proceedings of the 15th Asia TEFL and 64th TEFLIN International Conference. Yogyakarta, Indonesia. pp 154-165.
Rokhayati, T. (2018). Model of intercultural for teaching speaking in higher education. Proceedings of the 65th Teflin International Conference, 65(1), 279-288.
Saraswati, G., Hartoyo., & Fadwati, A. (2018). The role of local culture in English speaking class. LLT Journal: A Journal on Language and Language Teaching, 21(2), 183-190. https://doi.org/10.24071/llt.v21i2.934.g1287.
Sosas, R. V. (2021). Technology in teaching speaking and its effects to students learning English. Journal of Language and Linguistic Studies, 17(2), 958-970. http://dx.doi.org/10.52462/jlls.66.
Velez, P. A., & Olivencia, L. J. J. (2017). Attitudes and perceptions towards cultural diversity and interculturality in the university context. A comparative study. Procedia - Social and Behavioral Sciences, 237, 548-553. http://dx.doi.org/10.1016/j.sbspro.2017.02.105.
Wahyuningsih, S., & Putra, I. N. T. D. (2020). The implementation of technology-based media in improving English speaking skill of hospitality students in Mataram Tourism College. Jo-Elt (Journal of English Language Teaching), 7(2), 958-970. https://doi.org/10.33394/jo-elt.v7i2.3188.
Wereszczyńska, K. (2018). Importance of and need for intercultural education according to students: future teachers. Polish Journal of Educational Studies, 71(1), 212-228. https://doi.org/10.2478/poljes-2018-0017.
Zohrabi, M. (2013). Mixed method research: instruments, validity, reliability and reporting findings. Theory and Practice in Language Studies, 3(2), 254-262. https://doi.org/10.4304/tpls.3.2.254-262.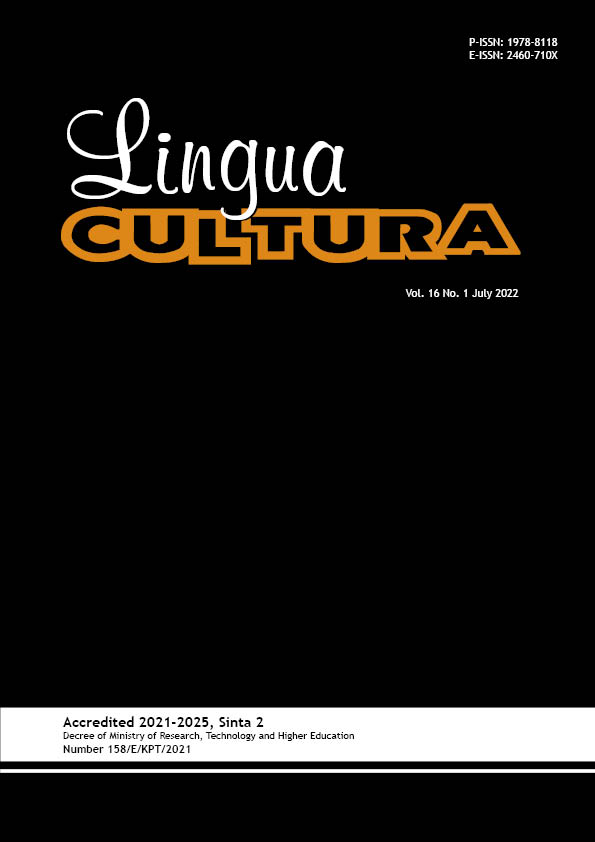 Downloads
License
Copyright (c) 2022 Ana Widiyanti, Titi Rokhayati
This work is licensed under a Creative Commons Attribution-ShareAlike 4.0 International License.
Authors who publish with this journal agree to the following terms:
a. Authors retain copyright and grant the journal right of first publication with the work simultaneously licensed under a Creative Commons Attribution License - Share Alike that allows others to share the work with an acknowledgment of the work's authorship and initial publication in this journal.
b. Authors are able to enter into separate, additional contractual arrangements for the non-exclusive distribution of the journal's published version of the work (e.g., post it to an institutional repository or publish it in a book), with an acknowledgment of its initial publication in this journal.
c. Authors are permitted and encouraged to post their work online (e.g., in institutional repositories or on their website) prior to and during the submission process, as it can lead to productive exchanges, as well as earlier and greater citation of published work.
USER RIGHTS
All articles published Open Access will be immediately and permanently free for everyone to read and download.  We are continuously working with our author communities to select the best choice of license options, currently being defined for this journal as follows: Creative Commons Attribution-Share Alike (CC BY-SA)
Abstract 554 . PDF downloaded 511 .