Visual Pleasure in Kawabata Yasunari's Novella House of the Sleeping Beauties
Keywords:
Kawabata Yasunari, female body, visual pleasure, women objectification, male gaze
Abstract
This research discussed visual pleasure in Kawabata Yasunari's novella "House of the Sleeping Beauties". Women, when subject to the male gaze, had often been the objects of sexual and visual pleasure. The novella described the nyotaimori practice, in which sushi was served on the nude body of a woman for the object of male visual and sexual pleasure. This research sought to dissect and explore visual pleasure in literary work and its central positioning. Using Laura Mulvey's theory of male gaze and visual pleasure, and feminist literary studies, it employed content analysis as a method to uncover the phrases and paragraphs depicting visual pleasure in the novella. Firstly, this research finds that in practicing visual enjoyment, men use women as the objects of pleasure and fantasy. Secondly, men position women, their female bodies, and sexuality as markers of castration.
References
Acadimia, K. (2018). Human traficking in Japan through the use of schoolgirls. International Research Scape Journal, 5(1), 1-20.
Agustin, E., & Udasmoro, W. (2018). Women and pleasure in Guillaume Apollinaire's calligram collection Poèmes à Lou. Jurnal Kata, 20(2), 60-68. https://doi.org/10.9744/kata.20.2.60-67.
Boyle, K. (2015). Introduction: Visual pleasure and narrative cinema at forty. Feminist Media Studies, 15(5), 880-881. https://doi.org/10.1080/14680777.2015.1075271.
Kawabata, Y. (2017a). House of the sleeping beauties and other stories. Translated by E. Seidensticker. New York: Vintage Book.
Kawabata, Y. (2017b). Nemureru bijo. Tokyo: Shinchosha.
Mulvey, L. (1989). Visual and other pleasures. New York: Palgrave.
Onozawa, A. (2018). Comfort women and state prostitution. The Asia-Pacific Journal, 16(10), 1-26.
Peterfreud, T. (2010). Japan's prostitution prevention law: The case of the missing geisha. Law School Student Scholarship, 57, 1-31.
Ponterotto, D. (2018). Resisting the male gaze: Feminist responses to the 'normalization' of the female body in western culture. The Journal of International Women's Studies, 17(1), 133-151.
Ritland, R. (2018). Visual pleasure from motherhood: Alyssa Milano changing the male gaze. Media, Culture, and Society, 40(8), 1281-1291. https://doi.org/10.1177%2F0163443718798902.
Sheikh, F. A. (2017). Subjectivity, desire, and theory: Reading Lacan. Cogent Arts and Humanities, 4(1), 1-12. https://doi.org/10.1080/23311983.2017.1299565.
Staden, C. (2015). Chewing on Japan: Consumption, diplomacy, and Kenny Kunene's Nyotaimori scandal. Critical Arts South-North Cultural and Media Studies, 29(2), 107-125. https://doi.org/10.1080/02560046.2015.1039199.
Sydney, X. (2016). The shame of empire: Japanese overseas prostitutes and prostitution abolition in modern Japan, 1880s-1927. Positions, 24(4), 839-873.
Tahnerian, J. (2018). Copyright's male gaze: Authorship and inequality in panoptic world. Harvard Journal of Law and Gender, 4, 345-393.
Thornham, S. (2015). On visual pleasure and narrative cinema. Feminist Media Studies, 15(5), 881-884. https://doi.org/10.1080/14680777.2015.1075272.
Udasmoro, W. (2018). When the teens narrate the selves in Indonesian Literature: Gender, subject, and power. Lingua Cultura, 12(1), 53-60. https://doi.org/10.21512/lc.v12i1.1961.
Zafarayana, D., & Putranti, I. (2015). Militer dalam kejahatan perang Jepang terhadap Indonesia tahun 1942-1945: Studi kasus perbudakan seksual wanita Indonesia. Journal International Relations, 5(1), 235-243.
Zafiropoulos, M. (2016). What Lacan said about totem and taboo. Research in Psychoanalysis, 1(21), 117-125. https://doi.org/10.3917/rep1.021.0117.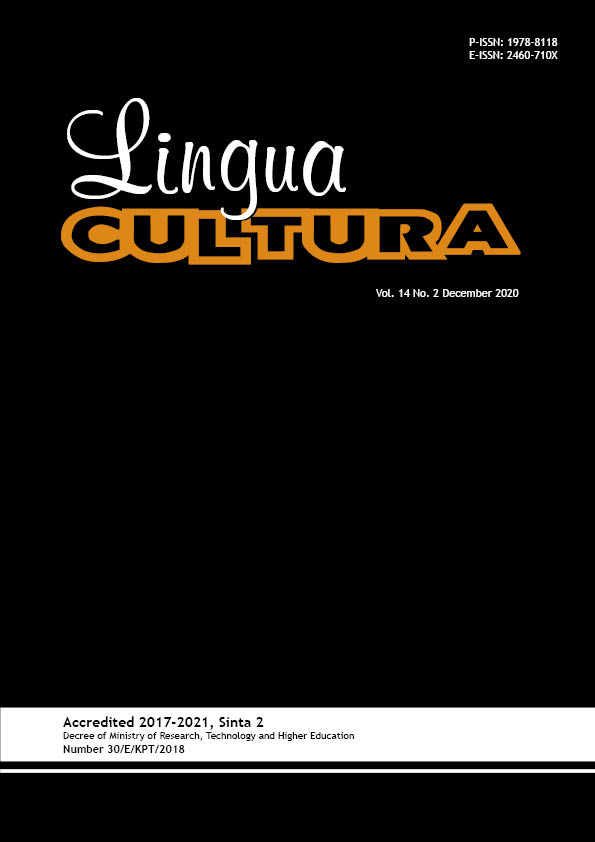 Downloads
License
Copyright (c) 2020 Ida Purnama Sari, Wening Udasmoro
This work is licensed under a Creative Commons Attribution-ShareAlike 4.0 International License.
Authors who publish with this journal agree to the following terms:
a. Authors retain copyright and grant the journal right of first publication with the work simultaneously licensed under a Creative Commons Attribution License - Share Alike that allows others to share the work with an acknowledgment of the work's authorship and initial publication in this journal.
b. Authors are able to enter into separate, additional contractual arrangements for the non-exclusive distribution of the journal's published version of the work (e.g., post it to an institutional repository or publish it in a book), with an acknowledgment of its initial publication in this journal.
c. Authors are permitted and encouraged to post their work online (e.g., in institutional repositories or on their website) prior to and during the submission process, as it can lead to productive exchanges, as well as earlier and greater citation of published work.
USER RIGHTS
All articles published Open Access will be immediately and permanently free for everyone to read and download.  We are continuously working with our author communities to select the best choice of license options, currently being defined for this journal as follows: Creative Commons Attribution-Share Alike (CC BY-SA)