Product Islamization as a Marketing Strategy in the Resik V "Sekarang Berhijab" Advertisement in 2012
Keywords:
Islamization, advertisement, market strategy, Resik V product, semiotics
Abstract
The research aimed to know why did Resik V transform its product advertisement by Islamization? How did the advertisement put and negotiate the Islamic symbols and codes on women's feminine area cleansing products? The research would carry out textual data analysis for the 2012 version of Resik V "Sekarang Berhijab" advertisement using Roland Barthes's semiotics theory. The results show that the advertisement utilizes the symbols of the hijab and the Indonesian Ulema Council's label as commodities to put the Resik V product closer to Islam, as Islamic values attracted great attention from the society at that time that leaded to consumption activity. However, the Islamization in the Resik V product has ruled out the context of the hijab and halal concepts themselves, namely faith.
References
Alim, S. A., Mawardi, M. K., & Bafadhal, A. S. (2018). Keputusan pembelian produk fesyen Muslim (Survei pada pelanggan produk Zoya Muslim di kota Malang). Jurnal Administrasi Bisnis, 62(1), 127-134.
Amna, A. (2019). Hijrah artis sebagai komodifikasi agama. Jurnal Sosiologi Refleksi, 13(2), 331-350. https://doi.org/10.14421/jsr.v13i12.1531.
Fajriani, S. W., & Sugandi, Y. S. (2019). Hijrah Islam milenial berdasarkan paradigma berorientasi identitas. Jurnal Sosioglobal, 3(2), 77-88. https://doi.org/10.24198/jsg.v3i2.21643.
Fakhruroji, M., & Rojiati, U. M. I. (2017). Religiously fashionable: Constructing identity of urban Muslimah in Indonesia. Jurnal Komunikasi: Malaysian Journal of Communication, 33(1), 199-211.
Habsari, S. K. (2019). Arts: Popular culture: Indonesia. Retrieved January 25th 2020 from https://r e f e r e n c e w o r k s . b r i l l o n l i n e . c o m / e n t r i e s /encyclopedia-of-women-and-islamic-cultures/artspopular-culture-indonesia-COM_002168.
Hayat, N., & Hasrullah. (2016). Positioning politik kampanye pemilihan presiden 2014 dalam iklan video musik YouTube. KAREBA: Jurnal Ilmu Komunikasi, 5(1), 192-209. http://dx.doi.org/10.31947/kjik.v5i1.1893.
Hoesterey, J. B., & Clark, M. (2012). Film Islami: Gender, piety, and pop culture in post-authoritarian Indonesia. Asian Studies Review, 36(2), 207-226. https://doi.org/10.1080/10357823.2012.685925.
Ida, R. (2016). Metode penelitian Studi Media dan Kajian Budaya. Jakarta: Prenadamedia Group.
Indarti, I., & Peng, L. H. (2016). Modern hijab style in Indonesia as expression of cultural identity and communication. International Conference on Applied System Innovation (ICASI), 3, 1-4. https://doi.org/10.1109/icasi.2016.7539878.
Jati, W. E. (2015). Islam populer sebagai pencarian identitas Muslim kelas menengah Indonesia. Tasawuf dan Pemikiran Islam, 5(1), 139-163. http://dx.doi.org/10.15642/teosofi.2015.5.1.139-163.
Koirudin, K., Habsari, S. K., & Ardianto, D. T. (2020). Semiotika komersialisasi Islam: Analisis produk iklan "Resik V Keluarga Sakinah" di televisi. Jurnal Komunikasi Islam, 10(1), 46-63. https://doi.org/10.15642/jki.2020.10.1.46-63.
Malefyt, T. D. W., & Mccabe, M. (2016). Women's bodies menstruation and marketing "protection": Interpreting a paradox of gendered discourses in consumer practices and advertising campaigns. Consumption Markets & Culture, 19(6), 555-575. https://doi.org/10.1080/10253866.2015.1095741.
Pasangio, S. (2020). Penggunaan kata bepolisemi pada surat kabar Harian Mercusuar. Jurnal Bahasa dan Sastra, 5(4), 15-22.
Putra, A. A., & Jusnita, R. A. E. (2018). Komunikasi dan identitas budaya populer pada komunitas Korea lovers Surabaya. Jurnal Kajian Media, 2(1), 1-11. http://dx.doi.org/10.25139/jkm.v2i1.842.
Rahayu, L. M. (2016). Jilbab: Budaya pop dan identitas Muslim di Indonesia. Jurnal Ibda': Jurnal Kebudayaan Islam, 14(1), 139-155. https://doi:10.24090/IBDA.V14I1.623.
Syahputra, I. (2016). Agama di era media: Kode religius dalam industri televisi Indonesia. ESENSIA: Jurnal Ilmu-Ilmu Ushuluddin, 17(1), 125-138. https://doi.org/10.14421/esensia.v17i1.1283.
Wijayanti, R. (2017). Jilbab sebagai etika busana Muslimah dalam perspektif Al-Qur'an. Cakrawala: Jurnal Studi Islam, 12(2), 151-170. https://doi.org/10.31603/cakrawala.v12i2.1842.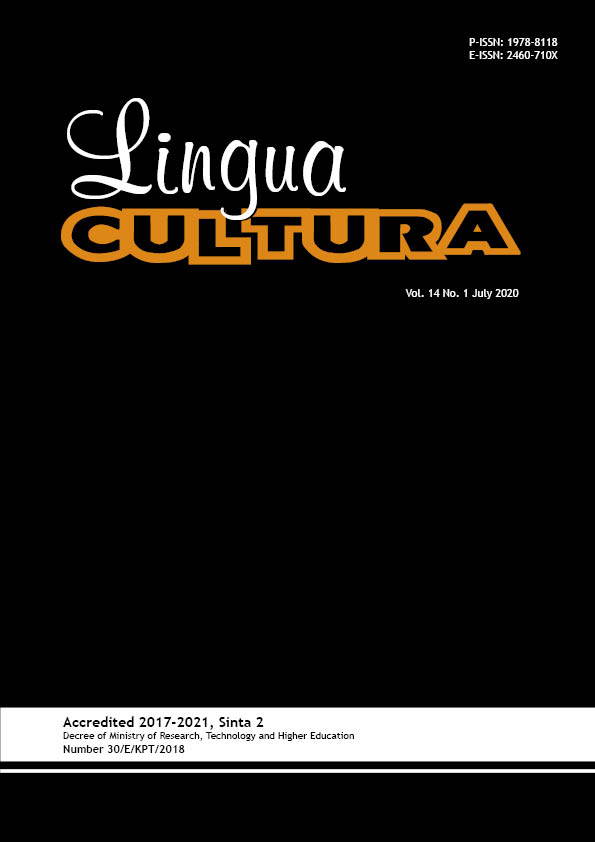 Downloads
License
Copyright (c) 2020 Lingua Cultura
This work is licensed under a Creative Commons Attribution-ShareAlike 4.0 International License.
Authors who publish with this journal agree to the following terms:
a. Authors retain copyright and grant the journal right of first publication with the work simultaneously licensed under a Creative Commons Attribution License - Share Alike that allows others to share the work with an acknowledgment of the work's authorship and initial publication in this journal.
b. Authors are able to enter into separate, additional contractual arrangements for the non-exclusive distribution of the journal's published version of the work (e.g., post it to an institutional repository or publish it in a book), with an acknowledgment of its initial publication in this journal.
c. Authors are permitted and encouraged to post their work online (e.g., in institutional repositories or on their website) prior to and during the submission process, as it can lead to productive exchanges, as well as earlier and greater citation of published work.
USER RIGHTS
All articles published Open Access will be immediately and permanently free for everyone to read and download.  We are continuously working with our author communities to select the best choice of license options, currently being defined for this journal as follows: Creative Commons Attribution-Share Alike (CC BY-SA)