Battling for Shared Culture Between Indonesia and Malaysia in The Social Media Era
Keywords:
shared culture, intangible cultural heritage, cultural ownership, authenticity in culture, social media
Abstract
This is a research paper that takes as its central issue recent contestations and negotiations between Indonesia and Malaysia regarding certain forms of these countries' intangible cultural heritage. In recent years, there has been an increasing incident in relation with cultural conflicts that happens between these two neighboring countries. These cultural conflicts specifically referred to the traditional performance arts, which has been hereditarily bequeathed by their respective ancestors. Despite the facts that both countries shared the same cultural roots, each side seems has a tendency to despise each other whenever the subject of culture ownership is being brought: both claim for the same cultural rights. Questions on which side is more entitled to the rights became public fierce debates; and it wildly happened especially in the online world through the medium of social networking platform. This paper examines the phenomenon on how should the ownership of authenticity be placed. And since it happens in the modern societies which cannot be separated from their digital personas, the role of social media is inexorably also be addressed. It will link the two identities of the public who is initially mere the audience of the performance then transform into the owner of the cultural product in dispute. This essay begins by a major length discussion about the concept of authenticity in culture, along with the ownership of intangible heritage, the motivation for claiming authenticity, and the protection of cultural property. It will then go on to the topic of the major changes brought by social media in the modern society. Subsequently it will continue to the state of cultural conflict between Indonesia and Malaysia over 'stolen' cultural heritage.
Dimensions
Plum Analytics
References
Anderson, E. (2010). Social Media Marketing: Game Theory and the Emergence of Collaboration. Heidelberg: Springer. Print.
Azahari. 'Memahami Sikap Malaysia.' Weblog comment. Kompas Forum. Kompas, 9 Oct. 2008. Web. 8 Jan. 2012. <http://forum.kompas.com/internasional/811-situs-malaysia-sangat-melecehkan-bangsa-indonesia-15.html>.
Croissant, A., and Trinn, C. 'Culture, Identity and Conflict in Asia and Southeast Asia.' ASIEN 110.January (2009): 13-43. Web. 05 Jan. 2012. http://www.uni-heidelberg.de/politikwissenschaften/personal/croissant/publikationen_en.html
Gough, R. (2009). 'Troubling Performance: Local, National and International.' Mapping Landscapes for Performance as Research: Scholarly Acts and Creative Cartographies. By Shannon Rose. Riley and Lynette Hunter. Basingstoke: Palgrave Macmillan. Print.
Halbwachs, M., and Coser, L. A. (1992). On Collective Memory. Chicago: University of Chicago.
Hamdani, D. 'Battling for Shared Cultures.' The Jakarta Post. PT Bina Media Tenggara, 14 Sept. 2009. Web. 01 Dec. 2011. <http://www.thejakartapost.com/news/2009/09/14/battling-shared-cultures.html>.
Hamonangan, Agus. "Jangan Ambil Angklung Kami, Pakcik!" Forum Pembaca KOMPAS. 13 Nov. 2007. Web. 28 Jan. 2012. <http://www.mail-archive.com/forum-pembaca-kompas@yahoogroups.com/msg25035.html>.
Jones, Candace, N. Anand, and Josè Luis Alvarez. 'Manufactured Authenticity and Creative Voice in Cultural Industries.' Journal of Management Studies 42.5 (2005): 893-99. Web. 30 Nov. 2011.
Karana, Kinanti P., and Putri Prameshwari. 'Outrage Over 'Stolen' Pendet Dance Ends Up As a Misstep.' The Jakarta Globe. Berita Satu Media Holdings, 25 Aug. 2009. Web. 01 Dec. 2011. <http://www.thejakartaglobe.com/home/malaysia-not-trying-to-steal-pendet-says-indonesian-embassy/325729>.
Majid, N. A. 'Persembahan Barongan Tidak Wajar Dihentikan.' Utusan Malaysia Online. 6 Dec.2007. Web. 10 Jan. 2012. <http://www.utusan.com.my/utusan/info.asp?y=2007&dt=1206&pub=Utusan_Malaysia&sec=Muka_Hadapan&pg=mh_08.htm>.
Oxford Dictionaries Online. http://www.oxforddictionaries.com/
Patry, W. F. (2011). How to Fix Copyright. Oxford: Oxford UP.
Patwardhan, A. (1991). In The Name of God (Ram Ke Naam). DVD.
Peterson, R. A. 'In Search of Authenticity.' Journal of Management Studies 42.5 (2005): 1083-098. Web. 29 Nov. 2011.
Prathivi, Niken, and Irawaty Wardany. 'Protests over Presence of Pendet Dance in Malaysia's Tourism Ad Continue.' The Jakarta Post. PT Bina Media Tenggara, 23 Aug. 2009. Web. 30 Nov. 2011. <http://www.thejakartapost.com/news/2009/08/23/protests-over-presence-pendet-dance-malaysia%E2%80%99s-tourism-ad-continue.html>
Qualman, E. (2009). Socialnomics: How Social Media Transforms the Way We Live and Do Business. Hoboken, NJ: John Wiley & Sons. Print.
Sagita, D. 'Indonesian Minister Rejects Malaysian Pendet Apology.' The Jakarta Globe. Berita Satu Media Holdings, 28 Aug. 2009. Web. 14 Jan. 2012. <http://www.thejakartaglobe.com/national/indonesian-minister-rejects-malaysian-pendet-apology/326562>.
Scafidi, S. Who Owns Culture?: Appropriation and Authenticity in American Law. New Brunswick, NJ: Rutgers UP, 2005. Print.
UNESCO. Culture. Indonesian Angklung. UNESCO. Government of Spain, 2010. Web. 9 Jan. 2012. <http://www.unesco.org/culture/ich/en/RL/00393>.
Vannini, P., and Sarah Burgess. 'Authenticity as Motivation and Aesthetic Experience.' Authenticity in Culture, Self, and Society. By Phillip Vannini and J. Patrick Williams. Farnham, England: Ashgate Pub., 2009. Print.
Yousof, G. S. 'On the Current Malaysian-Indonesian Conflict on Cultural Forms.' Ione Traveller. 3 Aug. 2009. Web. 25 Nov. 2011. <http://gsyousof.blogspot.com/2009/09/on-current-malaysian-indonesian.html>.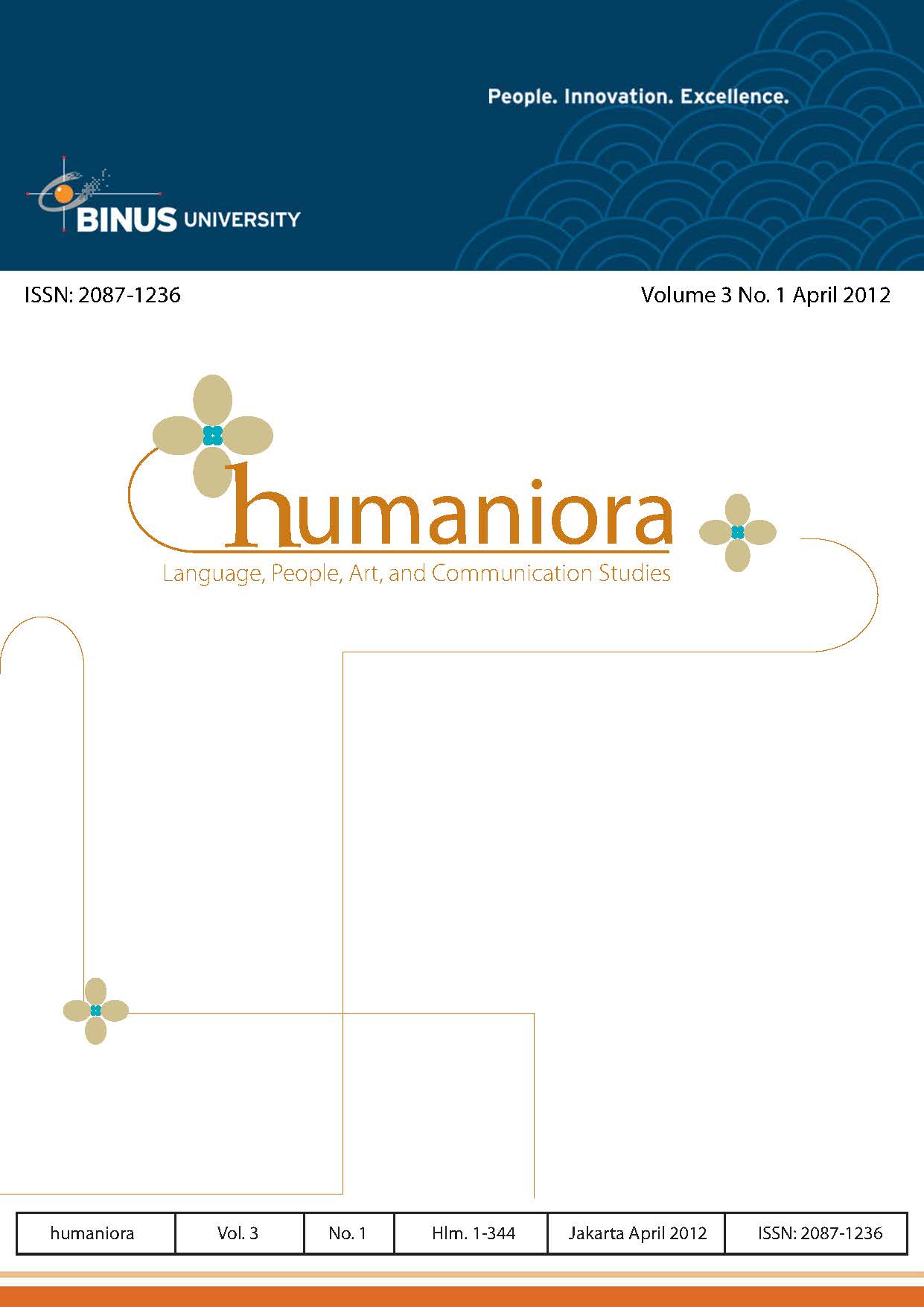 Downloads
License
Authors who publish with this journal agree to the following terms:
a. Authors retain copyright and grant the journal right of first publication with the work simultaneously licensed under a Creative Commons Attribution License - Share Alike that allows others to share the work with an acknowledgment of the work's authorship and initial publication in this journal.
b. Authors are able to enter into separate, additional contractual arrangements for the non-exclusive distribution of the journal's published version of the work (e.g., post it to an institutional repository or publish it in a book), with an acknowledgment of its initial publication in this journal.
c. Authors are permitted and encouraged to post their work online (e.g., in institutional repositories or on their website) prior to and during the submission process, as it can lead to productive exchanges, as well as earlier and greater citation of published work.
USER RIGHTS
All articles published Open Access will be immediately and permanently free for everyone to read and download.  We are continuously working with our author communities to select the best choice of license options, currently being defined for this journal as follows: Creative Commons Attribution-Share Alike (CC BY-SA)
Abstract 697 . PDF downloaded 639 .