The Effect of Environmental Management Accounting on Corporate Sustainability
Keywords:
Environmental Management Accounting (EMA), corporate sustainability
Abstract
This research aimed to examine the effect of Environmental Management Accounting (EMA) on corporate sustainability in mining, agriculture, construction and construction materials, energy, textile and apparel companies in Indonesia from 2014-2018. This research had 87 observations from 20 in Indonesia from 2014-2018. EMA was measured by eco-efficiency energy. Meanwhile, corporate sustainability was measured by environmental and social factors. The researchers used content analysis to measure entity sustainability. The data were qualitative and quantitative in the form of annual reports and company sustainability reports based on the G4 of Global Reporting Initiative (GRI). The results show that there is a positive influence between EMA on corporate sustainability. The high value of the eco-efficiency of the companies indicates the low usage of energy. The low use of energy certainly has a positive impact on environmental and social aspects as well as being a determining factor for corporate sustainability.
Dimensions
Plum Analytics
References
Ahmad, J. (2018). Desain penelitian analisis isi (Content analysis). UIN Syarif Hidayatullah.
Aras, G., Tezcan, N., Kutlu Furtuna, O., & Hacioglu Kazak, E. (2017). Corporate sustainability measurement based on entropy weight and TOPSIS: A Turkish banking case study. Meditari Accountancy Research, 25(3), 391-413. https://doi.org/10.1108/MEDAR-11-2016-0100
Arowoshegbe, A. O., & Emmanuel, U. (2016). Sustainability and Triple Buttom Line: An overview of two interrelated concepts. Igbinedion University Journal of Accounting, 2(August), 88-126.
Demirel, B., & Erdogan, M. (2016). Corporate sustainability reporting in the BIST sustainability index. International Journal of Business and Social Research, 6(10), 21-31. http://dx.doi.org/10.18533/ijbsr.v6i10.999
Caiado, R. G. G., Dias, R. D. F., Mattos, L. V., Quelhas, O. L. G., & Filho, W. L. (2017). Towards sustainable development through the perspective of ecoefficiency-A systematic literature review. Journal of Cleaner Production, 165(November), 890-904. https://doi.org/10.1016/j.jclepro.2017.07.166
Engida, T. G., Rao, X., Berentsen, P. B., & Lansink, A. G. O. (2018). Measuring corporate sustainability performance–The case of European food and beverage companies. Journal of Cleaner Production, 195(September), 734-743. https://doi.org/10.1016/j.jclepro.2018.05.095
Ertur, C., & Musolesi, A. (2017). Weak and strong crosssectional dependence: A panel data analysis of international technology diffusion. Journal of Applied Econometrics, 32(3), 477-503. https://doi.org/https://doi.org/10.1002/jae.2538
Fuzi, N. M., Habidin, N. F., & Effendy, S. (2016). Environmental management accounting practices and environmental performance for Malaysian manufacturing industry. International Journal of Academic Research in Business and Social Sciences, 6(11), 2222-6990. https://doi.org/10.6007/IJARBSS/v6-i11/2380
Global Sustainability Standards Boards. (2016). Gri 205: Anti - korupsi 2016. Retrieved from https://www.globalreporting.org/standards/media/1536/bahasaindonesia-gri-205-anti-corruption-2016.pdf
Menoni, M., & Morgavi, H. (2014). Is eco-efficiency enough for sustainability? International Journal of Performability Engineering, 10(4), 337-346.
Nikolaou, I. E., & Matrakoukas, S. I. (2016). A framework to measure eco-efficiency performance of firms through EMAS reports. Sustainable Production and Consumption, 8, 32-44. https://doi.org/10.1016/j.spc.2016.06.003
Pai, J. T., Hu, D., & Liao, W. W. (2018). Research on ecoefficiency of industrial parks in Taiwan. Energy Procedia, 152(October), 691-697. https://doi.org/10.1016/j.egypro.2018.09.232
Republik Indonesia. (1997). Undang-Undang No. 23 Tahun 1997 Tentang: Pengelolaan Lingkungan Hidup. Jakarta: Menteri Negara Sekretaris Negara Republik Indonesia.
Salem, M. A., Hasnan, N., & Osman, N. H. (2011). Can the eco-efficiency represent corporate environmental performance? International Jurnal of Humanities and Social Sciences, 1(14), 182-187.
Schaltegger, S., Hörisch, J., & Freeman, R. E. (2019). Business cases for sustainability: A stakeholder theory perspective. Organization & Environment, 32(3), 191-212. https://doi.org/10.1177/1086026617722882
Schrippe, P., & Ribeiro, J. L. D. (2018). Corporate sustainability assessment heuristics: A study of large Brazilian companies. Journal of Cleaner Production, 188(July), 589-600. https://doi.org/10.1016/j.jclepro.2018.02.232
Solovida, G. T., & Latan, H. (2017). Linking environmental strategy to environmental performance: mediation role of environmental management accounting. Sustainability Accounting, Management and Policy Journal, 8(5), 595-619. https://doi.org/10.1108/SAMPJ-08-2016-0046
Székely, N., & Vom Brocke, J. (2017). What can we learn from corporate sustainability reporting? Deriving propositions for research and practice from over 9,500 corporate sustainability reports published between 1999 and 2015 using topic modelling technique. PloS one, 12(4), 1-27. https://doi.org/10.1371/journal.pone.0174807
Tanc, A., & Gokoglan, K. (2015). The impact of environmental accounting on strategic management accounting: A research on manufacturing companies. International Journal of Economics and Financial Issues, 5(2), 566-573.
Tomšič, N., Bojnec, Š., & Simčič, B. (2015). Corporate sustainability and economic performance in small and medium sized enterprises. Journal of Cleaner Production, 108(December), 603-612. https://doi.org/10.1016/j.jclepro.2015.08.106
United Nations Global Compact. (2015). Guide to corporate sustainaibility. Retrieved from https://www.unglobalcompact.org/docs/publications/UN_Global_Compact_Guide_to_Corporate_Sustainability.pdf
World Business Council for Sustainable Development. (2015). Environmental and sustainability management accounting network. Retrieved from https://docs.wbcsd.org/2016/09/International-Sustainability-Accounting-Symposium-booklet.pdf
Yook, K. H., Song, H., Patten, D. M., & Kim, I. W. (2017). The disclosure of environmental conservation costs and its relation to eco-efficiency: Evidence from Japan. Sustainability Accounting, Management and Policy Journal, 8(1), 20-42. https://doi.org/10.1108/SAMPJ-07-2016-0039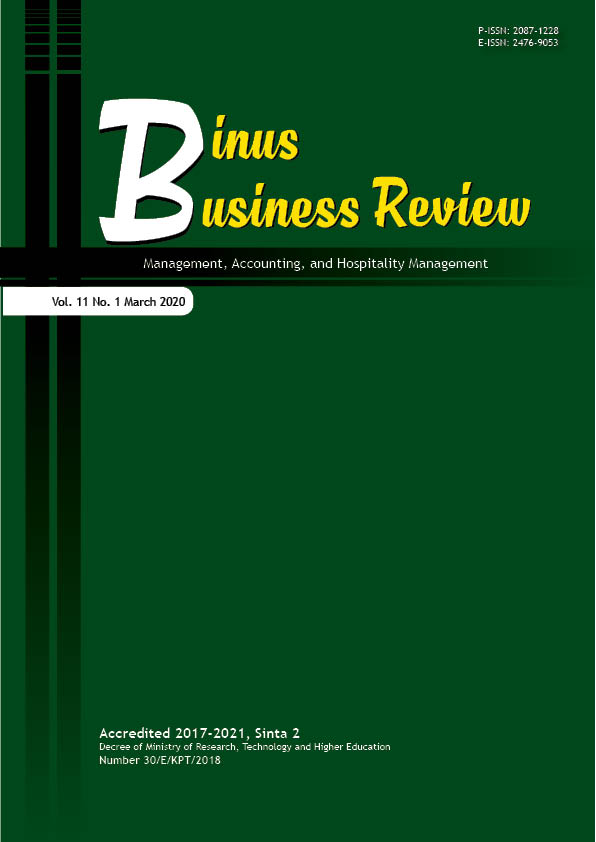 Downloads
License
Authors who publish with this journal agree to the following terms:
a. Authors retain copyright and grant the journal right of first publication with the work simultaneously licensed under a Creative Commons Attribution License - Share Alike that allows others to share the work with an acknowledgment of the work's authorship and initial publication in this journal.
b. Authors are able to enter into separate, additional contractual arrangements for the non-exclusive distribution of the journal's published version of the work (e.g., post it to an institutional repository or publish it in a book), with an acknowledgment of its initial publication in this journal.
c. Authors are permitted and encouraged to post their work online (e.g., in institutional repositories or on their website) prior to and during the submission process, as it can lead to productive exchanges, as well as earlier and greater citation of published work.
USER RIGHTS
 All articles published Open Access will be immediately and permanently free for everyone to read and download.  We are continuously working with our author communities to select the best choice of license options, currently being defined for this journal as follows: Creative Commons Attribution-Share Alike (CC BY-SA)
Abstract 1720 . PDF downloaded 1126 .