The Influence of Website Quality on Online Purchase Intentions on Agoda.Com with E-Trust as a Mediator
Keywords:
website quality, online purchase intentions, e-trust, Agoda.com
Abstract
In e-commerce market, there is no physical interaction between buyers, sellers, and payments. The confidence to buy online e-trust can raise or lower the perceived risk and security issues, so e-trust is crucial for the success of e-commerce companies, such as Agoda.com. The sorting of online businesses is vital to avoid losses when doing the online business transaction, such as by looking at the quality of the website and the company's ability to provide e-trust. The methods used in this research were quantitative and causal. The research sample was collected using non-probability sampling method which was purposive sampling by taking 200 respondents. Data analysis techniques used SEM (Structural Equation Modeling).The conclusion shows the existence of a significant influence on the website's quality towards e-trust, and e-trust on the online purchase intentions. Moreover, there is an insignificant impact on the quality of the site towards online purchase intentions.
Dimensions
Plum Analytics
References
Alexa.com. (2015). Top sites in Indonesia. Retrieved from
www.alexa.com/topsites/countries/ID
Ali, F. (2016). Hotel website quality, perceived flow, customer satisfaction and purchase intention. Journal of Hospitality and Tourism Technology, 7(2), 213-228. http://dx.doi.org/10.1108/JHTT-02-2016-0010
Canziani, B. F., Canziani, B. F., Welsh, D. H., & Welsh, D. H. (2016). Website quality for SME wineries: Measurement insights. Journal of Hospitality and Tourism Technology, 7(3), 266-280. https://doi.org/http://dx.doi.org/10.1108/JHTT-02-2016-0009
Chek, Y. L., & Ho, J. S. Y. (2016). Consumer electronics
e-retailing: Why the alliance of vendors' e-service quality, trust and trustworthiness matters. Procedia -Social and Behavioral Sciences, 219, 804–811.
https://doi.org/10.1016/j.sbspro.2016.05.083
Chou, S., Chen, C. W., & Lin, J. Y. (2015). Female online shoppers: Examining the mediating roles of e-satisfaction and e-trust on e-loyalty development. Internet Research, 25(4), 542–561. https://doi.org/10.1108/IntR-01-2014-0006
Dedeke, A. N. (2016). Travel web-site design: Information
task-fit, service quality and purchase intention. Tourism Management, 54, 541-554. https://doi.
org/10.1016/j.tourman.2016.01.001
Ghozali, I. (2011). Structural Equation Modeling metode
alteratif dengan Partial Least Square (3rd ed.). Semarang: Badan Penerbit UNDIP.
Ha, H. Y., & Janda, S. (2014). The effect of customized
information on online purchase intentions. Internet Research, 24(4), 496-519. http://dx.doi.org/10.1108/IntR-06-2013-0107
Hasanov, J., & Khalid, H. (2015). The impact of website
quality on online purchase intention of organic food in Malaysia: A webQual model approach. Procedia Computer Science, 72, 382-389. https://doi.org/10.1016/j.procs.2015.12.153
Herrero, Á., San Martín, H., & Hernández, J. M. (2015).
How online search behavior is influenced by usergenerated
content on review websites and hotel interactive websites. International Journal of Contemporary Hospitality Management, 27(7), 1573-1597. https://doi.org/http://dx.doi.org/10.1108/
IJCHM-05-2014-0255
Kim, M. J., Chung, N., & Lee, C. K. (2011). The effect of
perceived trust on electronic commerce: Shopping online for tourism products and services in South Korea. Tourism Management, 32(2), 256-265.
https://doi.org/10.1016/j.tourman.2010.01.011
Latan, H. (2012). Structural Equation Modeling: Konsep
dan aplikasi menggunakan program LISREL 8.80. Bandung: Alfabeta.
Law, R., Leung, R., & Buhalis, D. (2009). Information technology applications in hospitality and tourism: A review of publications from 2005 to 2007. Journal of Travel & Tourism Marketing, 26, 5-6. https://doi.org/10.1080/10548400903163160
Lien, C. H., Wen, M. J., Huang, L. C., & Wu, K. L. (2015).
Online hotel booking: The effects of brand image, price, trust and value on purchase intentions. Asia Pacific Management Review, 20(4), 210-218. https://doi.org/10.1016/j.apmrv.2015.03.005
Lubis, M. (2014). Konsumen Indonesia mulai menyukai belanja online. Retrieved November 2nd, 2015 from
http://www.nielsen.com/id/en/press-room/2014/
konsumen-indonesia-mulai-menyukai-belanjaonline.html
Mitra, W. (2015). Data statistik mengenai pertumbuhan
pangsa pasar e-commerce di Indonesia saat ini. Retrieved November 2nd, 2015 from http://startupbisnis.com/data-statistik-mengenaipertumbuhan-pangsa-pasar-e-commerce-diindonesia-saat-ini/
Nilashi, M., Jannach, D., Bin Ibrahim, O., Esfahani, M. D., & Ahmadi, H. (2016). Recommendation quality, transparency, and website quality for trust-building in recommendation agents. Electronic Commerce Research and Applications, 19, 70-84. https://doi.org/10.1016/j.elerap.2016.09.003
Othman, A. K., Fatiany, S., Jailani, A. K., Kassim, E. S.,
& Hamzah, M. I. (2013). The influence of supplier characteristics, customer trust and emotional intelligence on perceived value and satisfaction of online purchasing behaviour. International Journal
of Business and Management, 8(24), 37-47. https://
doi.org/10.5539/ijbm.v8n24p37
Pappas, N. (2016). Marketing strategies, perceived risks, and
consumer trust in online buying behaviour. Journal of Retailing and Consumer Services, 29, 92-103.
https://doi.org/10.1016/j.jretconser.2015.11.007
Ponte, E. B., Carvajal-Trujillo, E., & Escobar-Rodríguez, T. (2015). Influence of trust and perceived value on the intention to purchase travel online: Integrating the effects of assurance on trust antecedents. Tourism Management, 47, 286-302. https://doi.org/10.1016/j.tourman.2014.10.009
Runfola, A., Rosati, M., & Guercini, S. (2013). New business models in online hotel distribution: Emerging private sales versus leading IDS. Service Business, 7(2), 183-205. https://doi.org/10.1007/s11628-012-0150-1
Salo, J., & Karjaluoto, H. (2007). A conceptual model of trust in the online environment. Online Information Review, 31(5), 604-621. https://doi.org/10.1108/14684520710832324
Setiawan, W. (2016). Pasar e-commerce Indonesia terbesar
di ASEAN. Media International, (pp). 9. Shaouf, A., Lü, K., & Li, X. (2016). The effect of web advertising visual design on online purchase intention: An examination across gender. Computers
in Human Behavior, 60, 622-634. https://doi.
org/10.1016/j.chb.2016.02.090
Sharma, V. M. (2013). Enhancement of trust in the export
management company-supplier relationship through e-business. International Journal of Commerce and Management, 23(1), 24-37. http://dx.doi.org/10.1108/10569211311311131
Srinivasan, S. (2004). Role of trust in e-business success. Information Management & ComputerSecurity 12(1), 66-72. http://dx.doi.org/10.1108/09685220410518838
Wang, L., Law, R., Guillet, B. D., Hung, K., & Fong, D. K.
C. (2015). Impact of hotel website quality on online booking intentions: Etrust as a mediator. International Journal of Hospitality Management, 47, 108-115.
https://doi.org/10.1016/j.ijhm.2015.03.012
Yousafzai, S. Y., Pallister, J. G., & Foxall, G. R. (2003).
A proposed model of e-trust for electronic banking.
Technovation, 23(11), 847-860. https://doi.
org/10.1016/S0166-4972(03)00130-5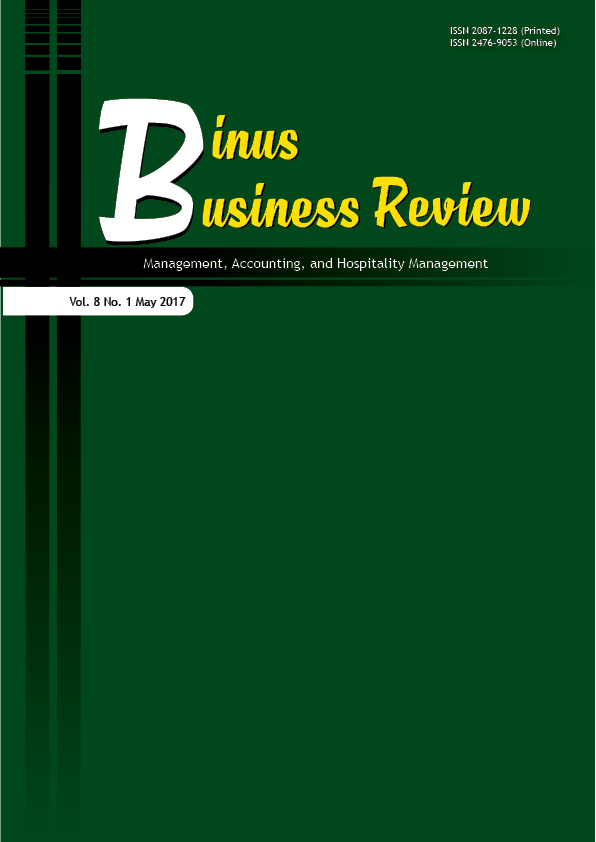 Downloads
License
Authors who publish with this journal agree to the following terms:
a. Authors retain copyright and grant the journal right of first publication with the work simultaneously licensed under a Creative Commons Attribution License - Share Alike that allows others to share the work with an acknowledgment of the work's authorship and initial publication in this journal.
b. Authors are able to enter into separate, additional contractual arrangements for the non-exclusive distribution of the journal's published version of the work (e.g., post it to an institutional repository or publish it in a book), with an acknowledgment of its initial publication in this journal.
c. Authors are permitted and encouraged to post their work online (e.g., in institutional repositories or on their website) prior to and during the submission process, as it can lead to productive exchanges, as well as earlier and greater citation of published work.
USER RIGHTS
 All articles published Open Access will be immediately and permanently free for everyone to read and download.  We are continuously working with our author communities to select the best choice of license options, currently being defined for this journal as follows: Creative Commons Attribution-Share Alike (CC BY-SA)
Abstract 3401 . PDF downloaded 1998 .