Peran Daya Saing Kultural dan Kapabilitas Dinamik dalam Meningkatkan Kinerja Organisasional
Keywords:
cultural competitiveness, dynamic capability, organizational performance
Abstract
This paper develops a conceptual framework for intended study which will examine the effect cultural competitiveness on dynamic capabilities and organizational performance. Previous study argued that four variables of Cultural Competitiveness (entrepreneurship, innovativeness, market orientation and organizational learning) have a direct effect on organizational performance. Meanwhile, the other study argued that dimensions of entrepreneurial orientation have a significantly positive effect on dynamic capabilities to different extents, while organizational learning, which has significantly positive effect on dynamic capabilities, plays a partial mediating role between the two. These findings indicate that companies can build dynamic capabilities through different levels of organizational learning in the context of innovative and proactive atmosphere.
References
Calantone, R. J., Cavusgil, S. T. and Zhao, Y. (2002). Learning orientation, firm innovation capability
and firm performance. Industrial Marketing Management, Vol.31, 515-524.
Dess, G. G., Ireland, R. D., Zahra, S. A., Floyd, S. W., Janney, J. J., and Lane, P. J. (2003). Emerging
issues in corporate entrepreneurship. Journal of Management, Vol. 29 No. 3 pp. 351-378.
Eisenhardt K M, Martin M (2000). Dynamic capabilities: What are they? Strategic Management
Journal, 21(10): 1105–1121.
Hult, G. T. M., and Hurley, R, F. (1998). Innovation, Market Orientation, and Organizational
Learning: an Integration and Empirical Examination. Journal of Marketing, Vol. 62, 42-54.
Hult, G. T. M. (2001). Cultural Competitiveness in Global Sourcing. Industrial Marketing
Management, Vol. 31, 25-34.
Hult, G. T. M., Ketchen JR, David.J., and Nicholis JR, Ernest. L. (2002). An Examination of Cultural
Competitiveness and Order Fulfillment Cycle Time Within Supply Chains. Academy of
Management Journal, Vol. 45. No. 3, 577-586.
Hult, G. T. M., Snow, C. C., and Kandemir, D. (2003). The Role of Entrepreneurship in Building
Cultural Competitiveness in Different Organizational Types. Journal of Management, 29(3):
-426.
Hao Jiao, Jiang Wei, Yu Cui (2010). An Empirical Study on Paths to Develop Dynamic Capabilities:
From the Perspectives of Entrepreneurial Orientation and Organizational Learning.
Management World, (4): 91–106.
Helfat C. E., Peteraf, M. A. (2003). The Dynamic Resource-Based View: Capability lifecycles.
Strategic Management Journal, 24(10): 997–1010.
Keskin, H., (2006). Market Orientation, Learning Orientation and Innovation Capabilities In SMEs.
European Journal of Innovation Management, Vol. 9 No. 4, pp. 396-417.
Knight, G. A. (1997). Cross-Cultural Reliability and Validity of a Scale to Measure Firm
Entrepreneurial Orientation. Journal of Business Venturing, 12: 213-225.
Kreiser, P. M., and Davis, J. (2010). Entrepreneurial Orientation and Firm Performance: The Unique
Impact of Innovativeness, Proactiveness, and Risk-taking. Journal of Small Business and
Entrepreneurship, 23, no. 1: pp. 39-51.
Jantunen, A., Puumalainen, K., Saarenketo, S., KylÃheiko, K. (2005). Entrepreneurial orientation,
dynamic capabilities and international performance. Journal of International
Entrepreneurship, 3: 223–243.
Lee, Jia-Sheng and Hsieh, Chia-Jung. (2010). A research in relating entrepreneurship, marketing
capability, innovative capability and sustained competitive advantage. Journal of Business &
Economic Research, Vol. 8, No. 9 pp. 109-119.
Lin, Chien-Huang., Peng, Ching-Huai., and Kao, D. T. (2008). The innovativeness effect of market
orientation and learning orientation on business performance. International Journal of
Manpower, Vol. 29 No. 8, 2008 pp. 752-772.
Lopez, S. P., Peon, J. M. M., and Ordas, C. J. V. (2005). Organizational learning as a determining
factors in business performance. The Learning Organization, Vol. 12, No. 3 pp. 227-245.
Menguc, B., and Auh, S., (2006). Creating a Firm-Level Dynamic Capability through Capitalizing on
Market Orientation and Innovativeness. Academy of Marketing Science Journal, Vol. 34,
No. 1, pp. 63-73.
Morgan, R.E., & Strong, C. A. (2003). Business Performance and Dimensions of Strategic
Orientation. Journal of Business Research, 56: 163-176.
Miles, R. E., & Snow, C. C. 1978. Organizational strategy, structure, and process. New York:
McGraw-Hill.
Narver, J. C., and Slater, S. F. (1995). Market Orientation and The Learning Organization. Journal of
Marketing, Vol 59, 63-74.
Narver, J. C., and Slater, S. F. (1990). The Effect of a Market Orientation on Business Profitability.
Journal of Marketing, 54: 20-35.
Olavarrieta, S., and Friedmann, R. (1999). Market-Oriented Culture, Knowledge-Related Resources,
Reputational Assets and Superior Performance: A Conceptual Framework. Journal of
Strategic Marketing, Vol. 7, 215-228.
Prahalad, C. K., Hamel, G. (1990). The core competencies of the corporation. Harvard Business
Review, 66: 79–91.
Penrose, E. T. (2009). The Theory of Growth of the Firm. Oxford University Press Inc., New York.
Fourth edition.
Pelham, A. M. (1999). Influence of Environment, Strategy, and Market Orientation on Performance in
Small Manufacturing Firms. Journal of Business Research, 45: 33-46.
Tanriverdi, H., and Zehir, C. (2006). Impact of Learning Organization' Application and Market
Dynamism on Organizations' Innovativeness and Market Performance. The Business
Review, Cambridge, Vol. 6, 2, 238-245.
Tran, T. (2008). A Conceptual Model of Learning Culture and Innovation Schema. Competitiveness
Review: an International Business Journal, Vol. 18, No. 3 pp. 287-299.
Teece, D. J., Piano G., Shuen, A. (1997). Dynamic Capabilities and Strategic Management. Strategic
Management Journal, 18(7): 509–533
Teece, D. J. (2009). Dynamic Capabilities and Strategic Management. Oxford University Press. First
edition.
Zahra, A. S., (2008). Being Entrepreneurial and Market Driven: Implications for Company
Performance. Journal of Strategic and Management, Vol. I No. 2 pp. 125-142.
Zang, J., and Duan, Y. (2010). The Impact of Different Types of Market Orientation on Product
Innovation Performance: Evidence from Chinese Manufacturers. Management Decision, Vol.
, No. 6 pp. 849-867.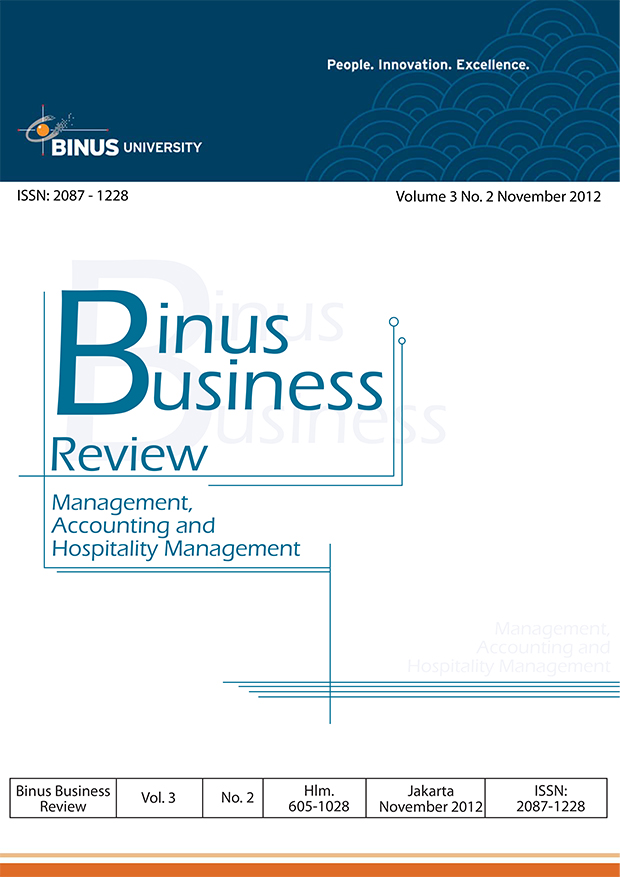 Downloads
License
Authors who publish with this journal agree to the following terms:
a. Authors retain copyright and grant the journal right of first publication with the work simultaneously licensed under a Creative Commons Attribution License - Share Alike that allows others to share the work with an acknowledgment of the work's authorship and initial publication in this journal.
b. Authors are able to enter into separate, additional contractual arrangements for the non-exclusive distribution of the journal's published version of the work (e.g., post it to an institutional repository or publish it in a book), with an acknowledgment of its initial publication in this journal.
c. Authors are permitted and encouraged to post their work online (e.g., in institutional repositories or on their website) prior to and during the submission process, as it can lead to productive exchanges, as well as earlier and greater citation of published work.
USER RIGHTS
 All articles published Open Access will be immediately and permanently free for everyone to read and download.  We are continuously working with our author communities to select the best choice of license options, currently being defined for this journal as follows: Creative Commons Attribution-Share Alike (CC BY-SA)