Peran Motivasi Kerja dalam Memoderasi Pengaruh Kepuasan Kerja Karyawan dan Komitmen Organisasi terhadap Kinerja Karyawan PT. PLN (Persero)
Keywords:
motivation, job satisfaction, commitment, employee performance
Abstract
Employee performance is a major factor determining organizational success. Various complaints that arise related to power outages and high electricity tariff increase people demand as consumers on excellent service. Total consumers of PLN Disjaya reach 3,759,546 subscribers (March 2011), it is one unit that has the largest number of subscribers compared to other PLN units, and also provides the largest contribution to revenue. On a survey of Integrity, PLN Disjaya service from 2006 to 2010 showed that over the last five years, PLN Disjaya integrity is below target. The purpose of this study is to analyze the role of motivation in moderating influence between job satisfaction and organizational commitment partially and simultaneously on employee performance. Data collection techniques used questionnaires to 160 employees as respondents; data analysis techniques used Regresion Moderated Analysis (MRA). The results showed the role of motivation can moderate the job satisfaction on employee performance, but by individual motivation cannot moderate the commitment to employee performance.
References
Allen, N. J., dan Meyer, J. P. (1990). The Measurement and Antecedents of Affective, Continuance and Normative Commitment to the Organization. Journal of Occupational Psychology, 63, 118.
Astuti, R. F. (2005). Pengaruh Kepercayaan Pada Atasan, Kepuasan Kerja dan Komitmen Organisasi Terhadap Kinerja Karyawan (Studi Empiris Pada Pegawai Pemkab Kendal). Tesis S2. Semarang: Universitas Diponegoro.
Devi, E. K. D. (2009). Analisis Pengaruh Kepuasan Kerja dan Motivasi Terhadap Kinerja Karyawan dengan Komitmen Organisasional Sebagai Variabel Intervening. Tesis S2. Semarang: Universitas Diponegoro.
Ghozali, I. (2011). Aplikasi Analisis Multivariate dengan Program IBM SPSS 19. Semarang: Universitas Diponegoro.
Gibson, J. L., Ivancevich, J. M., Donnelly, J. H., dan Konopaske, R. (2009). Organizations: Behavior, Structure, Processes. New York: McGraw - Hill.
Greenberg, J., and Baron, R. A. (2003). Behavior in Organizations. Edisi Delapan. New Jersey: Prentice Hall.
Hong, T. T., and Waheed, A. (2011). Herzberg's Motivation-Hygiene Theory and Job Satisfaction in The Malaysian Retail Sector: The Mediating Effect of Love of Money. Asian Academy of Management Journal, 16(1), 73-94.
Joo, Baek-Kyoo, Lim, T. (2009). The Effects of Organizational Learning Culture, Perceived Job Complexity, and Proactive Personality on Organizational Commitment and Intrinsic Motivation. Journal of Leadership & Organizational Studies, 16(1), 48-60.
Judge, T. A., Bono, J. E., Thoresen, C. J., and Patton, G. K. (2001). The job satisfaction-job performance relationship: A qualitative and quantitative review. Psychological Bulletin, 127, 376-407.
Kuncoro. (2009). Metode Riset untuk Bisnis & Ekonomi. Jakarta : Erlangga
Luchak, A. A., and Gellatly, I. R. (2007). A Comparison of Linear and Nonlinear Relations Between Organizational Commitment and Work Outcomes. Journal of Applied Psychology, 92(3), 786793.
Luthans, F. (2006). Perilaku Organisasi. Edisi Sepuluh. Yogyakarta: Andi.
Mathieu, J., and Zajac D.(1990). A Review and Meta Analysis of The Antecedents, Correlates and Consequences of Organizational Commitment. Psychology Bulletin. 108. 171-194.
http://www.mendeley.com. Diakses 19 November 2011.
Mathis, R. L., Jackson, J. H. (2006). Human Resources Management. Edisi 10. Jakarta: Salemba empat.
Meyer, T. E. B., and Vandenberghe, C. (2004). Employee Commitment and Motivation: A Conceptual Analysis and Integrative Model. Journal of Applied Psychology, 89(6), 991-1007.
Nurjanah. (2008). Pengaruh Gaya Kepemimpinan dan Budaya Organisasi Terhadap Komitmen Organisasi dalam Meningkatkan Kinerja Karyawan (Studi Pada Biro Lingkup Departemen Pertanian). Tesis S2. Semarang: Universitas Diponegoro.
PT. PLN (Persero) Disjaya dan Tangerang. (2010). Surat Direksi PT PLN (Persero) Distribusi Jakarta Raya dan Tangerang No. 040/482/DISJAYA/2010.
PT. PLN (Persero) Disjaya dan Tangerang. (2011). PLN Disjaya dan Tangerang bersama PUSKOPAL UI membahas survey Malcolm Bridge. http://www.pln.co.id/disjaya/?p=1036. Diakses 10 Januari 2012.
Riduwan dan Kuncoro. (2008). Cara Menggunakan dan Memakai Analisis Jalur (Path Analysis). Bandung: Alfabeta.
Robbins, S. P. (2007). Manajemen. Edisi kedelapan. Jilid 2. Jakarta: Indeks.
Robbins, S. P., and Judge, T. (2007). Organizational Behavior, Edisi 12. New Jersey: Prentice Hall.
Robinson. (2005). Pengaruh Kualitas Anggaran Terhadap Efektivitas Pengawasan Anggaran : Pengetahuan Tentang Anggran Sebagai Variabel Moderating. Tesis S2. Semarang: Universitas Diponegoro.
Sekaran, U. (2006). Research Methods For Business: Metodologi Penelitian untuk Bisnis. Edisi 4. Jilid 2. Jakarta: Salemba Empat.
Way, S. A., Sturman, M. C., and Raab, C.. (2010). What Matters More? : Contrasting the Effects of Job Satisfaction and Service Climate on Hotel Food and Beverage Managers' Job Performance. Cornell University, 51(3), 379-397.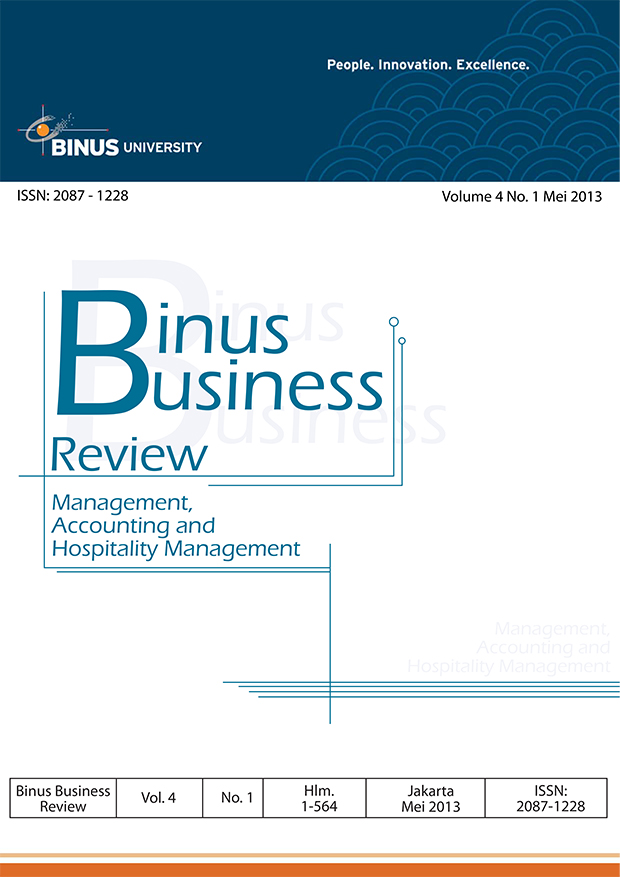 Downloads
License
Authors who publish with this journal agree to the following terms:
a. Authors retain copyright and grant the journal right of first publication with the work simultaneously licensed under a Creative Commons Attribution License - Share Alike that allows others to share the work with an acknowledgment of the work's authorship and initial publication in this journal.
b. Authors are able to enter into separate, additional contractual arrangements for the non-exclusive distribution of the journal's published version of the work (e.g., post it to an institutional repository or publish it in a book), with an acknowledgment of its initial publication in this journal.
c. Authors are permitted and encouraged to post their work online (e.g., in institutional repositories or on their website) prior to and during the submission process, as it can lead to productive exchanges, as well as earlier and greater citation of published work.
USER RIGHTS
 All articles published Open Access will be immediately and permanently free for everyone to read and download.  We are continuously working with our author communities to select the best choice of license options, currently being defined for this journal as follows: Creative Commons Attribution-Share Alike (CC BY-SA)
Abstract 532 . PDF downloaded 409 .