P-ISSN:

2338-1361

E-ISSN:

2338-1353

National Accreditation: SINTA 2, Based on Decree of the Director General of Strengthening for Research and Development, Ministry of Research, Technology, and Higher Education No. 30/E/KPT/2018 on the Accreditation Rankings of Scientific Journals Batch II 2018
JAS (Journal of ASEAN Studies) is an open-access international peer-reviewed bi-annual journal focusing on the past, current, and future issues relevant to ASEAN and its member countries. As a region located strategically at the heart of Asia, the center of the 21st century International Relations, regionalism in Southeast Asia is among the most dynamic and is shaped by the complex interaction of domestic politics of each individual countries and external forces from major powers.
Along with this context, JAS invites scholars from various background to submit their manuscripts on ASEAN regionalism, international relations in Southeast Asia, the socio cultural and political economy of each member states as well as greater regional or international dyamics which have regional impacts in Southeast Asia. Selected articles will be published every August and December.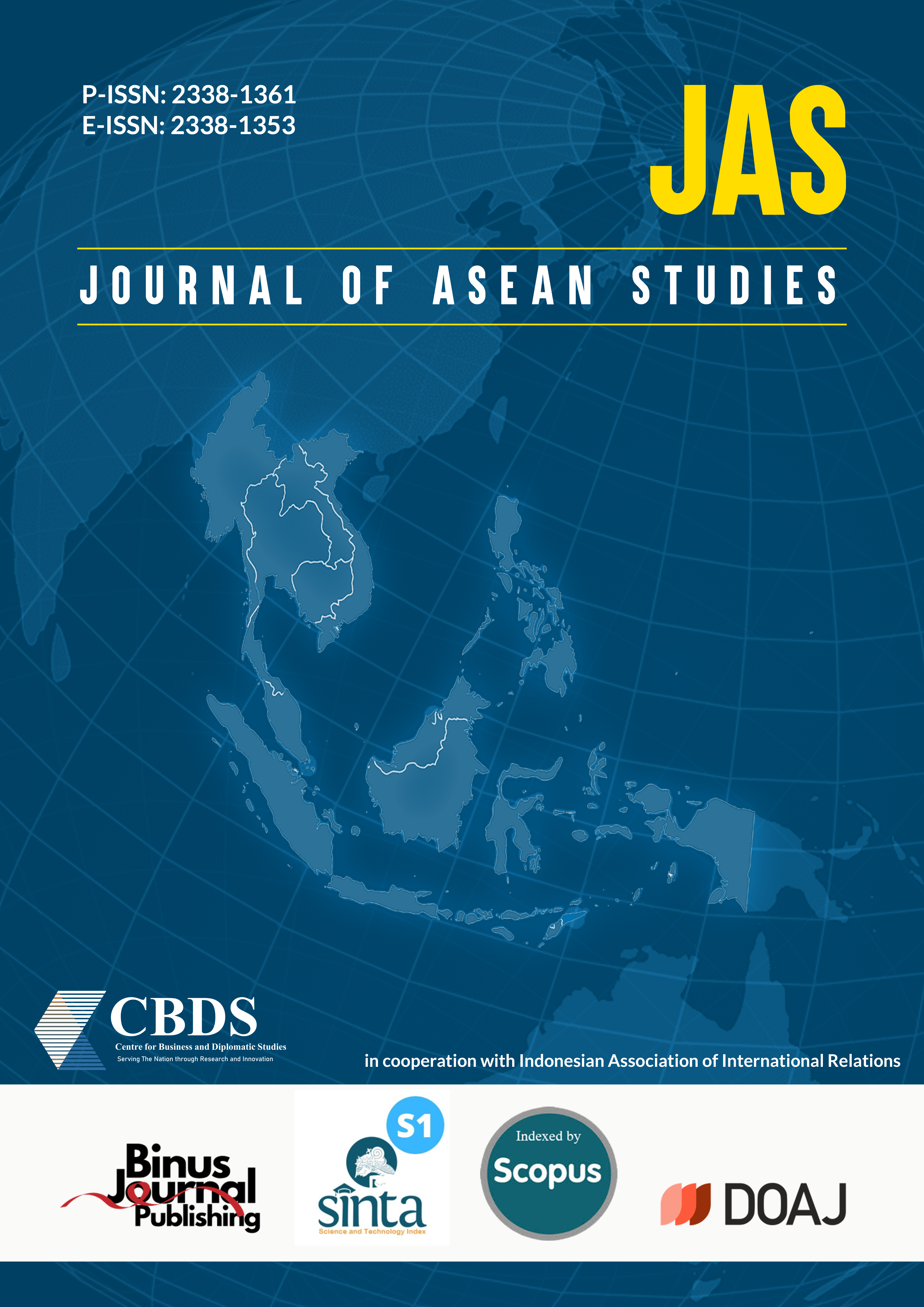 Announcements
Latest News: Upgrade OJS 3 (Maintenance)

Dear Visitors, 

 

We will upgrade our OJS 2 to OJS 3 from Oct 2nd, 2020 at 16:00 WIB until Oct 4th, 2020. During the upgrade, all activities in this web will not be recorded. Please DO NOT process your manuscript, register or login during upgrade.

Thank you.

JAS Team

Posted: 2020-09-28

JAS received SINTA 2 accreditation, which is currently the highest achievement for Indonesian journal in International Relations

Saturday (11/3) Editor in Chief of JAS (Journal ASEAN Studies) received the Accreditation Sertificate for JAS as Nationally Accredited Journal in Indonesia.
Posted: 2018-11-07
More...
Vol 8, No 1 (2020): Journal of ASEAN Studies