Beyond the Crisis: Re-energizing Southeast Asian Studies
Keywords:
Southeast Asian Studies, fiscal crisis, Asian studies education
Abstract
This article examines the main drivers of the fiscal crisis in Asian/Southeast Asian Studies and considers ways of overcoming or at least ameliorating it. In the Australian context, several leading scholars in Asian Studies have called for various new forms of strategic state financial support to help keep the field alive, including incentives and structural support for Asian languages at both school and university levels and priority in publicly-funded research grant schemes. However, re-energizing Asian Studies in fiscal terms will undoubtedly require efforts to make the field more appealing to prospective students because of the prevalence of higher education funding models in which money follows student enrollments. This will particularly be the case with Southeast Asian Studies, given the weakness of enrollments in this sub-field. In this respect, there may be some value in seeking to create new education pathways in Asian Studies that focus on cross-national issues and problems within the region as an alternative to the traditional country-focused area studies approach
Dimensions
Plum Analytics
References
Acharya, A. (2014). Remaking Southeast Asian Studies: Doubt, desire and the promise of comparisons', Pacific Affairs, 87(3), 463-483. http://dx.doi.org/10.5509/2014873463
Anderson, B. (1983). Imagined Communities: Reflections on the Origin and Spread of Nationalism. London: Verso.
AsiaLink Taskforce. (2012). Developing an Asia Capable Workforce: A National Strategy. (Report). https://asialinkbusiness.com.au/research-resources/report-asia-capable-workforce
Asia Taskforce. (2021). A Second Chance: How Team Australia Can Succeed in Asia, Sydney: Business Council of Australia and the Asia Society.
Aspinall, E. & Crouch, M. (2023). Australia's Asia Education Imperative: Trends in the Study of Asia and Pathways for the Future. Canberra: Asian Studies Association of Australia.
Australians falling behind in Asian language education. (2012, February 15). Meld Magazine. https://www.meldmagazine.com.au/2012/02/australians-language-education/
Beng-Huat, C., Dean, K., Engseng, H., Kong-Chong, H., Rigg, J. & Yeoh, B. (2019). Area studies and the crisis of legitimacy: A view from South East Asia. South East Asia Research, 27(1), 31-48. https://doi.org/10.1080/0967828X.2019.1587931
Davies, M. & Canfield, J. (2020, April 7). Australian International relations and Asia. Asian Studies Association of Australia. https://asaa.asn.au/australian-international-relations-and-asia/
Garnaut, R. (1989). Australia and the Northeast Asian Ascendancy, Canberra: Department of Foreign Affairs and Trade.
Goss J. & Wesley-Smith, T. (2010). Introduction: Remaking area studies. In T. Wesley-Smith and J. Goss (Eds.) Remaking Area Studies: Teaching and Learning Across Asia and the Pacific (pp. 9-27). Honolulu: University of Hawai'i Press.
Hill, D. (2012) Indonesian Language in Australian Universities Strategies for a Stronger Future, National Teaching Fellowship: Final Report, http://www.murdoch.edu.au/ALTCFellowship/_document/final_report/ALTC_NTF_Indonesian_in_Australian_Universities_FINAL_REPORT.pdf.
Hill, D. (2020, May 5). The state of Indonesian language in Australian universities: The past 20 years. Asian Studies Association of Australia. https://asaa.asn.au/the-state-of-indonesian-language-in-australian-universities-the-past-20-years/
Jackson, P. (2003). Space, theory, and hegemony: The dual crises of Asian Area studies and cultural studies. Sojourn: Journal of Social Issues in Southeast Asia, 18(1), 1-41. http://dx.doi.org/10.1353/soj.2003.0017
Jackson, P. (2019). South East Asian area studies beyond Anglo-America: Geopolitical transitions, the neoliberal academy and spatialized regimes of knowledge South East Asia Research, 27(1), 49-73. https://doi.org/10.1080/0967828X.2019.1587930
Jayasuriya, K. (2015). Beyond the culturalist problematic: Towards a Global Social Science in the Asian century? In C. Johnson, V. Mackie, & T. Morris-Suzuki (Eds.) The Social Sciences in the Asian Century (pp. 81-96). Canberra: ANU Press.
Kelley, L. (2016). The magic is gone. Mekong Review, 1(3), 12-13.
Kelley, L. (2020). The decline of Asian Studies in the West and the rise of knowledge production in Asia: An autoethnographic reflection on mobility, knowledge production, and academic discourses. Research in Comparative and International Education, 15(3), 273-290. https://doi.org/10.1177/1745499920946224
King, V. T. (2005). Defining Southeast Asia and the Crisis in Area Studies: Personal Reflections on a Region. (Working papers in contemporary Asian studies No. 13). Centre for East and South-East Asian Studies, Lund University.
King, V. T. (2015). Southeast Asia and Southeast Asian Studies: Issues in multidisciplinary studies and methodology. Suvannabhumi, 7(1), 13-57. http://doi.org/10.22801/svn.2015.7.1.13
Monash University. (2023). GLOBASIA01 - Global Asia (Handbook). https://handbook.monash.edu/2023/aos/GLOBASIA01
What is Global Asia. (n.d.). Global Asia. https://www.globalasia.org/about11.phpa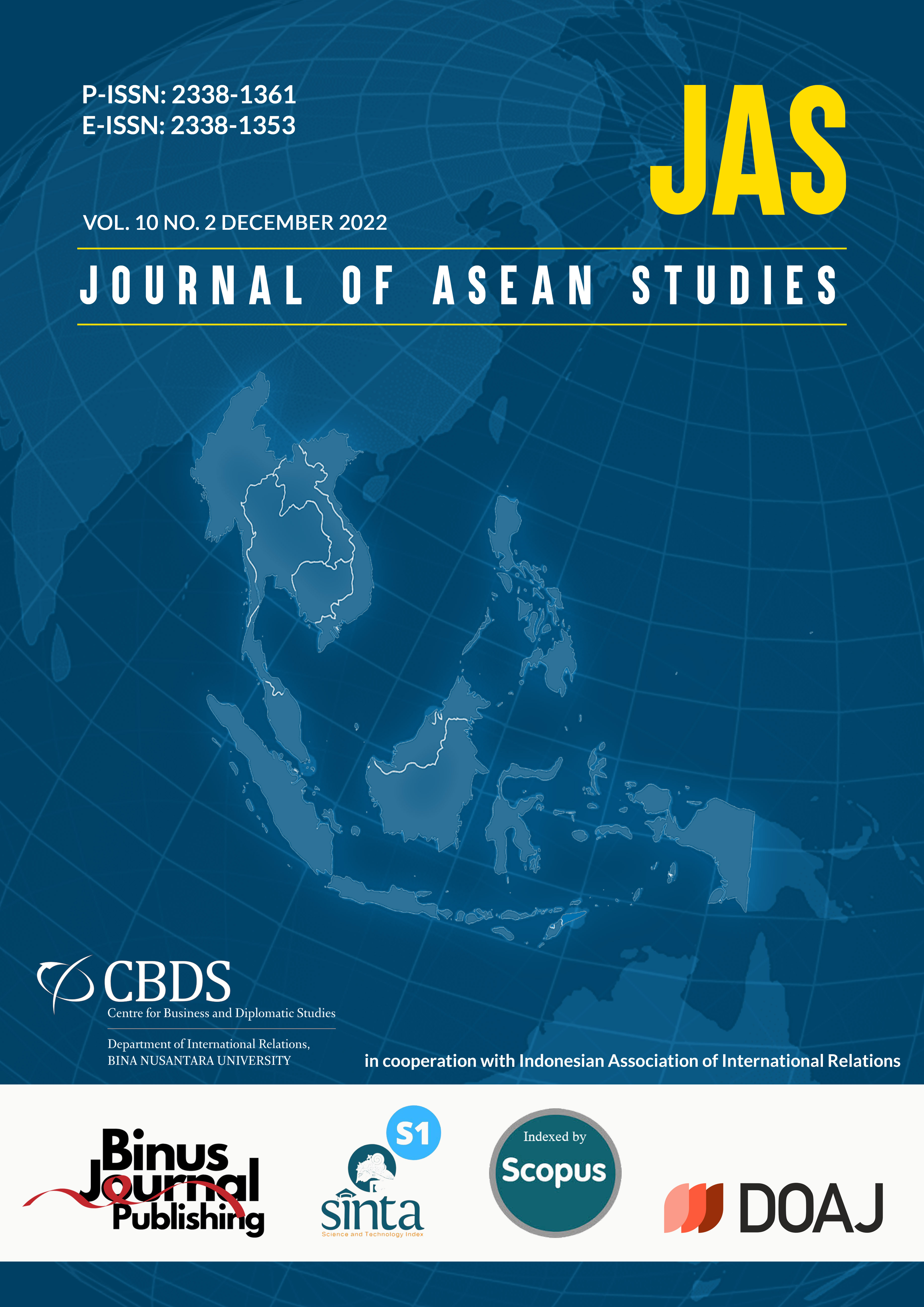 Downloads
License
Copyright (c) 2022 Andrew Rosser
This work is licensed under a Creative Commons Attribution-NonCommercial 4.0 International License.
Authors who publish with this journal agree to the following terms:
Authors retain copyright and grant the journal right of first publication with the work simultaneously licensed under a
Creative Commons Attribution License-NonCommercial 4.0 International
that allows others to share the work with an acknowledgement of the work's authorship and initial publication in this journal for non-commercial purposes.
Authors are able to enter into separate, additional contractual arrangements for the non-exclusive distribution of the journal's published version of the work (e.g., post it to an institutional repository or publish it in a book), with an acknowledgement of its initial publication in this journal.
Authors are permitted and encouraged to post their work online (e.g., in institutional repositories or on their website) prior to and during the submission process, as it can lead to productive exchanges, as well as earlier and greater citation of published work.
Abstract 361 . PDF downloaded 477 .