Journalism in the Age of Digital Autocracy: A Comparative ASEAN Perspective
Keywords:
digital news organisation, cyber repression, journalism, authoritarianism, sustainability, press freedom, ASEAN
Abstract
Cyber authoritarianism is on the rise globally. Governments around the world are seeking innovative ways to monitor, surveil, censor and persecute government critics, activists and journalists. Southeast Asia is an especially hostile environment for journalism online: its governments have regularly investigated, arrested and convicted ordinary citizens for their online activities. The region also remains one of the most dangerous places for journalists in the world. This raises the question of if and how news organisations survive and thrive in this increasingly repressive environment. The study draws on original survey and interview datasets of 52 digital news organisations in Indonesia, Malaysia, Philippines and Thailand conducted as part of the 2021 Inflection Point International project on digital media entrepreneurship in Latin America, Southeast Asia and Africa. We argue that digital news organisations in Southeast Asia continue to report and investigate politically and socially sensitive issues despite the high risks for state repression. They are motivated by their belief in providing public good and supporting civic engagement. The findings in this study provide concrete empirical evidence that digital authoritarianism does not exert downward pressure on critical journalism.
Dimensions
Plum Analytics
References
World Press Freedom Index: journalism, the vaccine against disinformation, blocked in more than 130 countries. (2022). Reporters Without Borders. https://rsf.org/en/2021-world-press-freedom-index-journalism-vaccine-against-disinformation-blocked-more-130-countries
Abbott, J. P. (2011). Cacophony or empowerment? Analysing the impact of new information communication technologies and new social media in Southeast Asia. Journal of Current Southeast Asian Affairs, 30(4), 3-32. http://dx.doi.org/10.1177/186810341103000401
Anansaringkarn, P. & Neo, R. (2021) How can state regulations over the online sphere continue to respect the freedom of expression? A case study of contemporary 'fake news' regulations in Thailand. Information & Communications Technology Law, 30(3), 283-303. https://doi.org/10.1080/13600834.2020.1857789
Feldstein, S. (2021). Chapter 5: Social manipulation and disinformation in the Philippines. In S. Feldstein (Eds.) The Rise of Digital Repression: How Technology is Reshaping Power, Politics, and Resistance (pp. 134-176). New York: Oxford University Press.
Hill, D. T. & Sen, K. (2002). Netizens in combat: conflict on the Internet in Indonesia. Asian Studies Review, 26(2), 165-187. https://doi.org/10.1080/10357820208713339
Kemp, S. (2021, January 27). Digital 2021: Global overview report. Datareportal. https://datareportal.com/reports/digital-2021-global-overview-report
Lubis, T. M. (2017). Chapter 15. Two Faces of Freedom of the Press in Indonesia's Reformation Era. In D. Weisenhaus & S. N. M. Young (Eds.), Media Law and Policy in the Internal Age (pp. 227-236). Oxford: Portland, Oregon: Hart Publishing. http://dx.doi.org/10.5040/9781782257417.ch-015
Masduki. (2022), Cyber-troops, digital attacks, and media freedom in Indonesia. Asian Journal of Communication, 32(3), 218-233. https://doi.org/10.1080/01292986.2022.2062609
OECD. (2019). Southeast Asia Going Digital: Connecting SMEs. Paris: Organisation for Economic Co-operation and Development (OECD) http://www.oecd.org/going-digital/southeast-asia-connecting-SMEs.pdf
Robie, D. & Abcede, D. M. (2015). Cybercrime, criminal liberal and the media: From 'e-martial law' to the Magna Carta in the Philippines. Pacific Journalism Review, 21(1), 221-229. https://doi.org/10.24135/pjr.v21i1.158
SembraMedia. (2021). Inflection Point International: a study of the impact, innovation, threats, and sustainability of digital media entrepreneurs in Latin America, Southeast Asia, and Africa. (Report). https://luminategroup.com/storage/1422/Inflection-point-ENG-Nov3-2021.pdf
Shahbaz, A., Funk, A. & Vesteinsson, K. (2022). Freedom on the Net 2022: Countering an authoritarian overhaul of the internet. Freedom House. https://freedomhouse.org/report/freedom-net/2022/countering-authoritarian-overhaul-internet
Sinpeng, A. (2020). Digital media, political authoritarianism, and Internet controls in Southeast Asia. Media, Culture & Society, 42(1), 25-39. https://doi.org/10.1177/0163443719884052
Statista. (2022). Social media penetration in Southeast Asia as of February, 2022, by country. https://www.statista.com/statistics/487981/social-penetration-in-southeast-asian-countries/
Truth Watch runs intercept survey, finds Marcos-Robredo statistical tie. (2022). Truth Watch Philippines. https://truthwatchph.org/2022/05/05/truth-watch-runs-intercept-survey-finds-marcos-robredo-statistical-tie/
Weiss, M. L. (2012). Politics in Cyberspace: New Media in Malaysia. Berlin: fesmedia Asia.
Yilmaz, I., Saleem, R. M., Pargoo, M., Shukri, S., Ismail, I., & Shakil, K. (2022, January 20). Religious Populism, Cyberspace and Digital Authoritarianism in Asia: India, Indonesia, Malaysia, Pakistan, and Turkey, European Center for Populism Studies (ECPS). https://doi.org/10.55271/rp0001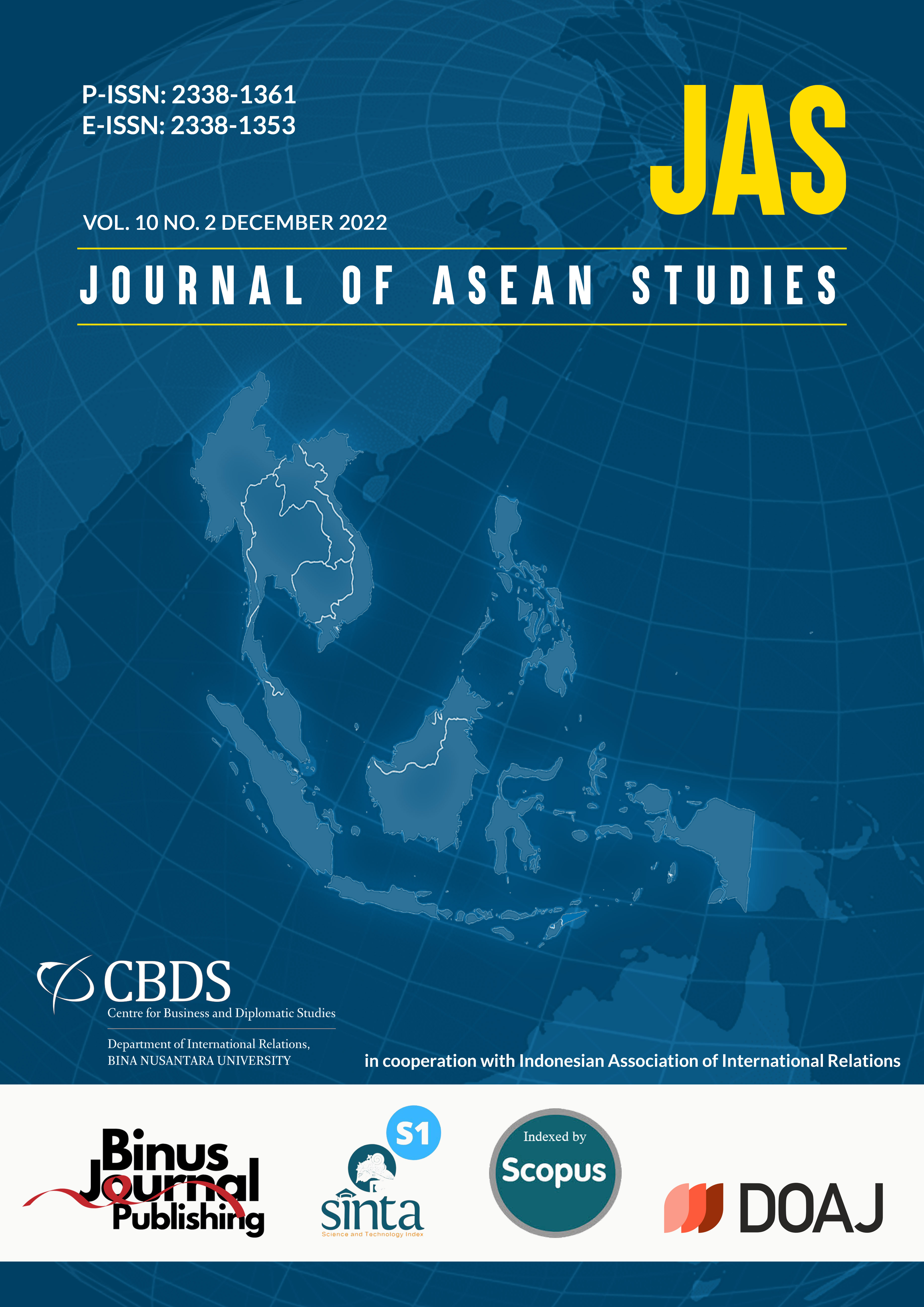 Downloads
License
Copyright (c) 2022 Aim Sinpeng, Youngjoon Koh
This work is licensed under a Creative Commons Attribution-NonCommercial 4.0 International License.
Authors who publish with this journal agree to the following terms:
Authors retain copyright and grant the journal right of first publication with the work simultaneously licensed under a
Creative Commons Attribution License-NonCommercial 4.0 International
that allows others to share the work with an acknowledgement of the work's authorship and initial publication in this journal for non-commercial purposes.
Authors are able to enter into separate, additional contractual arrangements for the non-exclusive distribution of the journal's published version of the work (e.g., post it to an institutional repository or publish it in a book), with an acknowledgement of its initial publication in this journal.
Authors are permitted and encouraged to post their work online (e.g., in institutional repositories or on their website) prior to and during the submission process, as it can lead to productive exchanges, as well as earlier and greater citation of published work.
Abstract 862 . PDF downloaded 317 .