CONTESTED INTERPRETATIONS OF INDONESIA'S INTERNATIONAL LEADERSHIP IN THE FOREIGN POLICY OF PRESIDENT SUSILO BAMBANG YUDHOYONO AND JOKO WIDODO
Keywords:
Indonesia, foreign policy, international leadership, democracy, ASEAN, Indo-Pacific
Abstract
The research aimed to examine the Indonesia's international leadership on foreign policy throughout the period of President Susilo Bambang Yudhoyono and President Joko Widodo, who have developed different conceptualizations of foreign policy. It ultimately affects the way each of them makes an interpretation of what Indonesia should do with its international leadership. The research built a solid and rich theoretical framework by consulting on previous research focusing on factors that affect the nature of international leadership especially regarding the role of the individual styles of a state leader. The research had two illustrations or brief case studies, namely, the promotion of democracy and human rights and the initiative of promoting the Indo-Pacific cooperation with a special emphasis on the period of President Joko Widodo. The research finds that he has changed the nature of Indonesia's international leadership to make it fit into his domestic agenda. While President Susilo Bambang Yudhoyono tends to make Indonesia's international leadership as an essential part of his rigorous effort to build a post-authoritarian identity for a democratic and stable nation, President Joko Widodo prefers to make his foreign policy serve the accomplishment of his domestic priorities. The research concludes that Indonesia's international leadership is much contingent upon individual preferences of the presidents in both formulating their policies as well as the implementation. Moreover, the research comes up with constructive ideas which might be useful to strengthen Indonesia's international leadership in the future.
Dimensions
Plum Analytics
References
Acharya, A (2014). Indonesia's Matter: Asia's Emerging Democratic Power. London: World Scientific Publishing Company.
Agastia, I. G. B. D. (2021). Maritime security cooperation within the ASEAN institutional framework: A gradual shift towards practical cooperation. Journal of ASEAN Studies, 9(1), 25-48. https://doi.org/10.21512/jas.v9i1.6919.
Alexandra, L. & Basuki, T. (2014). Democracy, human rights and Indonesia's foreign policy under Yudhoyono, The Indonesian Quarterly, 42(3-4), 183 - 200.
Anjaiah, V. (2018, June 04). China intimidating neighbor, US Says. The Jakarta Post. https://www.thejakartapost.com/news/2018/06/04/china-intimidating-neighbors-us-says.html
Beasley, R. K., Kaarbo, J., Lantis, J. S., & Snarr, M. T. (2013). Foreign Policy in Comparative Perspective: Domestic and International Influence on State Behavior (2nd Ed.). SAGE Publication, Inc.
Breslin, S. (2017). Leadership and followership in post-unipolar world: Towards selective global leadership and a new functionalism? Chinese Political Science Review, 2, 494-511. https://doi.org/10.1007/s41111-017-0082-y
Breuning, M. (2007). Foreign Policy Analysis: A Comparative Introduction. New York: Palgrave Macmillan
Buzan, B. (2013). The Asia-Pacific: What sort of region in what sort of world? In A. McGrew and C. Brook (Eds.), Asia-Pacific in the New World Order (pp. 68-87). Abingdon: Routledge.
Connelly, A. L. (2015). Sovereignty and the sea: President Joko Widodo's foreign policy challenges. Contemporary Southeast Asia, 37(1), 1-28. https://doi.org/10.1355/cs37-1a
Dermawan, W., Purnama, C., & Mahyudin, E. (2019). Indonesia foreign policy in the era of Susilo Bambang Yudhoyono (2004-2014) towards Myanmar in supporting democratization. Jurnal Hubungan Internasional, 11(2), 264-277. http://dx.doi.org/10.20473/jhi.v11i2.10500
Destradi, S. (2010). Regional powers and their strategies: Empire, hegemony, and leadership. Review of International Studies, 36(4), 903-930. https://doi.org/10.1017/S0260210510001361
Flemes, D. & Wojczewski, T. (2011). Contested leadership in International relations: Power politics in South America, South Asia, and Sub-Saharan Africa. GIGA Working Paper No. 121. GIGA German Institute of Global and Area Studies. https://doi.org/10.2139/ssrn.1547773
Howard, P. (2010). Triangulating debates within the field: Teaching International relations research methodology. International Studies Perspective, 11(4), 393-408. https://doi.org/10.1111/j.1528-3585.2010.00413.x
Karim, M. F. (2016). Role conflict and the limits of state identity: The case of Indonesia in democracy promotion. The Pacific Review, 30(3), 385-404. http://dx.doi.org/10.1080/09512748.2016.1249908.
Karim, M. F. (2020). The limits of global human rights promotion: Indonesia's ambivalent roles in the UN Human Rights Council. Contemporary Politics, 26(3), 351-370. https://doi.org/10.1080/13569775.2020.1720065.
Karim, M. F. (2021). Role legitimation in foreign policy: The case of Indonesia as an emerging power under Yudhoyono's presidency. Foreign Policy Analysis, 17(3). http://doi.org/10.1093/fpa/orab010
Kobierski, L. (2021, March 17). China's reaction to the march meeting of quad. Warsaw Institute. https://warsawinstitute.org/chinas-reaction-march-meeting-quad/
Mahbubani, K. & Kee, J. S. H. (2018). The ASEAN Miracle: A Catalyst for Peace. NUS Press. https://doi.org/10.2307/j.ctv1xz0m3
Margiansyah, D. (2020). Revisiting Indonesia's economic diplomacy in the age of disruption: Towards digital economy and innovation diplomacy. Journal of ASEAN Studies, 8(1), 15-39. https://doi.org/10.21512/jas.v8i1.6433.
Medcalf, R. (2020). Contest for the Indo-Pacific: Why China Won't Map the Future. Melbourne: La Trobe University Press.
Mintz, A. & DeRouen Jr, K. (2010). Understanding Foreign Policy Decision Making. New York: Cambridge University Press.
Nabers, D. (2010). Regional Leadership in the Global System: Ideas, Interest, and Strategies in Regional Power. Burlington: Ashgate Publishing.
Purba, K. (2021, August 09). Thai PM perfect role model for Myanmar's junta leader. The Jakarta Post. https://www.thejakartapost.com/paper/2021/08/09/thai-pm-perfect-role-model-for-myanmars-junta-leader.html
Reid, A (Eds.). (2012). Indonesia Rising: The Repositioning of Asia's Third Giant. Singapore: Institute of Southeast Asian Studies. https://doi.org/10.1080/03068374.2013.795375
Roberts, C. B., Habir, A. D., & Sebastian, L. C. (Eds.). (2015). Indonesia's Ascent: Power, Leadership, and the Regional Order. Palgrave Macmillan UK. https://doi.org/10.1057/9781137397416
Rosyidin, M. & Pattipeilohy, S. C. H. (2020). Regionalism under challenge: Ideas and Joko Widodo's foreign policy towards ASEAN, 2014-2019. Journal of ASEAN Studies, 8(2), 148-172. https://doi.org/10.21512/jas.v8i2.6596.
Septiari, D. (2019, June 23). ASEAN leaders adopt Indonesia led-Indo-Pacific Outlook. The Jakarta Post. https://www.thejakartapost.com/seasia/2019/06/23/asean-leaders-adopt-indonesia-led-indo-pacific-outlook.html
Sinaga, L. C. (2020). Xi Jinping, "China Dream", and Chinese military diplomacy to ASEAN. Journal of ASEAN Studies, 8(2), 174-190. https://doi.org/10.21512/jas.v8i2.6483.
Shekhar, V. (2018). Indonesia's Foreign Policy and Grand Strategy in the 21st Century: Rise of an Indo-Pacific Power (1st Ed.). London: Routledge. https://doi.org/10.4324/9781315560977
Suryadinata, L. (1996). Indonesia's Foreign Policy Under Suharto: Aspiring to International Leadership. Singapore: Times Academic Press. https://doi.org/10.2307/2646613
The State Council the People's Republic of China (2015). Full text: Action plan on the belt and road initiative. English. Gov. Cn. http://english.www.gov.cn/archive/publications/2015/03/30/content_281475080249035.htm#:~:text=The%20Belt%20and%20Road%20Initiative%20aims%20to%20promote%20the%20connectivity,connectivity%20networks%2C%20and%20realize%20diversified%2C
van Bruinessen, M. (2012). Indonesian Muslims and their place in the larger world of Islam. In A. Reid (Eds.), In Indonesia Rising: The Repositioning of Asia's Third Giant (pp. 117-140). Singapore: Institute of Southeast Asian Studies.
Viotti, P. R. & Kauppi, M. V. (2014). International Relations Theory (5th Ed.). Illinois: Pearson Education, Inc.
World Bank. (2019). Rankings & ease of doing business score. https://www.doingbusiness.org/en/rankings.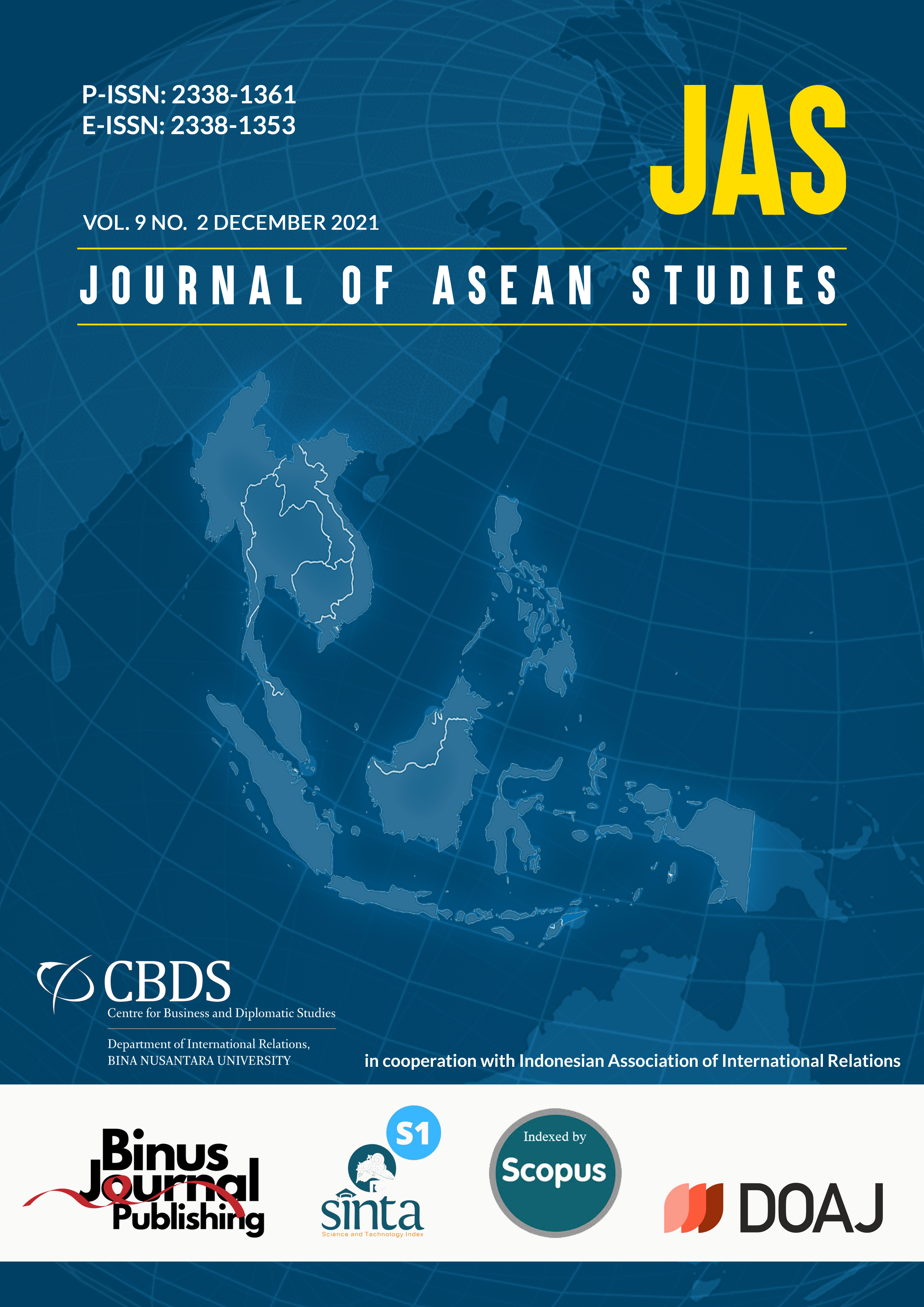 Downloads
License
Copyright (c) 2021 Floranesia Lantang
This work is licensed under a Creative Commons Attribution-NonCommercial 4.0 International License.
Authors who publish with this journal agree to the following terms:
Authors retain copyright and grant the journal right of first publication with the work simultaneously licensed under a
Creative Commons Attribution License-NonCommercial 4.0 International
that allows others to share the work with an acknowledgement of the work's authorship and initial publication in this journal for non-commercial purposes.
Authors are able to enter into separate, additional contractual arrangements for the non-exclusive distribution of the journal's published version of the work (e.g., post it to an institutional repository or publish it in a book), with an acknowledgement of its initial publication in this journal.
Authors are permitted and encouraged to post their work online (e.g., in institutional repositories or on their website) prior to and during the submission process, as it can lead to productive exchanges, as well as earlier and greater citation of published work.
Abstract 574 . PDF downloaded 428 .