Symbolic Meaning in the Commemoration Ceremony of Sultan Hamengku Buwono X Coronation in COVID-19 Pandemic
Keywords:
symbolic meaning, ceremony commemoration, Sultan Hamengku Buwono X coronation
Abstract
The research aimed to (1) describe the procession and ubarampe offerings in the commemoration ceremony of Sultan Hamengku Buwono X's coronation during the COVID-19 pandemic, and (2) analyze the symbolic meaning of it. The research applied a qualitative research that used an ethnographic approach. Data collection techniques used were passive participant observation techniques and in-depth interviews with abdi dalem (courtier) of Yogyakarta palace and cultural experts. So, the selection of research subjects used the snowball sampling technique. The data obtained were validated by the source triangulation method, and it was then analyzed using the Spradley model research method, which included domain analysis, taxonomic analysis, compensatory analysis, and analysis of cultural themes. The research result show that (1) the procession of the commemoration of the coronation of Sultan Hamengku Buwono X consists of a series of ceremonies, including ngebluk, ngapem, sugengan, and labuhan. The ceremony is organized well during the COVID-19 pandemic by wearing a mask when carrying out daily activities, washing hands often, especially after outdoor activities, social distancing, avoiding crowds, and restricting mobilization and interaction, (2) the symbolic meaning of the procession and ubarampe offerings Sultan Hamengku Buwono X is asking God for the safety and welfare of the Sultan and his family in particular and Yogyakarta people in general.
Dimensions
Plum Analytics
References
Achroni, D. (2017). Belajar dari makanan tradisional Jawa. Jakarta: Badan Pengembangan dan Pembinaan Bahasa.
Azahra, A. P., Irawan, I., & Widianto, A. A. (2021). Dari komunal menjadi individual: Studi perubahan tradisi Pethik Pari desa Karangrejo sebelum pandemi dan masa pandemi COVID-19. Jurnal Integrasi dan Harmoni Inovatif Ilmu-Ilmu Sosial (JHI3S), 1(10), 1113-1130. https://doi.org/10.17977/um063v1i10p1113-1130.
Departemen Kebudayaan dan Pariwisata. (2005). Makna ritus dalam upacara ritual di Kraton Yogyakarta. Jakarta: Departemen Kebudayaan dan Pariwisata.
Hendro, E. P. (2020). Simbol: Arti, fungsi, dan implikasi metodologisnya. Endogami: Jurnal Ilmiah Kajian Antropologi, 3(2), 158-165. https://doi.org/10.14710/endogami.3.2.158-165.
Irmawati, W. (2013). Makna simbolik upacara siraman pengantin adat Jawa. Walisongo: Jurnal Penelitian Sosial Keagamaan, 21(2), 309-330. https://doi.org/10.21580/ws.2013.21.2.247.
Jalil, A. (2015). Memaknai tradisi upacara Labuhan dan pengaruhnya terhadap masyarakat Parangtritis. El-Harakah: Jurnal Budaya Islam, 17(1), 101-113. https://doi.org/10.18860/el.v17i1.3088.
Keraton Yogya. (2017). Tingalan jumenengan dalem. Retrieved from https://www.kratonjogja.id/ulang-tahun-kenaikan-tahta/6/tingalan-jumenengan-dalem.
Kusuma, F. D. (2021). Rasionalitas tradisi Nyadran masa pandemi masyarakat kabupaten Sidoarjo. Inovatif: Jurnal Peneltian Pendidikan, Agama & Budaya, 7(2), 156-169. https://doi.relawanjurnal.id/home/main.
Kusumaningtyas, A., Wibisono, B., & Kusnadi, K. (2013). Penggunaan istilah makanan dan jajanan tradisional pada masyarakat di kabupaten Banyuwangi: Sebuah kajian Etnolinguistik. Publikasi Budaya, 1(1), 1-9.
Ma'as, A. A., & Yuliati, D. (2020). Diplomasi kebudayaan antara keraton Yogyakarta dan pemerintah kolonial Belanda pada masa pemerintahan Sultan Hamengkubuwono VIII 1921-1939. Historiografi, 1(2), 143-152.
Marverial, A. P., Astuti, H., & Meilina, M. (2019). Makna simbol pada ritual siraman pernikahan adat Jawa Tengah. Jurnal Daring Mahasiswa Komunikasi, 1(1), 11-18.
Nahak, H. M. I. (2019). Upaya melestarikan budaya Indonesia di era globalisasi. Jurnal Sosiologi Nusantara, 5(1), 65-76. https://doi.org/10.33369/jsn.5.1.65-76.
Nugraha, A. (2020). Kearifan lokal dalam menghadapi pandemi Covid-19: Sebuah kajian literatur. Sosietas: Jurnal Pendidikan Sosiologi, 10(1), 745-753. https://doi.org/10.17509/sosietas.v10i1.26063.
Pradanta, S. W., Sudardi, B., & Subiyantoro, S. (2015). Kajian nilai-nilai budaya Jawa dalam tradisi bancaan weton di kota Surakarta (Sebuah kajian simbolisme dalam budaya Jawa). Lingua: Journal of Language, Literature, and Teaching, 12(2), 155-172. https://doi.org/10.30957/lingua.v12i2.25.
Republic of Indonesia. (2020). Keputusan Presiden (Keppres) nomor 11 tahun 2020 tentang penetapan kedaruratan kesehatan masyarakat Covid-19. Jakarta: Sekretariat Negara.
Rouf, A. (2019). Reaktualisasi dan kontekstualisasi kearifan lokal dengan manhaj global: Upaya menjawab problematika dan tantangan pendidikan di era Society 5.0 dan Revolusi Industri 4.0. Seminar Nasional Pascasarjana (Prosnampas), 2(1), 910-914.
Saddhono, K., & Pramestuti, D. (2018). Sekar Macapat Pocung: Study of religious values based on the local wisdom of Javanese culture. El Harakah: Jurnal Budaya Islam, 20(1), 15-33. https://doi.org/10.18860/el.v20i1.4724.
Setiawan, A. (2020). Prosesi hajad dalem labuhan keraton Yogyakarta dalam perspektif. Aqlania: Jurnal Filsafat dan Teologi Islam, 11(1), 1-19. http://dx.doi.org/10.32678/aqlania.v11i1.2446.
Setyawan, B. W., & Saddhono, K. (2017). Eret traditional ceremony as representation of spirit of mutual cooperation among coastal communities. Advanced Science Letters, 23(10), 9991-9992. https://doi.org/10.1166/asl.2017.10363.
Sugiyono. (2012). Metode penelitian kuantitatif, kualitatif, dan R&D. Bandung: Alfabeta.
Sujaelanto. (2018). Apem sesaji selamatan kematian bagi masyarakat Hindu di Blitar. Widya Aksara: Jurnal Agama Hindu, 23(2), 1-10.
Sumarwati, S., Sukarno, S., Anindyarini, A., & Lestari, D. W. (2020). Integration of traditional ecological knowledge in-to primary school learning. Retorika: Jurnal Bahasa, Sastra, dan Pengajarannya, 13(2), 346-357. https://doi.org/10.26858/retorika.v13i2.13993
Supiarza, H., & Sobarna, C. (2019). "Jamaican Sound Keroncong": A communication study on the spread of Keroncong in the young generation in Bandung. Humaniora, 10(1), 47-53. https://doi.org/10.21512/humaniora.v10i1.5236.
Surahman, S. (2020). Globalisasi, modernisasi, dan paugeran di kesultanan Yogyakarta. Kareba: Jurnal Ilmu Komunikasi, 9(2), 292-307. https://doi.org/10.31947/kareba.vi.8676.
Syaiful, S. (2013). Memahami organisasi pendidikan: Budaya dan reinventing organisasi pendidikan. Bandung: Alfabeta.
Umam, F. (2021). Analisis makna simbolis tradisi sedekah bumi (Nyadran) dan pendidikan Islam di Kaplongan Lor, Indramayu. Mozaic: Islam Nusantara, 6(2), 115-126. https://doi.org/10.47776/mozaic.v6i2.148.
Wahyuti, Y., Syafrial, & Rumadi, H. (2019). Makna simbolik pada upacara pernikahan adat Jawa dusun Tegal Rejo kecamatan Padang Tualang kabupaten Langkat Sumatera Utara. Jurnal Tuah: Pendidikan dan Pengajaran Bahasa, 1(2), 163-171. http://dx.doi.org/10.31258/jtuah.1.2.p.163-171.
Wardhana, A. P. S., & Farokhah, F. A. (2021). Suran di tengah pageblug: Dampak Covid-19 terhadap tradisi Jawa pada masa adaptasi kebiasaan baru. Jurnal Penelitian Sejarah dan Budaya, 7(1), 1-30. https://doi.org/10.36424/jpsb.v7i1.211.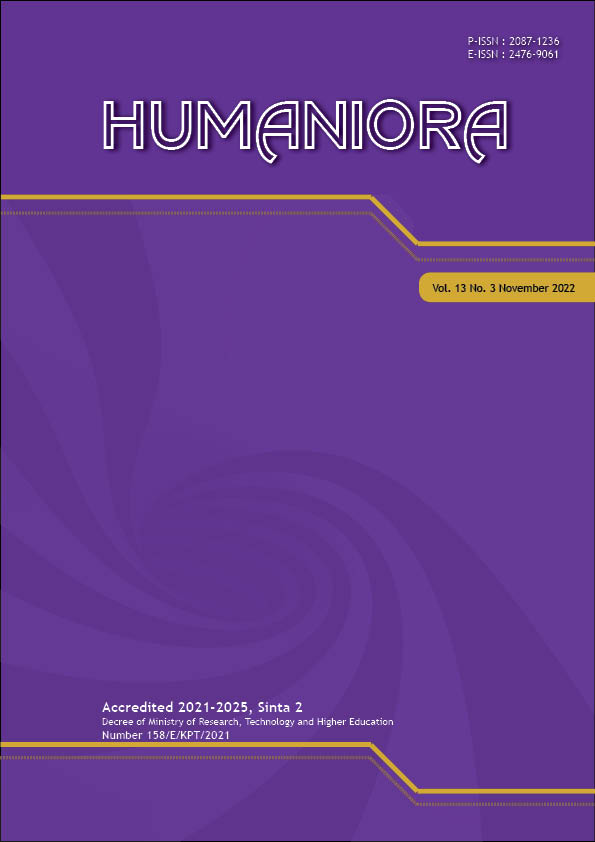 Downloads
License
Copyright (c) 2022 Fitria Nur'aini Fitria Nur'aini, Sumarwati Sumarwati, Djoko Sulaksono Djoko Sulaksono
This work is licensed under a Creative Commons Attribution-ShareAlike 4.0 International License.
Authors who publish with this journal agree to the following terms:
a. Authors retain copyright and grant the journal right of first publication with the work simultaneously licensed under a Creative Commons Attribution License - Share Alike that allows others to share the work with an acknowledgment of the work's authorship and initial publication in this journal.
b. Authors are able to enter into separate, additional contractual arrangements for the non-exclusive distribution of the journal's published version of the work (e.g., post it to an institutional repository or publish it in a book), with an acknowledgment of its initial publication in this journal.
c. Authors are permitted and encouraged to post their work online (e.g., in institutional repositories or on their website) prior to and during the submission process, as it can lead to productive exchanges, as well as earlier and greater citation of published work.
USER RIGHTS
All articles published Open Access will be immediately and permanently free for everyone to read and download.  We are continuously working with our author communities to select the best choice of license options, currently being defined for this journal as follows: Creative Commons Attribution-Share Alike (CC BY-SA)
Abstract 35 . PDF downloaded 46 .