Assessing the Readiness of Lecturers and Students in Adapting to Online Learning in Vocational Higher Education
Keywords:
lecturer readiness, student readiness, online learning, vocational school
Abstract
The research aimed to identify the teaching experience carried out by lecturers in vocational higher education, Department of Energy Conversion Engineering, dominated by practical lectures during online learning. Online learning carried out during the pandemic was one of the efforts to manage the learning process to suppress the coronavirus's spread (COVID-19). In the learning process, which involved students and lecturers, limitations were not only felt by students as participants in the learning process but also by lecturers who were in charge of the courses. Activities in the laboratory were undertaken at all levels and accounted for more than 40% of all learning activities. The experience of the online teaching process for vocational engineering education was very interesting to be researched since the challenges of delivering practical material had a 50% proportion of the entire course. Observations on laboratory activities during online lectures could be a reference for further learning activities. Qualitative methods were used by observation, data collection and compilation, and analysis. From the data that have been accumulated, it can be concluded that several components become obstacles in the online learning process for engineering/vocational higher education. However, some parts are also considered beneficial during the learning process for the lecturers and students. 
Dimensions
Plum Analytics
References
Algiovan, N., & Roza, A. S. (2020). English teaching materials during global pandemic: A survey on online learning at vocational schools in Lampung. Getsempena English Education Journal, 7(2), 307-316. https://doi.org/10.46244/geej.v7i2.1180.
Alqahtani, A. Y., & Rajkhan, A. A. (2020). E-learning critical success factors during the covid-19 pandemic: A comprehensive analysis of e-learning managerial perspectives. Education Sciences, 10(9), 1-16. https://doi.org/10.3390/educsci10090216.
Aydin, S., Akkan, Y., Arpaz, E., & Koparan, B. (2015). Online learning in vocational school: Focus on students' perceptions. Procedia-Social and Behavioral Sciences, 174, 3663-3667. https://doi.org/10.1016/j.sbspro.2015.01.1087.
Ceccato, I., Palumbo, R., Di Crosta, A., La Malva, P., Marchetti, D., Maiella, R., … Di Domenico, A. (2021). Age-related differences in the perception of COVID-19 emergency during the Italian outbreak. Aging & Mental Health, 25(7), 1305-1313. https://doi.org/10.1080/13607863.2020.1856781.
Daniela, L., & Rūdolfa, A. (2019). Learning platforms: How to make the right choice. In Didactics of Smart Pedagogy (pp. 191–209). https://doi.org/https://doi.org/10.1007/978-3-030-01551-0_10.
Edy, D. L. (2020). Revisiting the impact of project-based learning on online learning in vocational education: Analysis of learning in pandemic Covid-19. 2020 4th International Conference on Vocational Education and Training (ICOVET). Malang, Indonesia. pp. 378-381.
Kim, S. (2021). How a company's gamification strategy influences corporate learning: A study based on gamified MSLP (Mobile social learning platform). Telematics and Informatics, 57, 101505. https://doi.org/10.1016/j.tele.2020.101505.
Mahmut, Ö. (2020). Vocational education and training as "a friend in need" during coronavirus pandemic in Turkey. Bartın University Journal of Faculty of Education, 9(2), 1-7.
Moore, J. L., Dickson-Deane, C., & Galyen, K. (2011). E-learning, online learning, and distance learning environments: Are they the same? The Internet and Higher Education, 14(2), 129-135. https://doi.org/10.1016/j.iheduc.2010.10.001.
Mukarromah, U., & Wijayanti, W. (2021). Implementation of the online learning at vocational high school during Covid-19: Between obligations and barriers. Jurnal Pendidikan Vokasi, 11(1), 92-101. https://doi.org/10.21831/jpv.v11i1.37110.
Nuraeni, M., & Nur, M. R. O. (2019). The digital native students' preference in accessing online stories. Proceeding of 1 St Conference of English Language and Literature (CELL). Retrieved from https://semnas.untidar.ac.id/wp-content/uploads/2019/07/Miranti-Nuraeni-Muhammad-Rauuf-Oktavian-Nur-The-Digital-Native-Students-Preferences-in-accessing-online-stories-1.pdf.
Nwachukwu, I., Nkire, N., Shalaby, R., Hrabok, M., Vuong, W., Gusnowski, A., … Agyapong, V. I. O. (2020). Covid-19 pandemic: Age-related differences in measures of stress, anxiety and depression in Canada. International Journal of Environmental Research and Public Health, 17(17), 6366. https://doi.org/10.3390/ijerph17176366.
Purnamasari, Y. (2021). General English for vocational university students during the global pandemic: Stages and challenges. UICELL Conference Proceeding, 4, 270-275.
Rahayu, E., & Devina, D. (2021). Senior lecturers' learning mechanisms during emergency remote teaching at Binus University. Humaniora, 12(1), 39-44. https://doi.org/10.21512/humaniora.v12i1.6906.
Rashid, S., & Yadav, S. S. (2020). Impact of Covid-19 pandemic on higher education and research. Indian Journal of Human Development, 14(2), 340-343. https://doi.org/10.1177/0973703020946700.
Schmidt, S. J., Barblan, L. P., Lory, I., & Landolt, M. A. (2021). Age-related effects of the Covid-19 pandemic on mental health of children and adolescents. European Journal of Psychotraumatology, 12(1), 1901407. https://doi.org/10.1080/20008198.2021.1901407.
Smith, S. B., Smith, S. J., & Boone, R. (2000). Increasing access to teacher preparation: The effectiveness of traditional instructional methods in an online learning environment. Journal of Special Education Technology, 15(2), 37-46. https://doi.org/10.1177/016264340001500204.
Ştefănuţ, A. M., Vintilă, M., Bucur, V. M., & Blaboli, T. (2021). Gender and age-related differences in depression, anxiety and stress during the Covid-19 pandemic: A cross-sectional study. Social Work Review/Revista de Asistenta Sociala, 20(1), 123-134.
Sujinah, S. (2020). Tantangan dan solusi pembelajaran Bahasa Indonesia di era Covid-19. Stilistika: Jurnal Pendidikan Bahasa dan Sastra, 13(2), 256-271. http://dx.doi.org/10.30651/st.v13i2.5444.
Syauqi, K., Munadi, S., & Triyono, M. B. (2020). Students' perceptions toward vocational education on online learning during the Covid-19 pandemic. International Journal of Evaluation and Research in Education, 9(4), 881-886. http://doi.org/10.11591/ijere.v9i4.20766.
Turna, J., Zhang, J., Lamberti, N., Patterson, B., Simpson, W., Francisco, A. P., … Van Ameringen, M. (2021). Anxiety, depression and stress during the COVID-19 pandemic: Results from a cross-sectional survey. Journal of Psychiatric Research, 137, 96-103. https://doi.org/10.1016/j.jpsychires.2021.02.059.
Wargadinata, W., Maimunah, I., Dewi, E., & Rofiq, Z. (2020). Student's responses on learning in the early Covid-19 pandemic. Tadris: Jurnal Keguruan dan Ilmu Tarbiyah, 5(1), 141-153. https://doi.org/10.24042/tadris.v5i1.6153.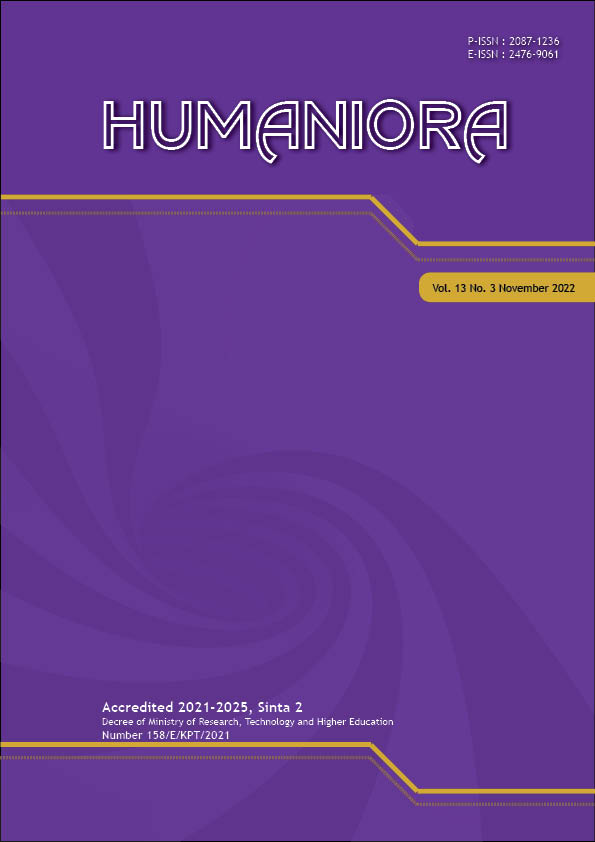 Downloads
License
Copyright (c) 2022 Sri Utami, Yanti Suprianti
This work is licensed under a Creative Commons Attribution-ShareAlike 4.0 International License.
Authors who publish with this journal agree to the following terms:
a. Authors retain copyright and grant the journal right of first publication with the work simultaneously licensed under a Creative Commons Attribution License - Share Alike that allows others to share the work with an acknowledgment of the work's authorship and initial publication in this journal.
b. Authors are able to enter into separate, additional contractual arrangements for the non-exclusive distribution of the journal's published version of the work (e.g., post it to an institutional repository or publish it in a book), with an acknowledgment of its initial publication in this journal.
c. Authors are permitted and encouraged to post their work online (e.g., in institutional repositories or on their website) prior to and during the submission process, as it can lead to productive exchanges, as well as earlier and greater citation of published work.
USER RIGHTS
All articles published Open Access will be immediately and permanently free for everyone to read and download.  We are continuously working with our author communities to select the best choice of license options, currently being defined for this journal as follows: Creative Commons Attribution-Share Alike (CC BY-SA)
Abstract 152 . PDF downloaded 126 .