King Sejong the Great 세종대왕 (1397-1450): His Contribution in the Field of the Hangeul Alphabet and Law
Keywords:
Sejong the Great, Joseon Dynasty, Hangeul, Law, Korea
Abstract
This study aims to describe the life history of King Sejong the Great and his contribution to the field of alphabet and law, especially law for convict, marriage, and heir. The method used in this research is the historical method. The results showed that Sejong was born on May 15, 1397 in Hanseong. His birth name was Yi Do and Sejong also has the nickname Won Chong. Sejong was the third son of King Taejong and grandson of King Taejo. Since childhood, he was very diligent in reading and was known as an intelligent child. At the age of 12, he was appointed as the Prince of Chungnyeong. At the age of 14, he married Shim On and at the age of 16 he obtained the title of Dae Wang. At the age of 21, he was trusted to become the crown prince and ascended the throne to become king. During his leadership, Korea was in a golden age because of his policies. His greatest contribution was the hangeul alphabet which gradually replaced idu and hanja. In addition, in the field of law or policy regarding prisoner sentence, the law must be fair and adjusted to the age limit, and the community must understand the law. Marriage law where women can only marry when they are 14 years old. The last is the law of heir which divides fairly and is no longer patriarchal. All of these policies are related to moral ethics, virtue, truth, and wisdom based on Confucianism.
Dimensions
References
Agung, L. (2015). Sejarah Asia Timur 1. Yogyakarta: Ombak.
Ahn, I. H. (2012). Cultural Archetype Contents for the Traditional Wedding. International Journal of Knowledge Content Development & Technology, 2(1), 37–49.
Armstrong, C. K. (2009). Central Themes for a Unit on Korea. Asia For Educators: Columbia University.
Byung-wan, K. (2014). Samsung Code: 27 Prinsip Pengembangan Pribadi dan Organisasi ala Samsung (diterjemahkan oleh Noura Books dari buku Lee Kun Hee, 27 Etiquette, Karya Kim Byung-wan). Jakarta Selatan: Penerbit Noura Books (PT Mizan Publika).
Cartwright, M. (2016). Gojoseon. World History Encyclopedia. https://www.worldhistory.org/Gojoseon/ and British Korean Society. Retrieved from https://www.worldhistory.org/Gojoseon/
Cho, H., Kim, S.-W., Chun, Y., Park, H.-Y., & Kang, W.-J. (2015). 조선시대 측우기 등장과 강우량 관측망에 대한 역사적 고찰 (A Historical Review on the Introduction of Chugugi and the Rainfall Observation Network during the Joseon Dynasty). Atmosphere. Korean Meteorological Society, 25(4), 719–734.
Coulmas, F. (1991). The writing systems of the world. Oxford: Wiley-Blackwell.
E-don, C., & Kane, D. (2019). A History of Korea: The Founding of Joseon and the Formulation of its State System. Korea: The Academy of Korean Studies.
Gottschalk, L. (1975). Mengerti Sejarah: Pengatar Metode Sejarah. (N. Notosusanto, Ed.). Depok: Yayasan Penerbit Universitas Indonesia.
Griffis, B. (2021). Sejong the Great. World History Encyclopedia. Canada: The World History Encyclopedia Foundation. Retrieved from https://www.worldhistory.org/Sejong_the_Great/
Hee-sook, H. (2004). Women's Life during the Choson Dynasty. International Journal of Korean History, 6(1), 113–160.
Hong-Kyu, P. (2006). King Taejong as a Statesman: From Power to Authority. KOREA JOURNAL, 46(4), 192–221.
Hyun-mee, K., Hosang, S., Hwang, C. S., Kang, W., Son, H., Hwang, C. S., Choung, E., et al. (2019). Foreword to The National Atlas of Korea: Territorial History of Korea. Ministry of Land, Infrastructure and Transport. Retrieved from http://nationalatlas.ngii.go.kr/pages/page_1814.php
Hyun-Mo, P. (2014). 세종의 법 관념과 옥사(獄事) 판결 연구 (Studi Tentang Konsep Hukum Raja Sejong dan Penghakiman Penjara). Riset Politik Korea (한국정치연구), 23(1), 1–24.
Jae-Woong, K. (2018). King Sejong the Great: The Everlasting Light of Korea. Seoul: Korean Spirit and Culture Promotion Project.
Jae, J. D. (2019). A History of Korea: The Foundation and Development of the Three Kingdoms (Understand.). Korea: The Academy of Korean Studies.
Jin-ryong, Y. (2021). Peringatan 567-dol Hari Hangul (567돌 한글날 기념) Semua Orang Perlu Mengetahui Cerita Korea 10+9 (누구나 알아야 할 한글 이야기 10+9). Seoul: Menteri Kebudayaan, Olahraga dan Pariwisata.
Jiyoung, K. (2013). Fertility and Childbirth among Royal Women in Nineteenth-Century Korea. Asia Pacific Perspectives, XII(1), 84–108.
Joon-sik, C. (2011). Understanding Contemporary Korean Culture. Seoul: Jimoondang.
Jung, S. H. (2004). The Formation of Gojoseon and Its Social Characteristics. The Review of Korean Studies, 7(1), 95–114.
Kementerian Budaya, O. dan P. (2012). Korea: Dulu & Sekarang/Korea selatan, Dulu dan Sekarang. Seoul: Layanan Informasi dan Kebudayaan Korea.
Kim-Hui, L. (2011). Book about Korean Language, Hangeul, and Their History (The 3rd Se.). Yogyakarta: INAKOS (Internasional Association of Korean Studies in Indonesia) dan Pusat Pengkajian Korea UGM.
Kim, C. W. (2000). The Legacy of King Sejong the Great. Studies in the Linguistic Sciences, 30(1), 3–12.
Kuntowijoyo. (1999). Pengantar Ilmu Sejarah. Yogyakarta: Bentang.
Lee, K.-M., & Ramsey, S. R. (2011). A History of the Korean Language. New York: Cambridge University Press.
Lew, Y. I., & Gregg, D. P. (2020). Brief History of Korea: A Bird's Eye View. New York: The Korea Society.
Lim, S. (2019). Rules of The House: Family Law and Domestic Disputes in Colonial Korea. (J. Lie, Ed.). Berkeley: University of California Press.
Lowe, R., & Yasuhara, Y. (2016). The Origins of Higher Learning: Knowledge networks and the early development of universities. Oxon: Taylor & Francis.
Mahayana, M. S., Syamsuddin, M., Setiawati, N. A., Indrastuti, N. S. K., Nugroho, S. A., & Seonhee, M. (Eds.). (2016). Budaya Korea: Hal-Hal Yang Perlu Diketahui. Yogyakarta: Indonesian-Netherlands Cooperation in Islamic Studies.
Nikmatullah, N. (2012). Perkembangan Kebudayaan Korea Masa Kerajaan Choson (1392-1910). Universitas Negeri Yogyakarta.
Peniliti KDI Taman Jeongho (박정호 KDI 전문연구원). (2016). 역사 속 숨은 경제이야기 (Kisah Ekonomi dalam Sejarah) 세종대왕은 한계효용 개념을 알고 한글을 만들었을까? (Tahukah Raja Sejong konsep marginal utility dan membuat Hangeul?). Ekonomi Korea, 12. Seoul. Retrieved from Hankyung.com
Radio Korea International, KBS. National Institute for International Education Development, M. of E. of K. (1995). Sejarah Korea. Seoul: Jung Moon Printing Co., Ltd.
Reischauer, E. O., & Fairbank, J. K. (1960). East Asia: The Great Tradition (Series: A History of East Asian Civilisation) (Vol. I). Boston: Houghton Mifflin.
Ruck, A. (2008). Sejarah Gereja Asia (8th ed.). Jakarta: PT BPK Gunung Mulia.
Se-hoon, O. (2012). UNESCO City of Design: Design Seoul Story. Seoul: Seoul Metropolitan City.
Sejong Sillok. (n.d.). (Vol. 37, Septem).
Seung-Yoon, Y., & Setiawati, N. A. (2003). Sejarah Korea: Sejak Awal Abad Hingga Masa Kontemporer. Yogyakarta: Gadjah Mada University Press.
Sohn, H.-M., & Lee, P. H. (2003). "Language, forms, prosody and themes" in Peter H Lee "A History of Korean Literature." Cambridge: Cambridge University Press.
Sorensen, H. (2011). Korean Buddhism in the Far East. Korean Art Society, 3(3), 1–16.
Sudita, I. K., & Suryawan, I. G. (2017). Sejarah Seni Rupa Timur. Depok: Rajawali Pers.
Taesik, K. (2005). The Cultural Characteristics of Korea's Ancient Kaya Kingdom. International Journal of Korean History, 8(Agustus), 169–221.
Wei-Ming, T. (2005). Etika Konfusian Modern: Tantangan Singapura. Jakarta Selatan: Penerbit Teraju.
Yeon, J. (2008). Queries on the origin and the inventor of Hunmin chŏngŭm ( No. 1). March. London. Retrieved from http://www.soas.ac.uk/japankorea/research/soas-aks-papers/
Yoon-Pyo, H. (2013). Hangeului Yeoksa (Sejarah Huruf Korea). Seoul: Taehaksa Press.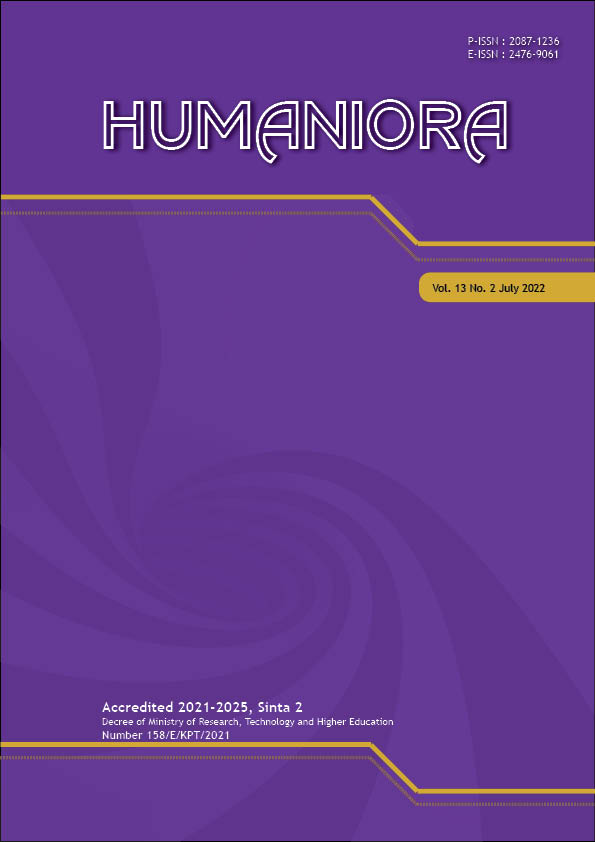 License
Copyright (c) 2022 Sufandi Iswanto, Muhammad Haikal, Abdul Azis, T. Bahagia Kesuma, Kwon Nae-Hyun
This work is licensed under a Creative Commons Attribution-ShareAlike 4.0 International License.
Authors who publish with this journal agree to the following terms:
a. Authors retain copyright and grant the journal right of first publication with the work simultaneously licensed under a Creative Commons Attribution License - Share Alike that allows others to share the work with an acknowledgment of the work's authorship and initial publication in this journal.
b. Authors are able to enter into separate, additional contractual arrangements for the non-exclusive distribution of the journal's published version of the work (e.g., post it to an institutional repository or publish it in a book), with an acknowledgment of its initial publication in this journal.
c. Authors are permitted and encouraged to post their work online (e.g., in institutional repositories or on their website) prior to and during the submission process, as it can lead to productive exchanges, as well as earlier and greater citation of published work.
USER RIGHTS
All articles published Open Access will be immediately and permanently free for everyone to read and download.  We are continuously working with our author communities to select the best choice of license options, currently being defined for this journal as follows: Creative Commons Attribution-Share Alike (CC BY-SA)
Abstract 164 .