Social Control of Women's Body as Cultural-Political Legitimation in "Putri Cina" Novel
Keywords:
social control, discrimination, female body, cultural legitimation, political legitimation
Abstract
The research aimed to describe the depiction of the female body's domination as a form of political-cultural legitimacy raised in Sindhunata's work entitled Putri Cina. Michel Foucault's theory of discourse was applied as the approach to reveal how sexuality was closely related to power practices. The discourse presented in the novel was dissected by qualitative methods, descriptive qualitative, and interpretative data analysis techniques. The results show that the two main characters of this novel are Chinese women who experienced oppression in Java. The existence of a cultural identity crisis, abjection, passivity, and not subversion represents the figure of alienated women. This perspective is intertwined with how indigenous men perceive Chinese women figures. Sindhunata describes the unequal construction of sexuality between men and women and the discrimination of the Chinese race as repeated during the kingdom era, pre-independence, to the New Order era. 
Dimensions
Plum Analytics
References
Abadi, H. S. (2017). Kekuasaan seksualitas dalam novel: Perspektif analisis wacana kritis Michel Foucault. Belajar Bahasa: Jurnal Ilmiah Program Studi Pendidikan Bahasa dan Sastra Indonesia, 2(2), 167-178. https://doi.org/10.32528/bb.v2i2.828.
Artawan, I. G., Yasa, I. N., & Darmayanti, I. A. M. (2014). Tubuh perempuan dalam teror patriarkhi. Seminar Nasional Riset Inovatif, 2, 648-655.
Asfar, D. A. (2015). Jangan main-main dengan kelaminmu: Antara wacana seksualitas dan feminisme. Mabasan, 9(1), 19-28. https://doi.org/10.26499/mab.v9i1.153.
BBC News. (1998). Ethnic Chinese tell of mass rapes. Retrieved on October 22nd, 2020 from http://news.bbc.co.uk/2/hi/events/indonesia/special_report/118576.stm.
Butler, J. (1990). Gender trouble: Feminism and the subversion of identity. New York: Routledge.
Christian, S. A. (2018). Identitas budaya orang Tionghoa Indonesia. Jurnal Cakrawala Mandarin, 1(1), 11-22. http://dx.doi.org/10.36279/apsmi.v1i1.11.
Dewi, N. (2019). Positioning the Chinese princess of peace in world literature. Jurnal Pendidikan Bahasa dan Sastra Indonesia, 4(1), 18-23. https://dx.doi.org/10.26737/jp-bsi.v4i1.905.
Dhani, A. (2016). Sejarah kebencian terhadap etnis Tionghoa. Retrieved on September 22nd, 2020 from https://tirto.id/sejarah-kebencian-terhadap-etnis-tionghoa-bFLp.
Dhona, H. R. (2020). Analisis wacana Foucault dalam studi komunikasi. Journal Communication Spectrum: Capturing New Perspectives in Communication, 9(2), 189-208.
Foucault, M. (1972). Archaeology of knowledge. New York: Pantheon Books.
Foucault, M. (1978). The history of sexuality. New York: Pantheon Books.
Freedman, A. (2003). Political institution and ethnic Chinese identity in Indonesia. Asian Ethnicity, 4(3), 439-452. http://dx.doi.org/10.1080/1343900032000117259.
Fujiati, D. (2016). Seksualitas perempuan dalam budaya patriarkhi Muwazah, 8(1), 26-47.
Green, J. L. (2004). Uncovering collective rape: A comparative study of political sexual violence. International Journal of Sociology, 34(1), 97-116.
Hikmawati, C. L. (2017). Opresi berlapis perempuan etnis Tionghoa: Pemerkosaan massal terhadap perempuan etnis Tionghoa dalam Tragedi Mei 1998 di Jakarta. Jurnal Politik, 2(2), 337-364. https://doi.org/10.7454/jp.v2i2.76.
Kartika, S. (2003). Kritik sastra feminis: Sebuah jalan menuju kesetaraan melalui dunia sastra. Jurnal Perempuan untuk Pencerahan dan Kesetaraan, 30.
Novitasari, M. (2018). Diskriminasi gender dalam produk budaya populer (Analisis wacana Sara Mills pada novel 'Entrok'). Jurnal Semiotika, 12(2), 151-167. http://dx.doi.org/10.30813/s:jk.v12i2.1715.
Sakinah, R. M. N. (2012). Identitas dan isu politik pada tokoh perempuan Putri Cina dan Giok Tien dalam novel 'Putri Cina' karya Shindunata (Kajian Poskolonial). Apollo Project: Jurnal Ilmiah Program Studi Sastra Inggris, 1(1), 24-29 https://doi.org/10.34010/apollo.v1i1.141.
Sakinah, R. M. N. (2014). Pandangan orientalis terhadap identitas dan isu politik tokoh perempuan dalam 'Putri Cina'. Patanjala: Jurnal Penelitian Sejarah dan Budaya, 6(2), 209-222. http://dx.doi.org/10.30959/ptj.v6i2.195.
Saputra, H. (2011). Menelisik Putri Cina, mengeluh kesahkan multikulturalisme. Kajian Sastra: Jurnal Bidang Kebahasaan dan Kesusastraan, 35(1), 1-14.
Sindhunata. (2007). Putri Cina. Jakarta: PT Gramedia Pustaka Utama.
Spivak, G.C. (1988). Can the subaltern speak? In C. Nelson & L. Grossberg (Eds.), Marxism and the Interpretation of Culture (pp 271-313). Urbana: University of Illinois Press.
Suryadinata, L. (2003). Kebijakan negara Indonesia terhadap etnik Tionghoa: Dari asimilasi ke multikulturalisme? Jurnal Antropologi Indonesia, 71, 1-12. https://doi.org/10.7454/ai.v0i71.3464.
Udasmoro, W (Ed.). (2018). Hamparan wacana: Dari praktik ideologi, media hingga kritik poskolonial. Yogyakarta: Penerbit Ombak.
Udasmoro, W. (2020). Gerak kuasa: Politik wacana, identitas, dan ruang/waktu dalam bingkai kajian budaya dan media. Jakarta: KPG (Kepustakaan Populer Gramedia).
Wijayanti, C. T., Hadi, P. K., & Furinawati, Y. (2018). Dominasi laki-laki atas perempuan terhadap kehidupan seksual dalam novel 'Lelaki Harimau' karya Eka Kurniawan. Widyabrasta: Jurnal Ilmiah Pembelajaran Bahasa dan Sastra Indonesia, 6(1), 52-61.
Yasin, M. (2016). Sastra dan wacana seksualitas: Sebuah dominasi maskulinitas perempuan di Indonesia. Tasamuh, 13(2), 197-214.
Zamzuri, A. (2012). Pribumi vs asing: Kajian poskolonial terhadap 'Putri Cina' karya Sindhunata. Widyaparwa, 40(1), 25-32.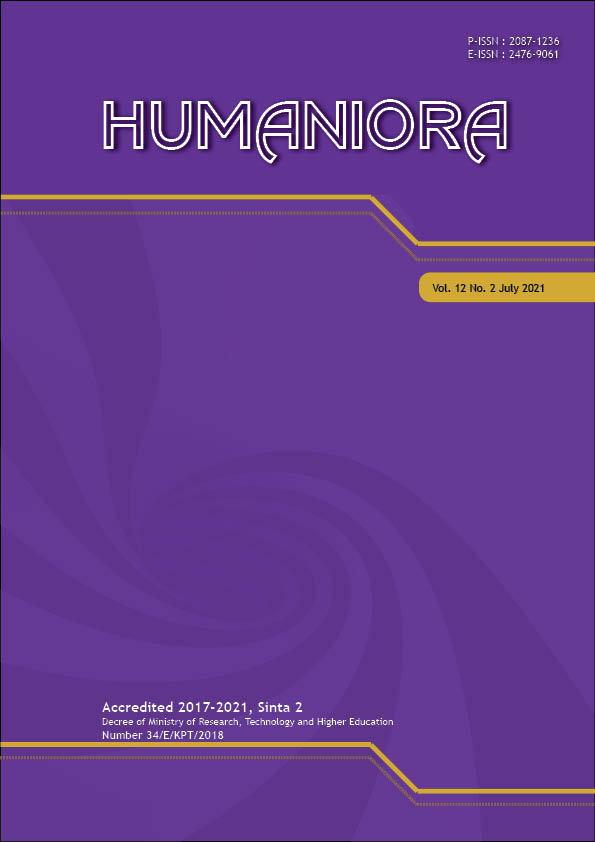 Downloads
License
Copyright (c) 2021 Resa Sartika, Dwi Susanto, Prasetyo Adi Wisnu Wibowo
This work is licensed under a Creative Commons Attribution-ShareAlike 4.0 International License.
Authors who publish with this journal agree to the following terms:
a. Authors retain copyright and grant the journal right of first publication with the work simultaneously licensed under a Creative Commons Attribution License - Share Alike that allows others to share the work with an acknowledgment of the work's authorship and initial publication in this journal.
b. Authors are able to enter into separate, additional contractual arrangements for the non-exclusive distribution of the journal's published version of the work (e.g., post it to an institutional repository or publish it in a book), with an acknowledgment of its initial publication in this journal.
c. Authors are permitted and encouraged to post their work online (e.g., in institutional repositories or on their website) prior to and during the submission process, as it can lead to productive exchanges, as well as earlier and greater citation of published work.
USER RIGHTS
All articles published Open Access will be immediately and permanently free for everyone to read and download.  We are continuously working with our author communities to select the best choice of license options, currently being defined for this journal as follows: Creative Commons Attribution-Share Alike (CC BY-SA)
Abstract 219 . PDF downloaded 124 .