Multicultural Competence Awarness Among International Students
Keywords:
culture, multicultural competence, international students, intercultural communication
Abstract
When individuals move to a place where more than one culture coexists, they are now part of a multicultural society. In this respect one of the many reasons of the existence of multicultural societies is the student mobility phenomenon in which many students decide to live abroad to pursue their academic goals. Accordingly, these students face new cultural situations and there is no doubt that they need to use their multicultural competencies. However, are they aware of their own multicultural competence? Has the way they conceptualize it ever helped them to achieve their professional goals? In the present study such questions highlight the relevance to focus on the existing knowledge about multicultural competence of international students which might provide insights about the role of multicultural competence as an inherent aspect of life to achieve personal or professional goals and strength their intercultural communication. There are many studies that focus on the teachers' multicultural competence and the importance of incorporating it in the programs. However not many of them focus on the way students conceptualize it and perceive it in their lives. Thus the purpose of this study was to describe and interpret the characteristics of multicultural awareness of seven international students studying tertiary education in the post graduate studies department at YSU. By using a qualitative research and making use of a questionnaire as main instrument, the findings showed that students have a high level of awareness and they mostly conceive it as a tool to achieve they professional goals.
References
Adam, H., Obudaru, O., Lu, J., Maddux, W., & Galinsky, A. (2018, May 22). How Living Abroad Helps You Develop a Clearer Sense of Self. Harvard Business Review. https://hbr.org/2018/05/how-living-abroad-helps-you-develop-a-clearer-sense-of-self
Altan, M. Z. (2018). Intercultural Sensitivity. Journal of Intercultural Communication, 46, 1–17. https://immi.se/intercultural/nr46/altan.html
Arasaratnam, L. A., & Doerfel, M. L. (2005). Intercultural communication competence: Identifying key components from multicultural perspectives. International Journal of Intercultural Relations, 29(2), 137–163. https://doi.org/10.1016/j.ijintrel.2004.04.001
Aspers, P., & Corte, U. (2019). What is Qualitative in Qualitative Research. Qualitative Sociology Journal, 42(2), 139–160. https://doi.org/10.1007/s11133-019-9413-7
AUN. (2017, November). Crisis Management: Framework for International Student Mobility. ASEAN University Network. http://www.aunsec.org/publications.php
Clyne, M. (2017). Multilingualism. In The Handbook of Sociolinguistics (pp. 301–314). John Wiley & Sons, Ltd. https://doi.org/10.1002/9781405166256.ch18
Colbert, P. J. (2010). Developing A Culturally Responsive Classroom Collaborative Of Faculty, Students, And Institution. Journal of College Teaching & Learning (TLC), 7(11). https://doi.org/10.19030/tlc.v7i11.247
Department of Educational Foundations, University of Botswana, Major, T. E., & Mangope, B. (2014). Multicultural competence in student affairs: The case of the University of Botswana. Journal of Student Affairs in Africa, 2(1). https://doi.org/10.14426/jsaa.v2i1.58
Džalalova, A., Raud, N., Raud, N., & Raud, N. (2012). Multicultural Competence and its Developement in Students of Teacher Education Curricula. Problems of Education in the 21st Century Journal, 40. http://journals.indexcopernicus.com/abstract.php?icid=988487
Flowers, D. L. (2004). Culturally Competent Nursing Care. Critical Care Nurse, 24(4), 48–52. https://doi.org/10.4037/ccn2004.24.4.48
García, M. R. (2013). Comunicacion e Interculturalidad. Reflexiones en torno a una Relacion Indisoluble. Global Media Journal Mexico, 10(19), 26–42. http://www.redalyc.org/articulo.oa?id=68726424002
Gay, G., & Howard, T. C. (2000). Multicultural teacher education for the 21st century. The Teacher Educator Journal, 36(1), 1–16. https://doi.org/10.1080/08878730009555246
Giddens, A., & Sutton, P. W. (2009). Sociology. Polity Press.
Gunawardena, C. N. (2012). Culture and Online Distance Learning. Routledge Handbooks Online. https://doi.org/10.4324/9780203803738.ch12
Huber, J. (Ed.). (2012). Intercultural competence for all: Preparation for living in a heterogeneous world. Council of Europe Publ.
Iverson, S. V. (2012). Multicultural Competence For Doing Social Justice: Expanding Our Awareness, Knowledge, And Skills. Journal of Critical Thought and Praxis, 1(1), Article 1. https://www.iastatedigitalpress.com/jctp/article/id/570/
Kivel, P. (2007). Multicultural Competence. Paul Kivel. http://paulkivel.com/resource/multicultural-competence/
Korstjens, I., & Moser, A. (2018). Series: Practical guidance to qualitative research. Part 4: Trustworthiness and publishing. European Journal of General Practice, 24(1), 120–124. https://doi.org/10.1080/13814788.2017.1375092
Lehman, C. L. (2017). Multicultural Competence: A Literature Review Supporting Focused Training for Preservice Teachers Teaching Diverse Students. Journal of Education and Practice, 8(10), 109–116. https://eric.ed.gov/?id=EJ1139702
Mio, J. S., Barker, L. A., & Tumambing, J. S. (2012). Multicultural psychology: Understanding our diverse communities, 3rd ed (pp. xix, 396). Oxford University Press.
Moloi, C., & Bam, M. (2014). Exploring Cultural Competence from a Sociological Point of View. Mediterranean Journal of Social Sciences, 5(3), 332. https://www.mcser.org/journal/index.php/mjss/article/view/2149
Nadan, Y. (2017). Rethinking 'cultural competence' in international social work. Journal of International Social Work, 60(1), 74–83. https://doi.org/10.1177/0020872814539986
NCOA. (2011, November). Cultural Competence & Benefits Access. NCOA. https://www.ncoa.org/resources/cultural-competence-benefits-access/
OECD. (2013). How many students study abroad and where do they go? Education at a Glance 2013 Highlights. https://doi.org/10.1787/eag_highlights-2013-12-en
OECD. (2021). Students—International student mobility—OECD Data. TheOECD. http://data.oecd.org/students/international-student-mobility.htm
Pang, V. O., Stein, R., Gomez, M., Matas, A., & Shimogori, Y. (2011). Cultural Competencies: Essential Elements of Caring-Centered Multicultural Education. Action in Teacher Education Journal, 33(5–6), 560–574. https://doi.org/10.1080/01626620.2011.627050
Pope, R. L., & Mueller, J. A. (2005). Faculty and Curriculum: Examining Multicultural Competence and Inclusion. Journal of College Student Development, 46(6), 679–688. https://doi.org/10.1353/csd.2005.0065
Pütz, P. M., & Mundt, N. (2018). Expanding the Linguistic Landscape: Linguistic Diversity, Multimodality and the Use of Space as a Semiotic Resource. Multilingual Matters.
Tritschler, K. (2008). Cultural Competence. Journal of Physical Education, Recreation & Dance, 79(1), 7–8. https://doi.org/10.1080/07303084.2008.10598107
Trumbull, E., & Pacheco, M. (2005). Leading With Diversity. 298.
UNESCO. (2013). The International mobility of students in Asia and the Pacific; 2013. 89.
Vincent, S. K., & Torres, R. M. (2015). Multicultural Competence: A Case Study of Teachers and their Student Perceptions. Journal of Agricultural Education, 56(2), 64–75. https://doi.org/10.5032/jae.2015.02064
Yılmaz, F. (2016). Multiculturalism and multicultural education: A case study of teacher candidates' perceptions. Cogent Education Journal, 3(1), 1172394. https://doi.org/10.1080/2331186X.2016.1172394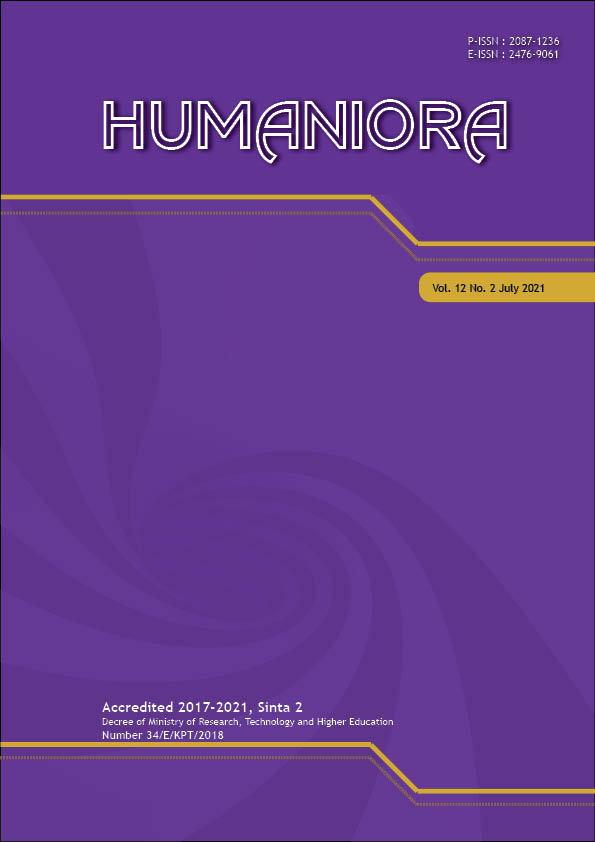 License
Copyright (c) 2021 Edith Romano Galindo, Erna Andriyanti
This work is licensed under a Creative Commons Attribution-ShareAlike 4.0 International License.
Authors who publish with this journal agree to the following terms:
a. Authors retain copyright and grant the journal right of first publication with the work simultaneously licensed under a Creative Commons Attribution License - Share Alike that allows others to share the work with an acknowledgment of the work's authorship and initial publication in this journal.
b. Authors are able to enter into separate, additional contractual arrangements for the non-exclusive distribution of the journal's published version of the work (e.g., post it to an institutional repository or publish it in a book), with an acknowledgment of its initial publication in this journal.
c. Authors are permitted and encouraged to post their work online (e.g., in institutional repositories or on their website) prior to and during the submission process, as it can lead to productive exchanges, as well as earlier and greater citation of published work.
USER RIGHTS
All articles published Open Access will be immediately and permanently free for everyone to read and download.  We are continuously working with our author communities to select the best choice of license options, currently being defined for this journal as follows: Creative Commons Attribution-Share Alike (CC BY-SA)
Abstract 163 .