Developing Intellectual Property Character for Games to Teach Music Theory by Using Batik Patterns Inspiration
Keywords:
batik pattern, character design, intellectual property, games, learning media, music theory
Abstract
This research aimed to apply batik motifs to strengthen the differentiation of characters in the form of adventure games that could be an interesting and effective learning medium  for introducing music theory. In order to work towards achieving its objective, developing interest in music theory by using games and animations specifically to approach more people and make this project sustainable, these games were supposed to be aimed into intellectual property. Therefore to be able to make it competitive, strong differentiation was needed as so many IP characters emerged as competitors. One of the strengths that could be added to these characters was by applying local content. It was a strong differentiator and could be developed with a deeper philosophy so that it had a wealth that could be developed more widely in the future, which in this case was using batik. To achieve this goal, this research used the design thinking method and qualitative methodology to collect data. The researchers collected data through the process of document research, an observation about the implementation of batik patterns in character design for animation. The result is the characters' designs of a game to teach music theory using batik pattern application. In conclusion, the batik pattern has the potential to strengthen differences in character design.
References
Ambrose, G. (2015). Design thinking for visual communication (Basics Design) (2nd Ed.). New York: Fairchild Books.
Bancroft, T. (2006). Creating characters with personality: For film, tv, animation, video games, and graphic novels (1st Ed.). New York: Watson-Guptill.
Dalsgaard, P. (2014). Pragmatism and design thinking. International Journal of Design, 8(1), 143-155.
Ding, T. (2019). Understanding the design of opportunities: Re-evaluating the agent-opportunity nexus through a design lens. Journal of Business Venturing Insights, 11, 1-1. https://doi.org/10.1016/j.jbvi.2018.e00108
Du Plessis, C. (2018). Subverting utilitarian subject-object relations in video games: A philosophical analysis of Thatgamecompany's Journey. South African Journal of Philosophy, 37(4), 466–479. https://doi.org/10.1080/02580136.2018.1532189.
Haake, A. (1989). The role of symmetry in Javanese batik patterns. Computers and Mathematics with Applications, 17(4-6), 815-826. https://doi.org/10.1016/0898-1221(89)90262-9.
Hann, M. A. (1992). Symmetry in regular repeating patterns: Case studies from various cultural settings. Journal of the Textile Institute, 83(4), 579-590. https://doi.org/10.1080/00405009208631233.
Kalmakurki, M. (2018). Snow White and the Seven Dwarfs, Cinderella, and Sleeping Beauty: The components of costume design in Disney's early hand-drawn animated feature films. Animation, 13(1), 7-19. https://doi.org/10.1177/1746847718754758.
Kutt, A. (2018). Art-directed costumes at Pixar: Design, tailoring, and simulation in production. SA 18 SIGGRAPH Asia 2018 Courses. Tokyo, Japan. pp. 1-102. https://doi.org/10.1145/3277644.3277767.
Makryniotis, T. (2018). Fashion and costume design in electronic entertainment—Bridging the gap between character and fashion design. Fashion Practice: The Journal of Design, Creative Process, & The Fashion Industry, 10(1), 99-118. https://doi.org/10.1080/17569370.2017.1412595.
Mitchell, M. (2017). Exclusive: Interview with Peter Rubin "Man of Steel" shield designer. Retrieved from https://www.liveabout.com/exclusive-interview-with-peter-rubin-3152393.
Pristiwati, E. (2009). Batik, citra tradisi Indonesia: Kumpulan motif batik tradisional Yogya dan Solo. Jakarta: Departemen Perindustrian R.I., Badan Penelitian & Pengembangan Industri, Balai Besar Kerajinan & Batik.
Sari, E., & Tedjasaputra, A. (2018). Design thinking 101 for education. CHIuXiD '18: Proceedings of the 4th International Conference on Human-Computer Interaction and User Experience in Indonesia. Malang, Indonesia. pp. 119–122. https://doi.org/10.1145/3205946.3205964.
Sukadari., Sukemi, B. M., & Sunarti. (2019). Character education based on social senselocal culture for school basic school. Journal of Physics: Conference Series, 1254, 1-6. https://doi.org/10.1088/1742-6596/1254/1/012035.
Tillman, B. (2019). Creative character design (second edition). Massachusetts: Focal Press.
Tschimmel, K., & Santos, J. (2018). How designers can contribute to education: Innovating educational systems through design thinking. Proceedings - 20th Congress of the International Ergonomics Association (IEA 2018). Florence, Italy. pp. 2098–2107. https://doi.org/10.1007/978-3-319-96071-5_219.
Wahyu, H., Reni, S. D., & Apriatni, E. P. (2018). Determinants of intellectual capital: A study of SME's batik in Central Java. The 3rd International Conference on Energy, Environmental, and Information System (ICENIS 2018). Semarang, Indonesia. pp. 11–14. https://doi.org/10.1051/e3sconf/20187308019.
White, T. (2009). How to make animated films: Tony White's complete masterclass on the traditional principles of animation. Abingdon: Taylor & Francis.
Wihardi, D., Pratikto, R. G., & Kristanty, S. (2015). Pergeseran makna motif batik Yogyakarta-Surakarta. Jurnal Ilmiah Komunikasi Makna, 5(2), 105-113. https://doi.org/10.30659/jikm.5.2.105-113.
Windahl, C., & Wetter-Edman, K. (2019). Designing for service: From service-dominant logic to design practice (and vice versa). In The SAGE Handbook of Service-Dominant Logic (pp. 674–688). California: SAGE Publications Ltd. https://doi.org/10.4135/9781526470355.n38.
WIPO International Bureau. (1994). Character merchandising. Retrieved from https://www.wipo.int/export/sites/www/copyright/en/activities/pdf/wo_inf_108.pdf.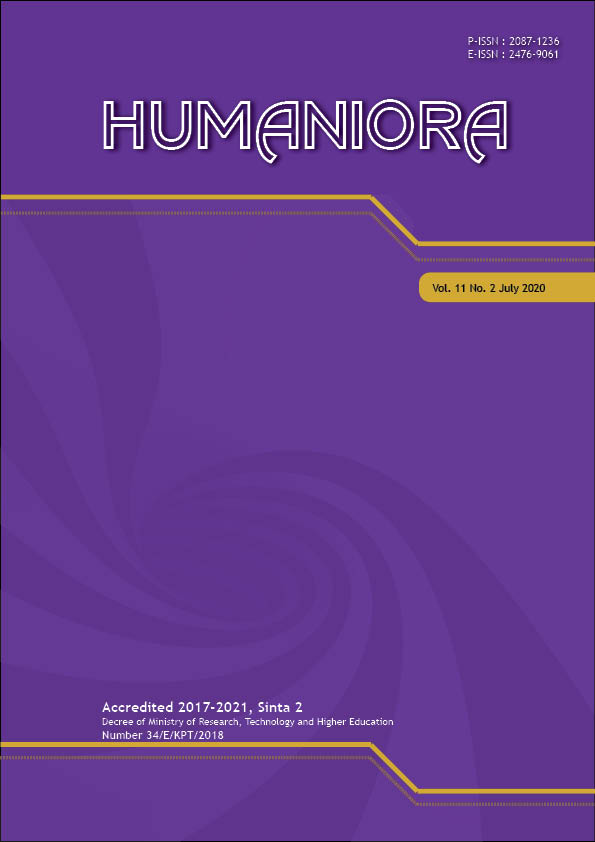 License
Copyright (c) 2020 Humaniora
This work is licensed under a Creative Commons Attribution-ShareAlike 4.0 International License.
Authors who publish with this journal agree to the following terms:
a. Authors retain copyright and grant the journal right of first publication with the work simultaneously licensed under a Creative Commons Attribution License - Share Alike that allows others to share the work with an acknowledgment of the work's authorship and initial publication in this journal.
b. Authors are able to enter into separate, additional contractual arrangements for the non-exclusive distribution of the journal's published version of the work (e.g., post it to an institutional repository or publish it in a book), with an acknowledgment of its initial publication in this journal.
c. Authors are permitted and encouraged to post their work online (e.g., in institutional repositories or on their website) prior to and during the submission process, as it can lead to productive exchanges, as well as earlier and greater citation of published work.
USER RIGHTS
All articles published Open Access will be immediately and permanently free for everyone to read and download.  We are continuously working with our author communities to select the best choice of license options, currently being defined for this journal as follows: Creative Commons Attribution-Share Alike (CC BY-SA)