The Effectiveness of Reminiscence Therapy in Improving Elderly's Well-Being
Keywords:
Oxford Happiness Questionnaire, reminiscence therapy, subjective well-being, elderly therapy
Abstract
The research discussed Subjective well-being (SWB) with reminiscence therapy in the elderly. This research used a single-case experiment design to examine the effectiveness of reminiscence therapy in improving the well-being of active, elderly aged 70 years old and over. There were two participants in this research, one male and one female. This intervention consisted of five meetings held once a week for ±90 minutes each session. Quantitative analysis using the Oxford Happiness Questionnaire and qualitative analysis through observation and interviews showed an improvement in participants' subjective well-being following the intervention. Therefore, the results of this research are likely that reminiscence therapy is effective in improving the subjective well-being of elderly individuals.
Dimensions
Plum Analytics
References
Aldridge, D. (2018). Single-case research designs for the clinician. Journal of the Royal Society of Medicine, 84(5), 249–252. https://doi.org/10.1177/014107689108400502.
Butler, R. N. (1963). The life review: An interpretation of reminiscence in the aged. Psychiatry, 26, 65–76. https://doi.org/doi.org/10.1080/00332747.1963.11023339.
Diener, E., Oishi, S., & Lucas, R. E. (2003). Personality, culture, and subjective well-being: Emotional and cognitive evaluations of life. Annual Review of Psychology, 54, 403–425. https://doi.org/10.1146/annurev.psych.54.101601.145056.
Grant, R. J. (2001). Positive psychology: An introduction. Journal of Humanistic Psychology, 41(1), 8–13.
Hills, P., & Argyle, M. (2002). The Oxford Happiness Questionnaire: A compact scale for the measurement of psychological well-being. Personality and Individual Differences, 33(7), 1073–1082. https://doi.org/10.1016/S0191-8869(01)00213-6.
Hyams, A., & Scogin, F. (2015). Reminiscence/life review therapy. In The Encyclopedia of Clinical Psychology (pp. 1–3). https://doi.org/10.1002/9781118625392.wbecp148.
Jarden, A. (2012). Positive psychologists on positive psychology: Introduction. International Journal of Wellbeing, 2(2), 70–71. https://doi.org/10.5502/ijw.v2i2.1.
Kadota, M., & Terasaki, M. (2009). Personality, daily life events, and subjective well-being. The Japanese Journal of Personality, 18(1), 35–45. https://doi.org/10.2132/personality.18.35.
Kazdin, A. E. (2015). Single-case experimental research designs. In Methodological issues and strategies in clinical research (4th Ed.). (pp. 459–483). https://doi.org/10.1037/14805-029.
Monk, E. J., Knoers, A. M. P., & Haditono, S. R. (2001). Psikologi perkembangan: Pengantar dalam berbagai bagiannya. Yogyakarta: Gadjah Mada University Press.
Santrock, J. W. (2018). A topical approach to life-span development (8th Ed.). New York: Mc Graw Hill.
Schimmack, U., Oishi, S., Radhakrishnan, P., Dzokoto, V., & Ahadi, S. (2002). Culture, personality, and subjective well-being: Integrating process models of life satisfaction. Journal of Personality and Social Psychology, 82(4), 582–593. https://doi.org/10.1037/0022-3514.82.4.582.
Silviliyana, M., Maylasari, I., Agustina, R., Ramadani, K. D., Sulistyowati, R., Annisa, L., & Dewi, F. W. R. (2018). Statistik penduduk lanjut usia 2018. Retrieved from https://www.bps.go.id/publication/2018/12/21/eadbab6507c06294b74adf71/statistik-penduduk-lanjut-usia-2018.
Tellegen, A., Watson, D., & Clark, L. A. (1988). Development and validation of brief measures of positive and negative affect: The PANAS scales. Journal of Personality and Social Psychology, 54(6), 1063–1070. Retrieved from http://www.ncbi.nlm.nih.gov/pubmed/3397865.
Wang, L. L., Shi, Z. B., Zhang, J. F., & He, L. (2014). Couples' subjective well-being and personality. Chinese Mental Health Journal, 28(9), 690–694. Retrieved from http://search.ebscohost.com/login.aspx?direct=true&db=psyh&AN=2014-44072-010&site=ehost-live&scope=site.
World Health Organization. (n.d.). Health situation and trend assessment: Elderly population. Retrieved June 25th 2019 from http://www.searo.who.int/entity/health_situation_trends/data/chi/elderly-population/en/.
Woyciekoski, C., Natividade, J. C., & Hutz, C. S. (2014). Contributions of personality and life events to the subjective well-being. Psicologia: Teoria e Pesquisa, 30(4), 401–409. https://doi.org/10.1590/S0102-37722014000400005.
Zajenkowski, M. (2018). Personality and subjective well-being. In Encyclopedia of Personality and Individual Differences (pp. 1–5). https://doi.org/10.1007/978-3-319-28099-8_2116-1.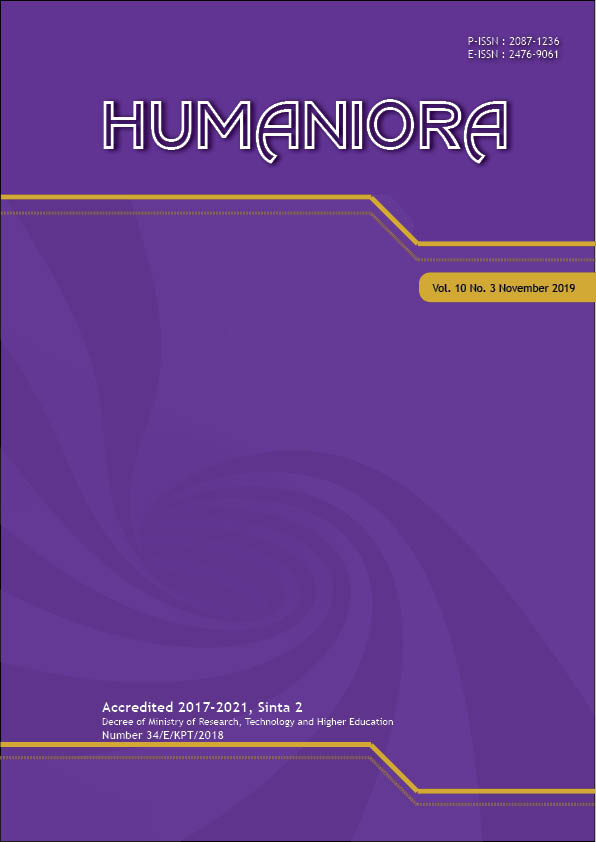 Downloads
License
Authors who publish with this journal agree to the following terms:
a. Authors retain copyright and grant the journal right of first publication with the work simultaneously licensed under a Creative Commons Attribution License - Share Alike that allows others to share the work with an acknowledgment of the work's authorship and initial publication in this journal.
b. Authors are able to enter into separate, additional contractual arrangements for the non-exclusive distribution of the journal's published version of the work (e.g., post it to an institutional repository or publish it in a book), with an acknowledgment of its initial publication in this journal.
c. Authors are permitted and encouraged to post their work online (e.g., in institutional repositories or on their website) prior to and during the submission process, as it can lead to productive exchanges, as well as earlier and greater citation of published work.
USER RIGHTS
All articles published Open Access will be immediately and permanently free for everyone to read and download.  We are continuously working with our author communities to select the best choice of license options, currently being defined for this journal as follows: Creative Commons Attribution-Share Alike (CC BY-SA)
Abstract 1214 . PDF downloaded 325 .