Pengaruh Konflik Peran, Ketidakjelasan Peran, Kelebihan Peran, dan Gaya Kepemimpinan terhadap Kinerja Auditor Di Kantor Akuntan Publik Wilayah DKI Jakarta
Keywords:
auditor, factors, behaviors, regression
Abstract
The purpose of this research is to determine and obtain empirical evidence on the factors related to the behavior of auditors that could affect the performance of auditors who work in Public Accounting Firm (KAP) Jakarta. This research discusses the factors regarding role conflict, role ambiguity, role excess, and leadership style. The writer took samples using convenience sampling technique. Criterion sampling was auditor working on the Firm in Jakarta with minimal education S1 majoring in Accounting with a minimum of one year working experience. Writers obtained research data through questionnaires distributed directly or via email to the auditors. The writers deployed 250 questionnaires to the auditors who worked on the Firm in Jakarta where questionnaires were successfully returned as many as 186 questionnaires, but there are 18 questionnaires that did not meet the criteria, so that 168 samples were used in this study. To obtain the results of the study, researchers used multiple regression analysis. The results of this study indicate that the independent variables included in this study, the lack of clarity of roles, have a significant influence on the performance of auditors. While, the other three independent variables: role conflict, role excess, and leadership style do not significantly
affect the performance of the auditor.
References
Agustina, L. (2009). Pengaruh Konflik Peran, Ketidakjelasan Peran, dan Kelebihan Peran terhadap
Kepuasan Kerja dan Kinerja Auditor. Jurnal Akuntansi. 1(1): 40-69.
Amilin & Dewi, R. (2008). Pengaruh Komitmen Organisasi Terhadap Kepuasan Kerja Akuntan Publik
dengan Role Stress Sebagai Variabel Moderating. Jurnal Akuntansi Indonesia. 12(1): 13-24.
Assegaf, Y. A. (2005). Pengaruh Konflik Peran dan Stres Kerja terhadap Komitmen Organisasi.
Jurnal Akuntansi dan Bisnis. 5(2): 91-106.
Cahyono D. & Ghozali, I. (2002). Pengaruh Jabatan, Budaya Organisasi dan Konflik Peran terhadap
Hubungan Kepuasan Kerja dengan Komitmen Organisasi: Studi Empiris di Kantor Akuntan
Publik. Jurnal Riset Akuntansi Indonesia. 5(3): 341-361.
Fanani, Z., Hanif, R.A., & Subroto, B. (2008). Pengaruh Struktur Audit, Konflik Peran, dan
Ketidakjelasan Peran Terhadap Kinerja Auditor. Jurnal Akuntansi dan Keuangan Indonesia.
(2): 139-155.
Fisher, R. T. (2001). Role Stress, The Type A Behavior Pattern, and External Auditor Job Satisfaction
and Performance. Journal of Behavior Research In Accounting. 13: 143-171.
Ghozali, I. (2006). Aplikasi Analisis Multivariate dengan Program SPSS. Cetakan IV. Semarang:
Badan Penerbit Universitas Diponegoro.
HS, Widjono. (2007). Bahasa Indonesia Mata Kuliah Pengembangan Kepribadian di Perguruan
Tinggi. Jakarta: Grasindo.
Mulyadi. (1998). Auditing jilid 1 (edisi 5). Jakarta: Salemba Empat.
Rahman, S., Nasir, H. M., & Handayani, R. S. (2007). Pengaruh Sistem Pengukuran Kinerja terhadap
Kejelasan Peran, Pemberdayaan Psikologis dan Kinerja Manajerial. Paper dipresentasikan
pada Simposium Nasional Akuntansi X, Makasar.
Robbins, P. S., & Judge, T. A. Alih bahasa oleh Diana Angelica. (2008). Perilaku Organisasi jilid 1
(edisi 12). Jakarta: Salemba Empat.
Santoso, S. (2003). Buku Latihan SPSS Statistik Multivariat. Jakarta: Elex Media Komputindo.
Sarjono, H., & Julianita, W. (2011). SPSS vs Lisrel, Sebuah Pengatar, Aplikasi Untuk Reset jilid 1
(edisi 1). Jakarta: Salemba Empat.
Supranto, J. (2008). Statistik Teori dan Aplikasi jilid 1 (edisi 7). Jakarta: Erlangga.
Surya, R., & Hananto, S. T. (2004). Pengaruh Emotional Quotient Auditor Terhadap Kinerja Auditor
di Kantor Akuntan Publik. Perspektif. 9(1): 33-40.
Trisnaningsih, S. (2007). Independensi Auditor dan Komitmen Organisasi sebagai Mediasi Pengaruh
Pemahaman Good Governance, Gaya Kepemimpinan dan Budaya Organisasi Terhadap
Kinerja Auditor. Paper dipresentasikan pada Simposium Nasional Akuntansi X, Makasar.
Utami, I., Syafruddin, M., & Handayani, R. S. (2006). Pengaruh Tekanan Etis Terhadap Konflik
Organisasional-Profesional dan Workoutcomes (Studi Empiris Pada Akuntan Publik se-
Indonesia. Paper dipresentasikan pada Simposium Nasional Akuntansi IX, Padang.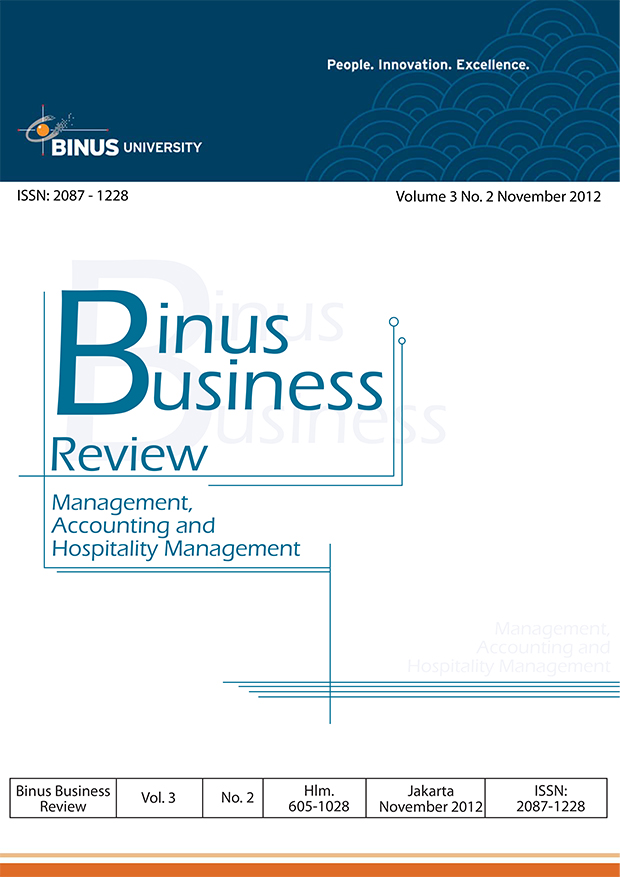 Downloads
License
Authors who publish with this journal agree to the following terms:
a. Authors retain copyright and grant the journal right of first publication with the work simultaneously licensed under a Creative Commons Attribution License - Share Alike that allows others to share the work with an acknowledgment of the work's authorship and initial publication in this journal.
b. Authors are able to enter into separate, additional contractual arrangements for the non-exclusive distribution of the journal's published version of the work (e.g., post it to an institutional repository or publish it in a book), with an acknowledgment of its initial publication in this journal.
c. Authors are permitted and encouraged to post their work online (e.g., in institutional repositories or on their website) prior to and during the submission process, as it can lead to productive exchanges, as well as earlier and greater citation of published work.
USER RIGHTS
 All articles published Open Access will be immediately and permanently free for everyone to read and download.  We are continuously working with our author communities to select the best choice of license options, currently being defined for this journal as follows: Creative Commons Attribution-Share Alike (CC BY-SA)