Lingua Cultura is a quadannual journal, published in February, May, August and November. Lingua Cultura focuses on various issues spanning in study of language, culture, and literature. The coverage of language includes linguistics and language teaching, the area of culture includes cultural studies and social studies, and the coverage of literature covers the analysis of novel, film, poem and drama using the relevant theories and concepts.
Lingua Cultura has been accredited by the Ministry of Research, Technology and Higher Education under the decree number 51/E/KPT/2017 and indexed in Crossref, Google Scholar, Indonesian Publication Index (IPI), the World Catalogue (WorldCat), Bielefeld Academic Search Engine (BASE), Directory of Open Access Journals (DOAJ), Academic Resource Index (ResearchBib), Scientific Indexing Services (SIS), and Indonesian Research Repository (Neliti).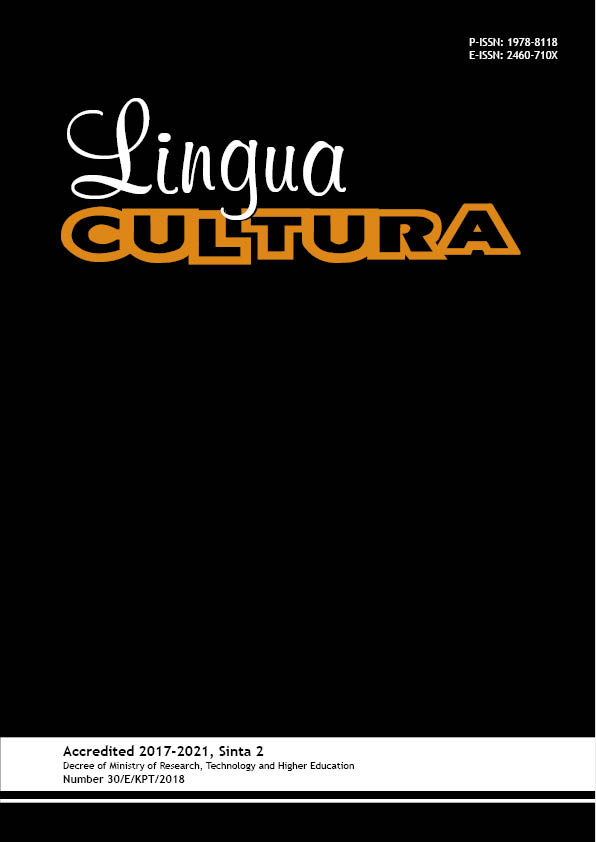 Announcements
Certificate of Accreditation

Posted: 2017-03-13

Copies for Author from Bina Nusantara University

Authors (from BinaNusantara University Only), whom their articles have been published on our journal (Binus Busines Review, CommIT, ComTech, Lingua Cultura and The Winners), Starting 2017, would not receive copies of our journal due to the copies have been submitted to LRC.

 

Authors (from BinaNusantara University Only), who want to have their copies, could download the copies on our journal websites (and print the copies)

 

Journal Publication

Research and Technology Transfer Office

Posted: 2016-10-31

Lingua Cultura Vol. 10 No. 1 is Published

Our appreciation to all who have contributed on Lingua Cultura Volume 10, Number 1

Posted: 2016-09-23

Eid Al-Fitr

Posted: 2016-07-05

What is A Questionnaire?

Questionnaire is the most popular of data collection method for business and management research. Questionnaire is the basic blocks of management research. Questionnaire is applied as a tool in which to repeat and specify research questions through face to face interview. The data is subsequently used to product analysis of responses.  Questionnaire is an aid for data analysis and data collection.

Posted: 2016-03-31
More...