The Influencing factors of Female Passenger Background in Online Transportation with Perceived Ease of Use
Keywords:
female passenger, online transportation, background, perceived ease of use
Abstract
This research aimed to explore the correlation or influence factors between the background of female passengers with perceived ease of use factors in Online Transportation Application (OTA). This research was explanatory and descriptive (causal) research. The respondents were the female users of OTA. The total of respondents was 408 people. SPSS applications were used to process the data. Then, the cross-tabulation was to find the correlation or influence factors. In the end, the researchers find 19 factors that are essential for future research.
References
Amajida, F. D. (2016). Kreativitas digital dalam masyarakat risiko perkotaan: Studi tentang ojek online "Go-Jek" di Jakarta. Informasi, 46(1), 115-128. DOI: 10.21831/informasi.v46i1.9657
Gao, Y., & Chen, J. (2019). The risk reduction and sustainable development of shared transportation: The Chinese online car-hailing policy evaluation in the digitalization era. Sustainability, 11(9), 2596.https://doi.org/10.3390/su11092596
Griffith, D. A., Van Esch, P., & Trittenbach, M. (2018). Investigating the mediating effect of Uber's sexual harassment case on its brand: Does it matter? Journal of Retailing and Consumer Services, 43(July), 111-118. https://doi.org/10.1016/j.jretconser.2018.03.007
Haryanto, A. T. (2017). Mayoritas pengguna Go-Jek perempuan single. Retrieved from https://inet.detik.com/cyberlife/d-3496233/mayoritas-pengguna-gojek-perempuan-single
Kent State University Libraries. (2019). SPSS tutorials: Pearson correlation. Retrieved from https://libguides.library.kent.edu/SPSS/PearsonCorr
Landau, S., & Everitt, B. S. (2004). A handbook of statistical analyses using SPSS. United States of America: Chapman & Hall.
Neuman, W. L. (2014). Social research methods: Qualitative and quantitative approaches. United States of America: Pearson Education Limited.
Nailufar, N. N. (2017). Penumpang Grabbike yang dilecehkan trauma pesan ojek "online". Retrieved from https://megapolitan.kompas.com/ read/2017/05/17/16451131/penumpang.grabbike.yang.dilecehkan.trauma.pesan.ojek.online.
Purnama, R. (2018). Polisi kritisi mental pengemudi ojol, harus ada tes psikologi. Retrieved from https://www.cnnindonesia.com/teknologi/20180809005100-384-320739/polisikritisi-mental-pengemudi-ojol-harus-ada-tespsikologi
Salman, G. (2018). Pengemudi taksi online di Surabaya setubuhi gadis SMA di dalam mobil. Retrieved from https://regional.kompas.com/read/2018/11/16/15420041/pengemudi-taksionline-di-surabaya-setubuhi-gadis-sma-di-dalammobil
Sarriera, J. M., Álvarez, G. E., Blynn, K., Alesbury, A., Scully, T., & Zhao, J. (2017). To share or not to share: Investigating the social aspects of dynamic ridesharing. Transportation Research Record, 2605(1), 109-117. https://doi.org/10.3141/2605-11
Septiani, R., Handayani, P. W., & Azzahro, F. (2017). Factors that affecting behavioral intention in online transportation service: Case study of GO-JEK. Procedia Computer Science, 124, 504-512. https://doi.org/10.1016/j.procs.2017.12.183
Silalahi, S. L. B., Handayani, P. W., & Munajat, Q. (2017). Service quality analysis for online transportation services: Case study of GO-JEK. Procedia Computer Science, 124, 487-495. https://doi.org/10.1016/j.procs.2017.12.181
Standing, C., Standing, S., & Biermann, S. (2019). The implications of the sharing economy for transport. Transport Reviews, 39(2), 226-242. https://doi.org/10.1080/01441647.2018.1450307
Surjandy, J. (2017). Do college students use e-book with smartphone? (Study for college student's subject in information technology). In Proceedings of the International MultiConference of Engineers and Computer Scientists (Vol. 2).
Surjandy, Ernawaty, Listyo, P., Fernando, E., Savina, G., & Tirtamulia, L. M. (2018). Technology risk in financial technology at online transportation systems. In 2018 International Conference on Information Management and Technology (ICIMTech) (pp. 149-154).
Surjandy, Fernando, E., Meyliana, Condrobimo, A. R., Edbert, I. S., & Vivien. (2018). The safe and trust factors of mobile transportation system for user behavior in Indonesia. In 2018 International Seminar on Research of Information Technology and Intelligent Systems (ISRITI) (pp. 449–452).
Wahyuningtyas, S. Y. (2016). The online transportation network in Indonesia: A pendulum between the sharing economy and ex ante regulation. Competition and Regulation in Network Industries, 17(3-4), 260-280. https://doi.org/10.1177/178359171601700304
Wang, H., & Kimble, C. (2016). How external factors influence business model innovation: A study of the Bosch Group and the Chinese automotive aftermarket. Global Business and Organizational Excellence, 35(6), 53-64. https://doi.org/10.1002/joe.21712
Yang, S., Song, Y., Chen, S., & Xia, X. (2017). Why are customers loyal in sharing-economy services? A relational benefits perspective. Journal of Services Marketing, 31(1), 48-62. https://doi.org/10.1108/JSM-01-2016-0042
Zhang, S., & Wang, Z. (2016). Inferring passenger denial behavior of taxi drivers from large-scale taxi traces. PLOS ONE, 12(2), 1-21. https://doi.org/10.1371/journal.pone.0165597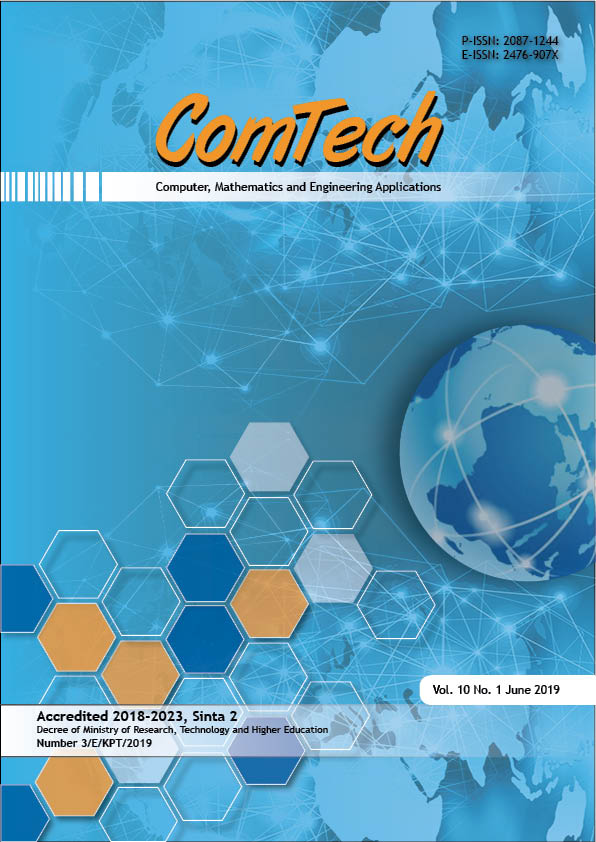 Downloads
License
Authors who publish with this journal agree to the following terms:
a. Authors retain copyright and grant the journal right of first publication with the work simultaneously licensed under a Creative Commons Attribution License - Share Alike that allows others to share the work with an acknowledgment of the work's authorship and initial publication in this journal.
b. Authors are able to enter into separate, additional contractual arrangements for the non-exclusive distribution of the journal's published version of the work (e.g., post it to an institutional repository or publish it in a book), with an acknowledgment of its initial publication in this journal.
c. Authors are permitted and encouraged to post their work online (e.g., in institutional repositories or on their website) prior to and during the submission process, as it can lead to productive exchanges, as well as earlier and greater citation of published work.
 USER RIGHTS
 All articles published Open Access will be immediately and permanently free for everyone to read and download.  We are continuously working with our author communities to select the best choice of license options, currently being defined for this journal as follows:
Abstract 671 . PDF downloaded 81 .