ANALYSIS OF THE EFFECT OF PROFITABILITY, LIQUIDITY, LEVERAGE AND COMPANY GROWTH AGAINST DIVIDEND POLICY IN LQ-45 COMPANIES PERIOD 2015-2017
Keywords:
profitability, liquidity, leverage, growth, dividend policy
Abstract
This study is conducted to determine the effect of profitability, liquidity, leverage, and the growth of the company on dividend policy in the LQ-45 company listed on the Indonesia Stock Exchange for the period 2015-2017. This type of research is quantitative. Data analyzed is in a total of 81 observations. This study used Eviews version 9 for data analyzing. Results indicate that profitability has a significant negative effect on dividend policy while liquidity, leverage, and growth have no significant effect on dividend policy.
Dimensions
Plum Analytics
References
Alfina, Febrisa dan Nur, Fadjrih. 2015. Pengaruh Profitabilitas, Cash Position, Leverage, dan Growth terhadap Kebijakan Dividen. Jurnal Ilmu & Riset Akuntansi: Vol.4, No.3, hal 1-15.
Anisah. 2014. Pengaruh Profitabilitas, Cash Position, Leverage, Growth Terhadap Kebijakan Pembagian Dividen. Jurnal Akuntansi: Volume 3 No 6. Sekolah Tinggi Ilmu Ekonomi Indonesia (STIESIA) Surabaya.
Fathonah, N. and Amanah, L. 2016. Pengaruh Free Cash Flow, Profitabilitas dan Debt to Equity Terhadap Rasio Dividen. Jurnal Ilmu dan Riset Akuntansi: vol. 5, no. 10.
Hery. 2016. Akuntansi: Aktiva, Utang, dan Modal. Yogyakarta: Gava Media.
Huda, Nusrat dan Abdullah, Mohammad Nayeem. 2014. Relationship between Ownership Structure and Dividend Policy: Empirical Evidence from 78 Chittagong Stock Exchange. World Review of Business Research, 4(3), pp: 14-34.
Idawati, Ida Ayu Agung dan Sudiartha, Gede Merta. 2012. Pengaruh Profitabilitas, Likuiditas, Ukuran Perusahaan Terhadap Kebijakan Dividen Perusahaan Manufaktur di BEI. Jurnal Ekonomi & Bisnis: Volume 3. No 6.
Lestari, D. 2017. Profitability, Growth Opportunities, Leverage, Ukuran Perusahaan, dan Kebijakan Dividen. Jurnal Riset Manajemen Dan Bisnis (Jrmb) Fakultas Ekonomi Uniat, 2 (September), 227–240.
Liana, S., Merry, S., Sufiyati & Sriwahyuni. 2015. Pengaruh Liquidity, Profitability, Size, Collateral Assets, Growth, dan Institutional Ownership Terhadap Dividend Policy Perusahaan Manufaktur yang Terdaftar di BEI. Jurnal Akuntansi: Vol.18, No.1, hal 149-162.
Pradana, Salvatore Wika Lingga dan Sanjaya, I Putu Sugiartha. 2014. Pengaruh Profitabilitas, Free Cash Flow, dan Investment Opportunity Set Terhadap Dividend Payout Ratio (Studi Empiris Pada Perusahaan Perbankan Yang Terdaftar Di BEI). Jurnal SNA 17 Mataram Universitas Atma Jaya Yogyakarta.
Riyanto, Bambang. 2013. Dasar-Dasar Pembelanjaan Perusahaan. Edisi 4. Yogyakarta: BPFE.
Sandy, Ahmad dan Asyik, Nur Fadjrih. 2013. Pengaruh Profitabilitas Dan Likuiditas Terhadap Kebijakan Dividen Kas Pada Perusahaan Otomotif. Jurnal Ilmu dan Riset Akuntansi. 1(1): 58-76.
Sunarya, Devi Hoei. 2013. Pengaruh Kebijakan Utang, Profitabilitas dan Likuiditas Terhadap Kebijakan Dividen Dengan Size Sebagai Variabel Moderasi Pada Sektor Manufaktur Periode 2008-2011. Jurnal Ilmiah Mahasiswa Universitas Surabaya 2(1): 1-19.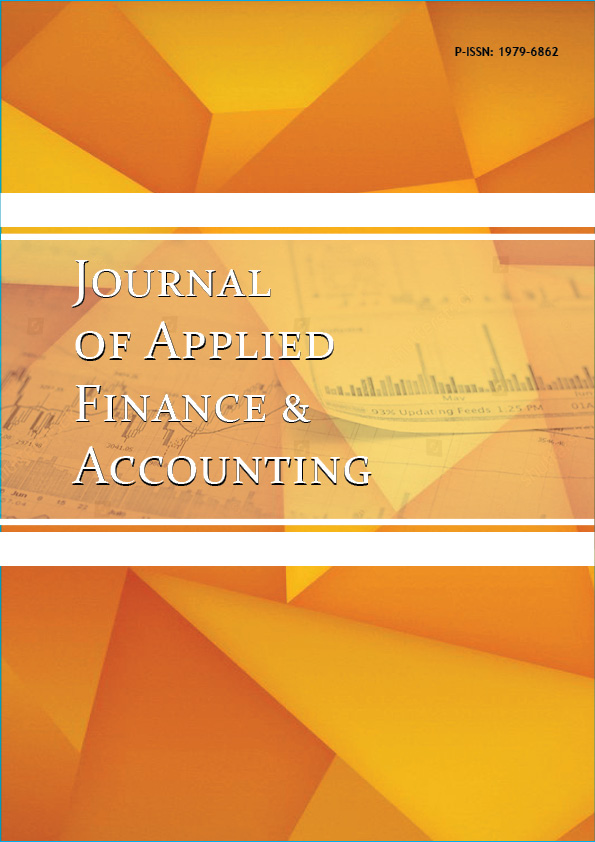 Downloads
License
Authors who publish with this journal agree to the following terms:
Authors retain copyright and grant the journal right of first publication with the work simultaneously licensed under a Creative Commons Attribution License that allows others to share the work with an acknowledgement of the work's authorship and initial publication in this journal.
Authors are able to enter into separate, additional contractual arrangements for the non-exclusive distribution of the journal's published version of the work (e.g., post it to an institutional repository or publish it in a book), with an acknowledgement of its initial publication in this journal.
Authors are permitted and encouraged to post their work online (e.g., in institutional repositories or on their website) prior to and during the submission process, as it can lead to productive exchanges, as well as earlier and greater citation of published work (See
The Effect of Open Access
).
Abstract 753 . PDF downloaded 600 .