The Impactful Effect of E-Learning Study Method Towards Students Academic Achievements in General
Keywords:
E-Learning, Online Platform, Education Systematic Online Learning, Academic Achievement, non-Academic Achievement
Abstract
This study aims to analyze the impact of the online learning or e-learning system on students' academic scores in general. This study uses previous research to review the infrastructure and factors of the E-Learning system in influencing students' academic scores. The research method of this research is using SLR (Systematic Literature Review). Research searches will be carried out on databases of journals that are known to the public, such as Springer, ResearchGate, Scopus, and others. Twenty-seven articles have been screened to fit the research criteria, collected, and reviewed. This study concludes that the E-Learning System gets honest feedback and is ignored, but indirectly has an impact on the actors in teaching and learning activities in the world of education. E-learning systems can provide solutions to problems at hand, but also create unfamiliar problems. The main factor in improving student learning experiences is student academic value.
Keyword - E-Learning, Online Platform, Education, Systematic Online Learning, Academic Achievement, non-Academic Achievement
Dimensions
Plum Analytics
References
C.-H. Huang, "Exploring the Continuous Usage Intention of Online Learning Platforms from the Perspective of Social Capital," Information, vol. 12, no. 4, p. 141, Mar. 2021, doi: 10.3390/info12040141.
Y. Agus, S. Budi, Suharmoko, S. Fatma, and Ahmadi, "Successful online learning factors in COVID-19 era: Study of Islamic higher education in West Papua, Indonesia," International Journal of Evaluation and Research in Education, v10 n1 p193-201 Mar 2021
Hart, Cassandra M. D., et al. "Online Learning, Offline Outcomes: Online Course Taking and High School Student Performance." AERA Open, Jan. 2019, doi:10.1177/2332858419832852.
Almusharraf, N. & Khahro, S. (2020). Students Satisfaction with Online Learning Experiences during the COVID-19 Pandemic. International Journal of Emerging Technologies in Learning (iJET), 15(21), 246-267. Kassel, Germany: International Journal of Emerging Technology in Learning. Retrieved April 27, 2022 from https://www.learntechlib.org/p/218355/.
A. Patricia Aguilera-Hermida, College students' use and acceptance of emergency online learning due to COVID-19, International Journal of Educational Research Open, Volume 1, 2020, 100011, ISSN 2666-3740, https://doi.org/10.1016/j.ijedro.2020.100011.
Mahyoob, M. (2020).Challenges of e-Learning during the COVID-19 Pandemic Experienced by EFL Learners. Arab World English Journal, 11 (4) 351-362. https://dx.doi.org/10.24093/awej/vol11no4.23
Alves, Paulo; Miranda, Luísa; Morais, Carlos (2017). The influence of virtual learning environments in students' performance. Universal Journal of Educational Research. ISSN 2332-3205. 5.3, p. 517-527
Gopal, R., Singh, V. & Aggarwal, A. Impact of online classes on the satisfaction and performance of students during the pandemic period of COVID 19. Educ Inf Technol 26, 6923–6947 (2021). https://doi.org/10.1007/s10639-021-10523-1
Ferri F, Grifoni P, Guzzo T. Online Learning and Emergency Remote Teaching: Opportunities and Challenges in Emergency Situations. Societies. 2020; 10(4):86. https://doi.org/10.3390/soc10040086
O. O. Noah and K. O. Gbemisola, "Impact of Google Classroom as an Online Learning Delivery during COVID-19 Pandemic: The Case of a Secondary School in Nigeria", JESBS, vol. 33, no. 9, pp. 53-61, Oct. 2020.
H. Abuhassna, W. M. Al-Rahmi, N. Yahya, M. A. Z. M. Zakaria, A. Bt. M. Kosnin, and M. Darwish, "Development of a new model on utilizing online learning platforms to improve students' academic achievements and satisfaction," International Journal of Educational Technology in Higher Education, vol. 17, no. 1, Oct. 2020, doi: 10.1186/s41239-020-00216-z.
Z.-Y. Liu, N. Lomovtseva, and E. Korobeynikova, "Online Learning Platforms: Reconstructing Modern Higher Education," International Journal of Emerging Technologies in Learning (iJET), vol. 15, no. 13, p. 4, Jul. 2020, doi: 10.3991/ijet.v15i13.14645.
Fatonia et al., "University students online learning system during Covid-19 pandemic: Advantages, constraints and solutions," Semantic Scholar, 2020, doi: 10.31838/SRP.2020.7.81.
Z. Zaitun, M. S. Hadi, and P. Harjudanti, "The Impact of Online Learning on the Learning Motivation of Junior High School Students", J. Studi Guru Pembelajaran, vol. 4, no. 2, pp. 263-271, Jul. 2021.
"Students' perception of online learning during the COVID-19 ... : Medicine," LWW, doi: 10.1097/MD.0000000000024821.
N. H. Al-Kumaim, F. Mohammed, N. A. Gazem, Y. Fazea, A. K. Alhazmi, and O. Dakkak, "Exploring the Impact of Transformation to Fully Online Learning During COVID-19 on Malaysian University Students' Academic Life and Performance," International Journal of Interactive Mobile Technologies (iJIM), vol. 15, no. 05, p. 140, Mar. 2021, doi: 10.3991/ijim.v15i05.20203.
J. Yu-Fong Chang, L.-H. Wang, T.-C. Lin, F.-C. Cheng, and C.-P. Chiang, "Comparison of learning effectiveness between physical classroom and online learning for dental education during the COVID-19 pandemic," Journal of Dental Sciences, vol. 16, no. 4, pp. 1281–1289, Oct. 2021, doi: 10.1016/j.jds.2021.07.016.
A. F. Zulfikar et al., "The Effectiveness of Online Learning with Facilitation Method," Procedia Computer Science, vol. 161, pp. 32–40, Jan. 2019, doi: 10.1016/j.procs.2019.11.096.
Arifianto, M. L., & Izzudin, I. F. (2021). Students' Acceptance of Discord as an Alternative Online Learning Media. International Journal of Emerging Technologies in Learning (IJET), 16(20), 179. https://doi.org/10.3991/ijet.v16i20.22917
Ayu, M. (2020). Online Learning: Leading e-Learning at Higher Education. The Journal of English Literacy Education: The Teaching and Learning of English as a Foreign Language, 7(1), 47–54. https://doi.org/10.36706/jele.v7i1.11515
Pal, D., & Vanijja, V. (2020). Perceived usability evaluation of Microsoft Teams as an online learning platform during COVID-19 using system usability scale and technology acceptance model in India. Children and Youth Services Review, 119(1), 105535. https://doi.org/10.1016/j.childyouth.2020.105535
Bylieva, D., Lobatyuk, V., Safonova, A., & Rubtsova, A. (2019). Correlation between the Practical Aspect of the Course and the E-Learning Progress. Education Sciences, 9(3), 167. https://doi.org/10.3390/educsci9030167
Espinoza Dayana, Y., Medina, O., & Andrade-Arenas, L. (2020). Hemispheric Cooperation for Competitiveness and Prosperity on a Knowledge-Based Economy. 1, 29–31. https://doi.org/10.18687/LACCEI2021.1.1.9
Mora-Jimenez, L. D., Ramírez-Benavides, K., Quesada, L., Lopez, G., & Guerrero, L. A. (2022). User Experience in Communication and Collaboration Platforms: A Comparative Study Including Discord, Microsoft Teams, and Zoom. Lecture Notes in Networks and Systems, 52–61. https://doi.org/10.1007/978-3-030-96293-7_6
Di Marco, L. (2021). User-centered evaluation of Discord in midwifery education during the COVID-19 pandemic: Analysis of the adaptation of the tool to student needs. European Journal of Midwifery, 5, 51. https://doi.org/10.18332/ejm/142638
Ramadhan, A. (2021). Student's Response Toward Utilizing Discord Application as an Online Learning Media in Learning Speaking at Senior High School. ISLLAC : Journal of Intensive Studies on Language, Literature, Art, and Culture, 5(1), 42–47. http://journal2.um.ac.id/index.php/jisllac/article/view/16953
Askar Garad, Abdullah M. Al-Ansi, Ika Nurul Qamari, "THE ROLE OF E-LEARNING INFRASTRUCTURE AND COGNITIVE COMPETENCE IN DISTANCE LEARNING EFFECTIVENESS DURING THE COVID-19 PANDEMIC", vol4 no 1 2021.
Western Sydney University. (2017). Literature review purpose. https://www.westernsydney.edu.au/__data/assets/pdf_file/0006/1254786/Literature_review_purpose.pdf
Lame, G. (2019). Systematic Literature Reviews: An Introduction. Proceedings of the Design Society: International Conference on Engineering Design, 1(1), 1633–1642. https://doi.org/10.1017/dsi.2019.169
McNally, K. (n.d.). Library Guides: Literature Review: Systematic literature review. Libguides.csu.edu.au. https://libguides.csu.edu.au/review/Systematic#:~:text=A%20systematic%20literature%20review%20(SLR
Siahaan, M., Akuntansi, P., Ekonomi, F., Bhayangkara, U., Raya, J., Raya Perjuangan, J., Mulya, M., & Utara, B. (2020). Halaman: 1 -3 Terakreditasi Peringkat 5 (SINTA 5) sesuai SK RISTEKDIKTI Nomor. Edisi Khusus, 1, 1410–9794. http://repository.ubharajaya.ac.id/4842/2/Jurnal%20PANDEMIC%20MATDIO%20S.pdf
Apa Itu Sebenarnya Pandemi COVID-19? Ketahui Juga Dampaknya di Indonesia. (n.d.). Www.prudential.co.id. https://www.prudential.co.id/id/pulse/article/apa-itu-sebenarnya-pandemi-covid-19-ketahui-juga-dampaknya-di-indonesia/
worldometer. (2020). Coronavirus Update (Live): 69,290 Cases and 1,671 Deaths from COVID-19 Wuhan China Virus Outbreak - Worldometer. Www.worldometers.info. https://www.worldometers.info/coronavirus/#countries
Murid Belajar di Rumah: Stres Orang Tua dan Kendala Lainnya. (2020, March 18). Republika Online. https://www.republika.co.id/berita/q7dlrn409/murid-belajar-di-rumah-stres-orang-tua-dan-kendala-lainnya
√ Pengertian Apa itu Platform, Fungsi & Contohnya. (2022, April 6). WikiElektronika.com. https://wikielektronika.com/platform-adalah/
Raouna, K. (2022, January 24). 27 Best Online Learning Platforms (updated 2022). Learnworlds. https://www.learnworlds.com/online-learning-platforms/#:~:text=Some%20of%20the%20best%20online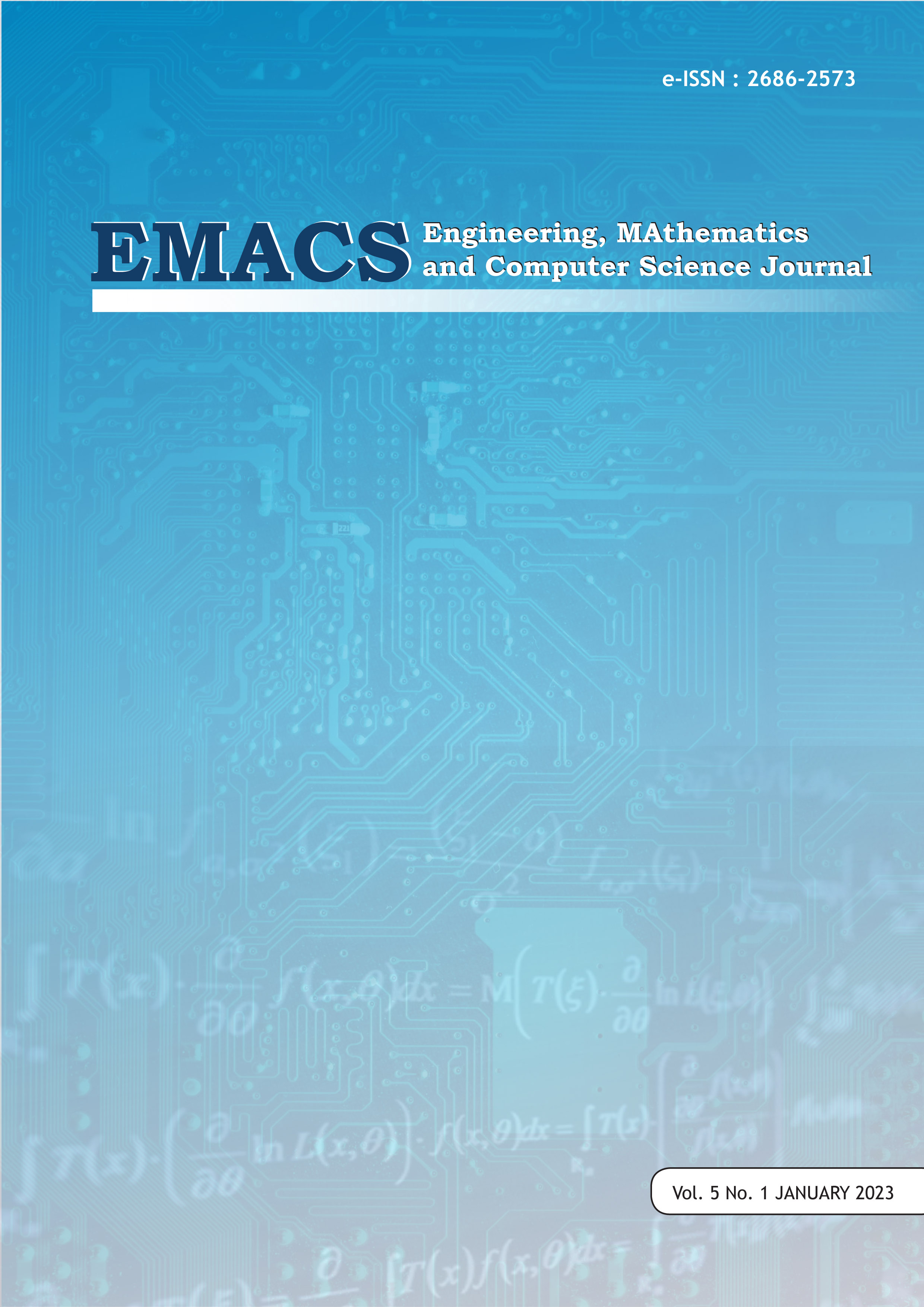 Downloads
License
Copyright (c) 2023 Engineering, MAthematics and Computer Science (EMACS) Journal
This work is licensed under a Creative Commons Attribution-ShareAlike 4.0 International License.
Authors who publish with this journal agree to the following terms:
a. Authors retain copyright and grant the journal right of first publication with the work simultaneously licensed under a Creative Commons Attribution License - Share Alike that allows others to share the work with an acknowledgment of the work's authorship and initial publication in this journal.
b. Authors are able to enter into separate, additional contractual arrangements for the non-exclusive distribution of the journal's published version of the work (e.g., post it to an institutional repository or publish it in a book), with an acknowledgment of its initial publication in this journal.
c. Authors are permitted and encouraged to post their work online (e.g., in institutional repositories or on their website) prior to and during the submission process, as it can lead to productive exchanges, as well as earlier and greater citation of published work.
USER RIGHTS
 All articles published Open Access will be immediately and permanently free for everyone to read and download.  We are continuously working with our author communities to select the best choice of license options, currently being defined for this journal as follows: Creative Commons Attribution-Share Alike (CC BY-SA)
Abstract 131 . PDF downloaded 130 .